High Quality Materials
Western Red Cedar cladding and tongue & groove construction.

Insulated as standard with Multi-foil Insulation
Multi-foil Insulation locks the heat in with the same U-Values as 120mm Glass Wool Insulation

15 year Anti Rot Guarantee*
Treated to protect against fungal decay and rot
Evolution Apex Cedar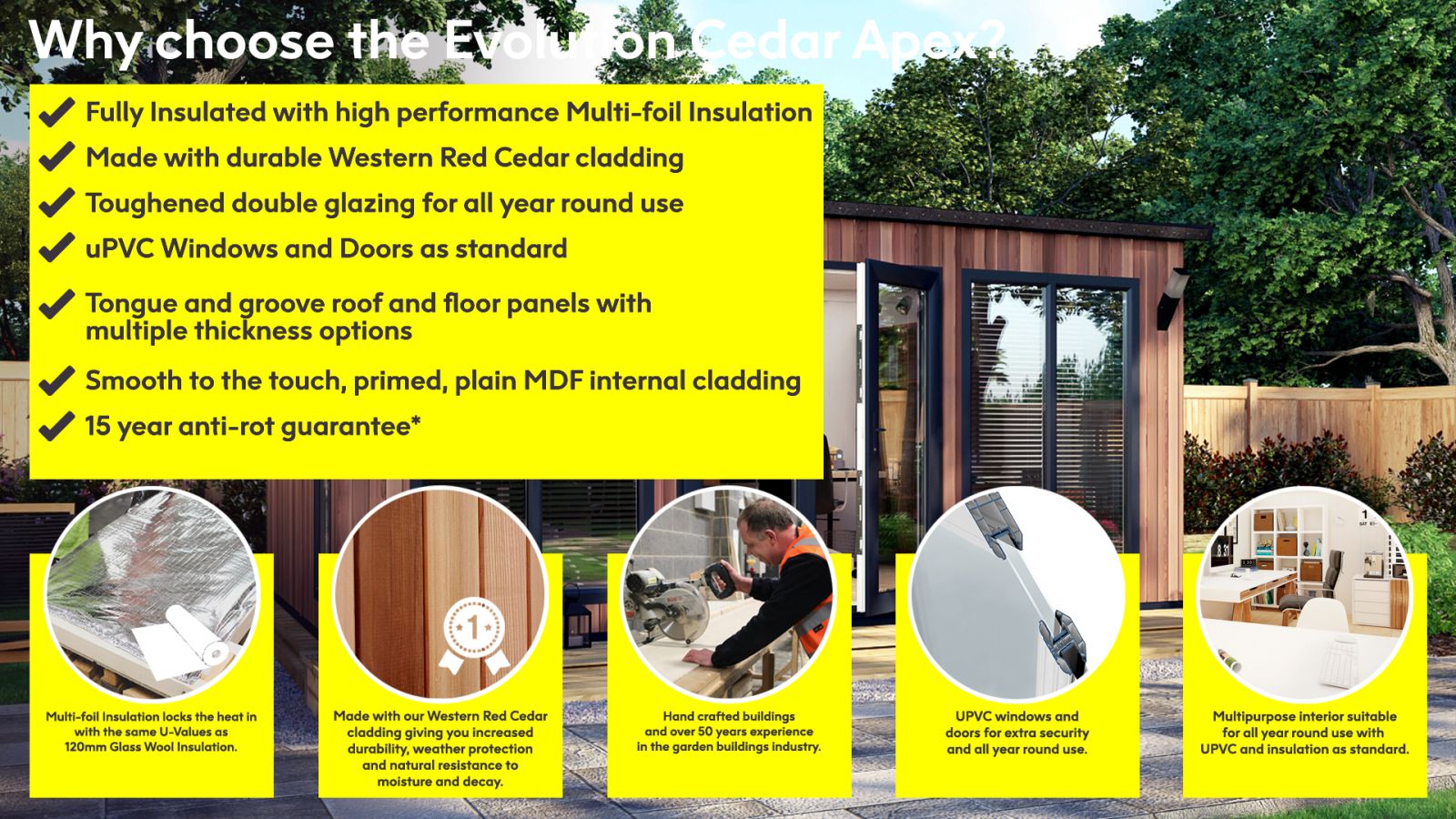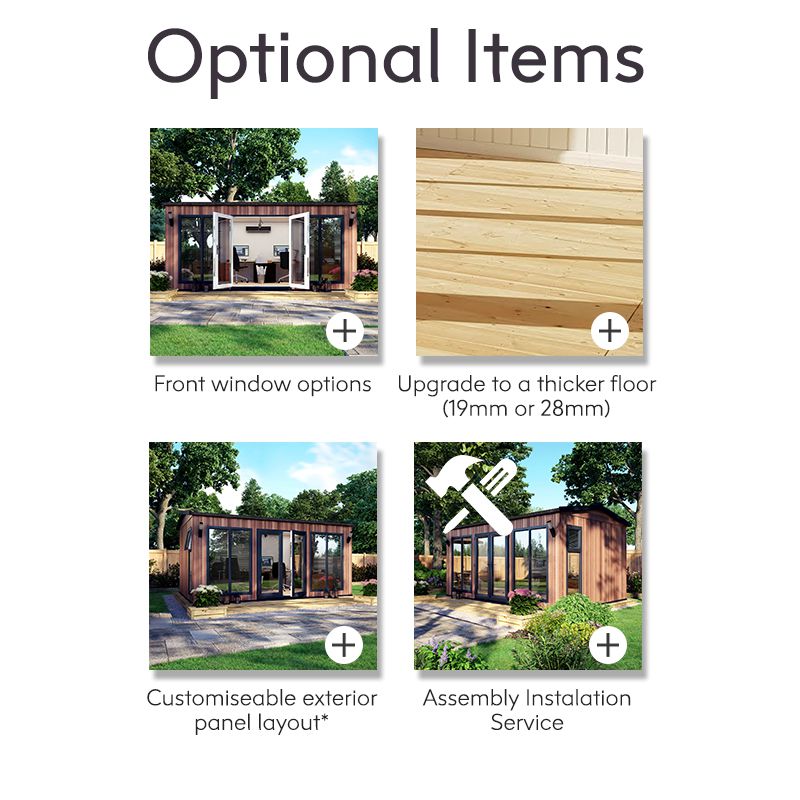 Bespoke Options
Your Evolution Garden Room comes with a variety of customization choices so you can tailor your building depending on your building use. We offer a choice of tongue and groove floor thicknesses for those heavier items. We also provide a building assembly service so you can have your building assembled by a team of experts so you can use your building sooner.
What's included?
Western Red Cedar external cladding
Traditional style apex roof
All fixings and fittings
Easy to follow instructions
Pre-assembled panels, roof and floor
Multi-foil insulation throughout
Primed and Plain MDF Interior Cladding
Extra high ridge and eaves height
Long fixed windows and doors, double glazed as standard
Opening side window
Tongue and Groove roof and floor
UPVC windows and doors as standard with a choice of colours
Double glazing as standard
Laminated floor included as standard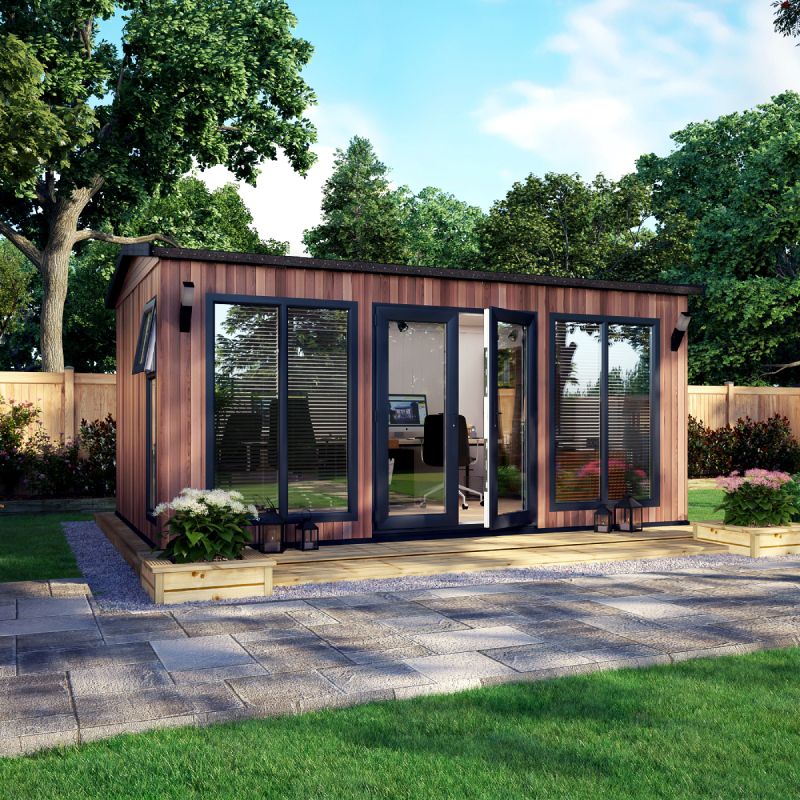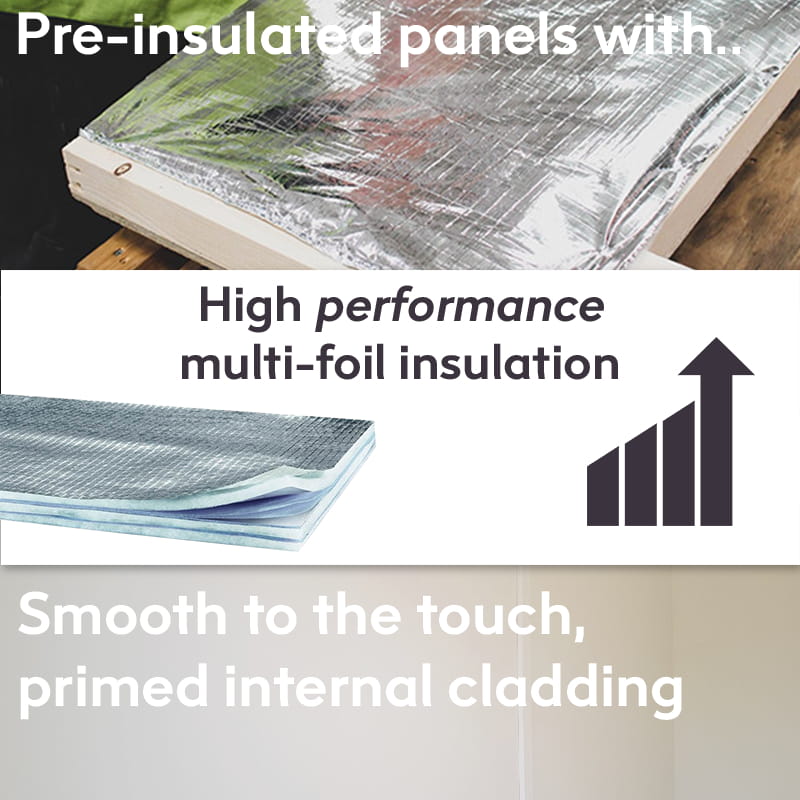 Fully Insulated
Our high-performance multi-foil insulation is pre-lined on the wall, floor, and roof panels of your Evolution Cedar building. This provides fully insulated panels that trap air inside the cavities, while the multifoil insulation creates an insulated barrier that keeps the temperature locked in. This means you can enjoy your building all year thanks to our double-glazed uPVC windows and doors which keeps your building warm in the winter and cool in the summer.
Hand Crafted
Our Evolution Cedar with an apex roof is hand-built by our expert production team, who hand-pick the best quality materials to ensure that your building is of the highest quality. Manufactured in our facility on the cusp of Sherwood forest, our skilled team build your building to order and with their expertise and experience, you can be assured that your building will withstand the test of time.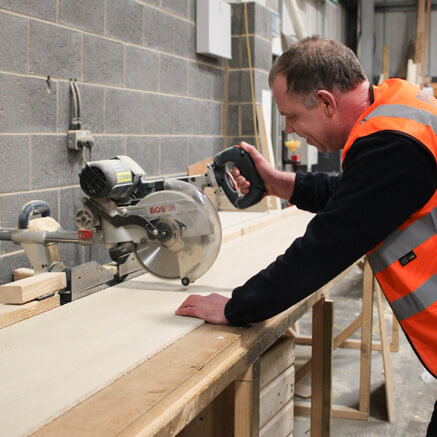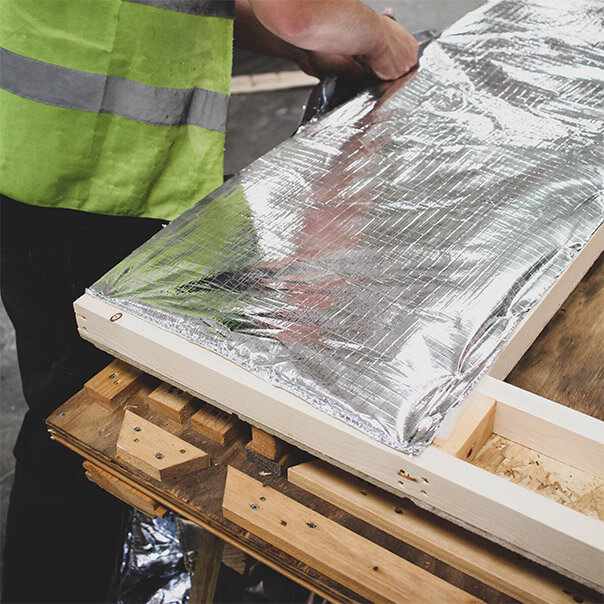 We do the hard work for you
The Evolution Cedar Garden Room is designed to be as simple to put together as possible, whilst giving you the option to tailor it to your requirements. We pre-line every panel with our multifoil insulation so you don't have to, making your building go together faster and easier. Designed with you in mind, if you plan to install your own electrics in the building, the internal wall cladding is added after the building is assembled to save time during installation. The wall battens are also fixed in place for you, to make adding the internal cladding even easier.
The Perfect Garden Office
The Evolution Cedar Garden Room is an ideal garden office where you can work in peace and quiet, away from the distractions of your home. You can be sure that your building will be a quiet place to work thanks to its sound-reducing Western Red Cedar external cladding, double-glazed windows and doors, and an 80mm thick wall panel construction. You can also use your building all year long, regardless of the season, and remain at a comfortable temperature.
If you have heavier items to store inside, such as large desks and storage units, you can tailor your building to have a thicker floor, and you can assemble your building with the partition on either side depending on your requirements.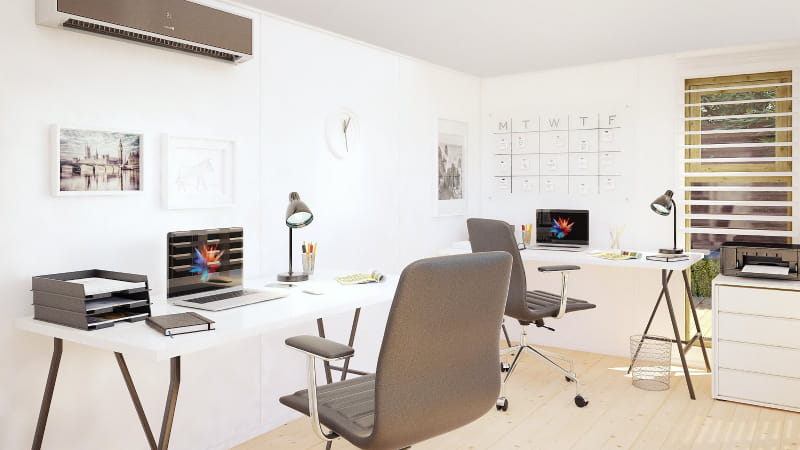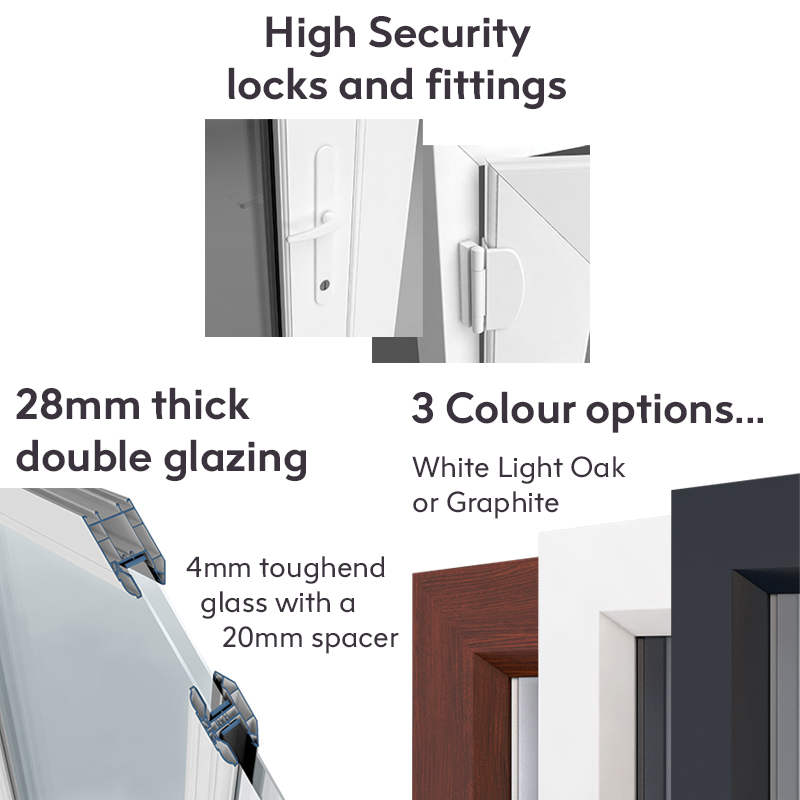 UPVC Windows and Doors as Standard
Our uPVC windows and doors come as standard to provide increased security and u-values to your building. Because the uPVC windows and doors are double glazed, you can rest assured that they will keep your building completely insulated and secure your belongings with a deadlock on the uPVC doors and opening window. The glazing is 4mm thick toughened glass with a 20mm spacer, giving it a total thickness of 28mm. You can also choose the colour of your uPVC which is either white, light oak or graphite.
Easy self assembly
Assembling a garden building yourself may seem like a difficult task, however, due to the modular design of our buildings, assembling them couldn't be easier. We provide simple stage by stage assembly instructions and all of the fittings and fixings required.
Whether your building is large or small, each building size is made from the same parts and so a larger building is no more complicated than a smaller size because they will fit together in the same way and in the same stages.
The modular panels are also able to fit through a standard house door so you can transport any size building through your house onto the build area. It is recommended that two people assemble the building due to the weight of the panels. It is also critical that the building is assembled on a solid level base to comply with the warranty, to ensure that the building is assembled correctly and to ensure there are no problems with your building after installation.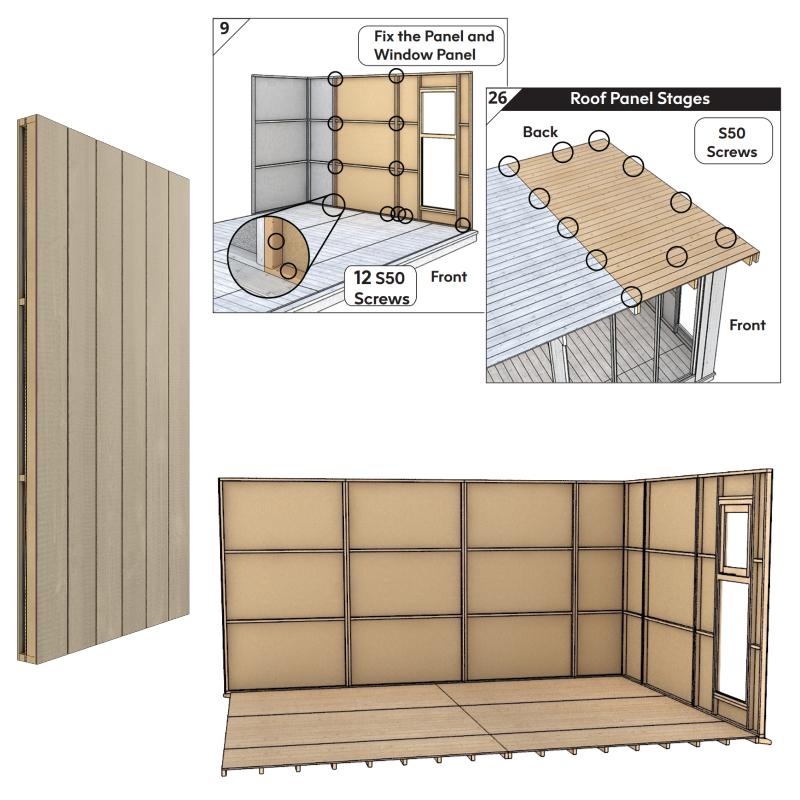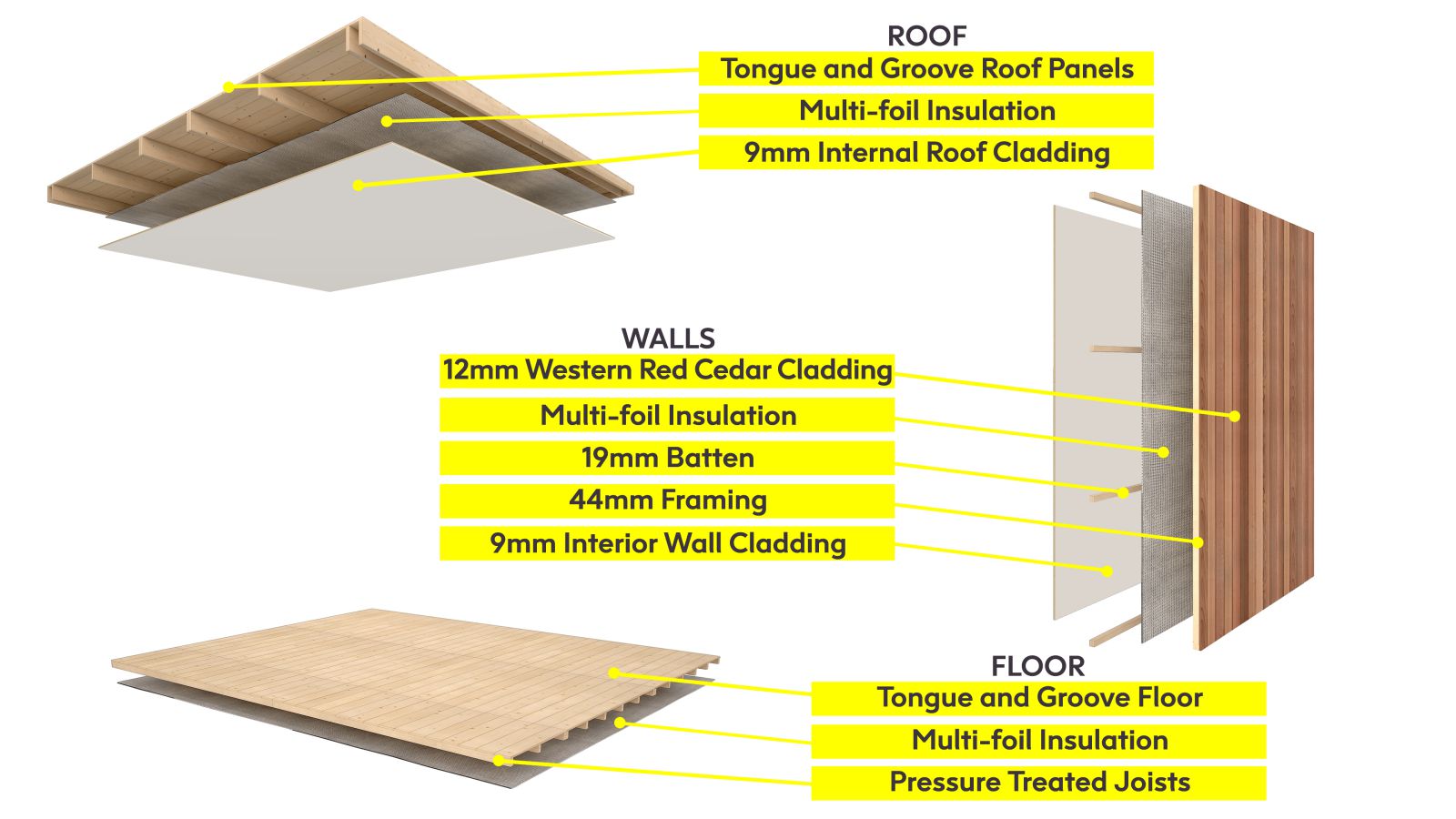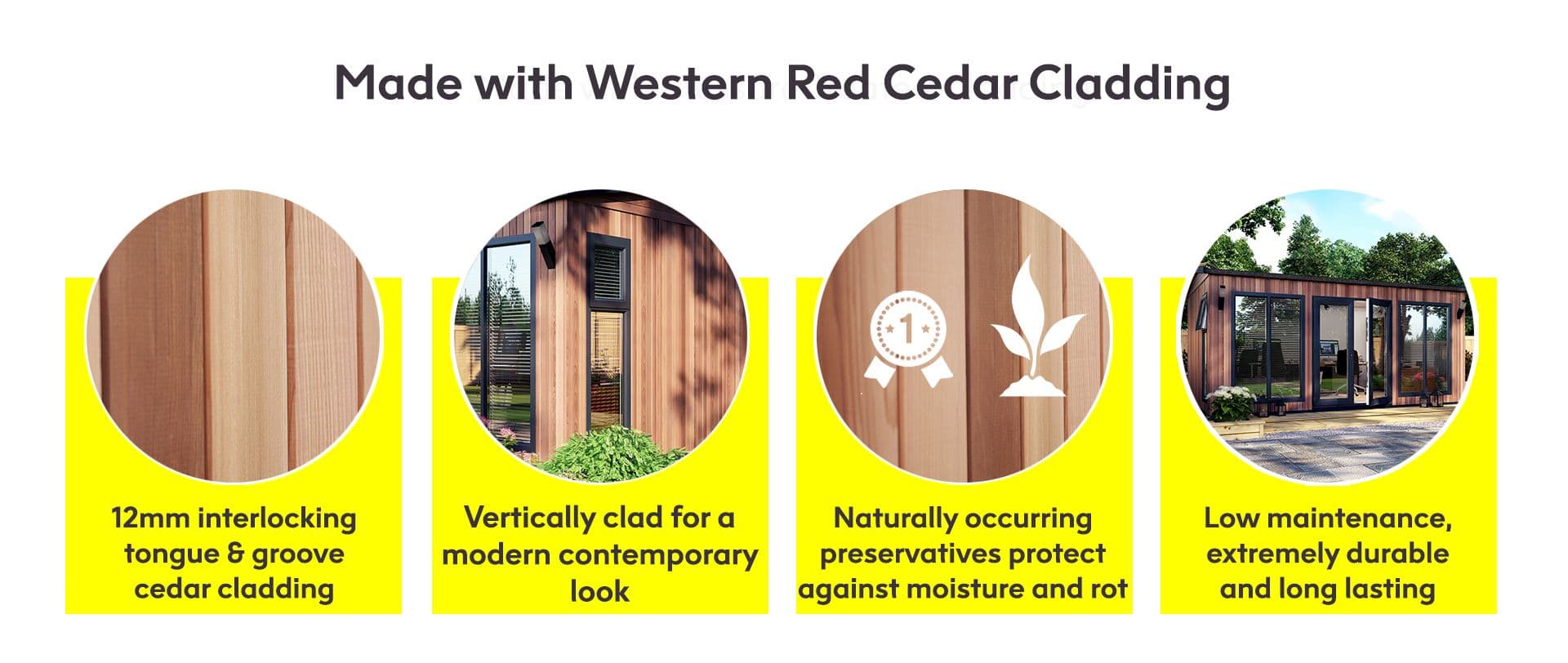 Evolution Apex Western Red Cedar Insulated Garden Room
High quality materials
Western Cedar Red cladding and tongue and groove construction
15 Year anti rot guarantee*
Western Cedar Red cladding provides more resistance to fungal decay and rot than timber
Longer lasting
Made from extra durable materials that can withstand the elements
Thicker and doubled up framing
Framing is doubled up at the joins for extra rigidity and strength
12mm durable Western Cedar Red Cladding
Our cladding is extra durable for long-lasting performance
Insulated as standard with Multi-foil Insulation
Multi-foil Insulation locks the heat in with the same U-Values as 120mm Glass Wool Insulation
Building comes unpainted as standard
Water-resistant cladding provides greater durability in wet weather
Extra high ridge and eaves height
For a fully usable space
Opening side windows
Extra ventilation for extra comfort
Long fixed windows and door, double glazed as standard
For extra light and panoramic views of your garden
Traditional apex roof style
A modern building with a traditional look
Smooth to the touch, primed and beaded internal walls
Durable, attractive, and premium appearance on the inside
Floor options available
Pressure treated with multiple thicknesses available
Multi purpose interior and ideal office space
Suitable for all year round use
Rubber Roof is included as standard
We have included our heavy duty EPDM rubber roof as standard which will give you extra protection to your evolution
All fixings and stage by stage instructions included
Simple assembly for a quick and easy build
Easy Self Assembly
When it comes to assembly, your building has been designed to be simple to install where a large building is as simple to assembly as a smaller building due to be being constructed from modular panels.
Overall Dimensions
Overall Width
Value
Overall Depth
Value
Width Internal
Value
Depth Internal
Value
Eaves & Ridge
Eaves Height Inc. Floor
Value
Eaves Height Excl. Floor
Value
Ridge Height Inc. Floor
Value
Ridge Height Excl. Floor
Value
Eaves Height Internal
Value
Ridge Height Internal
Value
Doors
Door Height
Value
Door Width
Value
Door Opening Size H x W
Value
Windows
Window Dimensions W x H
Value
Glazing Thickness
Value
Frame Thickness H x W
Value
Floor & Base
Overall Floor Size W x D
Value
Materials
Floor Material
Value
Material
Value
Roof Material
Value
Roof Covering Material
Value
Glazing Material
Value
Features
Windows
Value
Shed Type
Value
Project Timber Range
Value
Roof Style
Value
Fixtures & Fittings
Value
Cladding Style
Value
Locking System
Value
Interchangeable Windows
Value
Basecoat Treatment
Value
Pre-Assembled Side Panels
Value