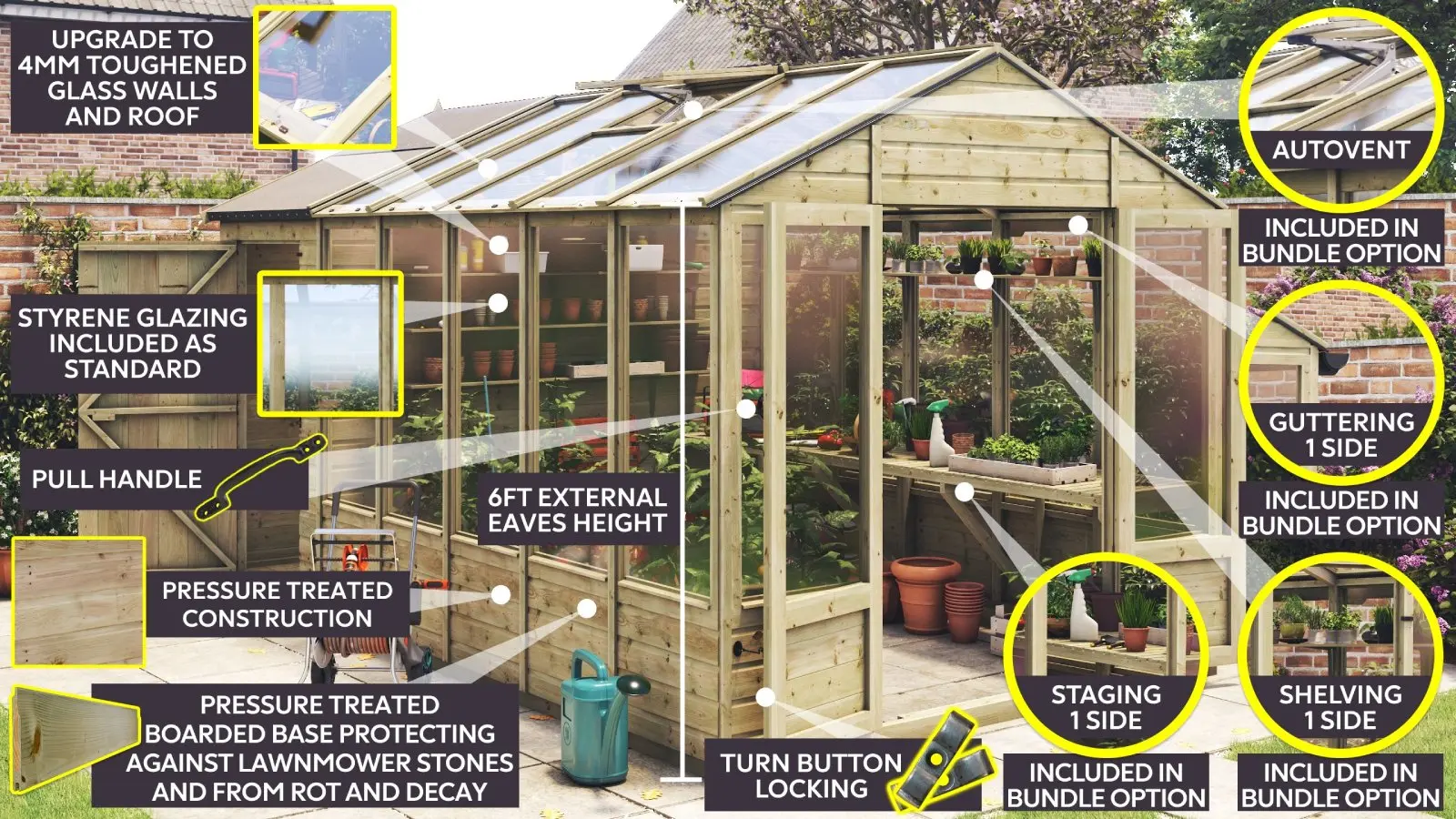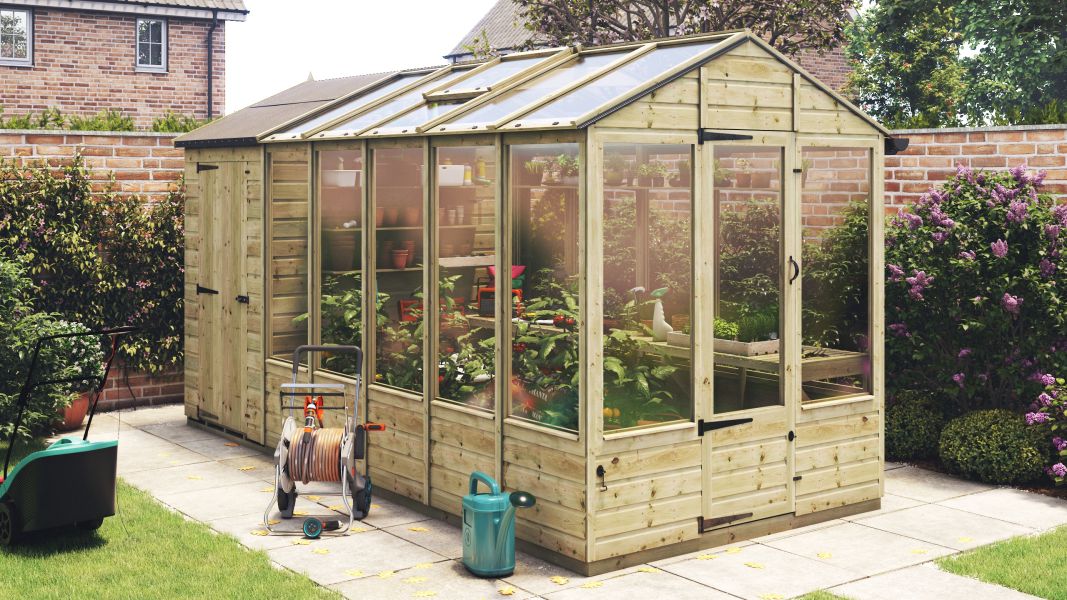 What's Included?
2mm Styrene glazing as standard
Upgrade to 4mm Toughened Glass
Potting Room with side windows and a boarded door
All Fixings and Fixtures included as standard
Stage-by-Stage Instructions
11mm Shiplap Tongue and Groove Cladding
1 Opening Window as standard, 2 Opening windows on the 10×8 and 8×8 sizes
Casement Stay as standard
Bundle Upgrade options include Shelving, Staging, Guttering, Silicone gun and tube, and an Autovent
Pre-Assembled Panels
Modular Design with pre-fitted glazing for easy assembly
Turn Button Locking with Pull Handle
Glazed Single Door
Timber Base Surround
Your Perfect Greenhouse
The Sandringham Apex Greenhouse is an ideal greenhouse if you are looking for a building with space for your plants and also a potting room which also makes the perfect tool store. The Sandringham is pressure treated as standard with shatter-resistant styrene glazing to keep your plants and items well protected from the elements throughout the year.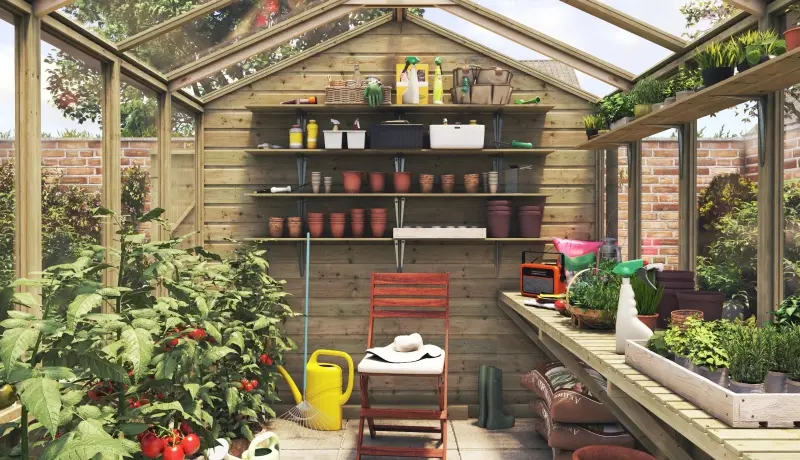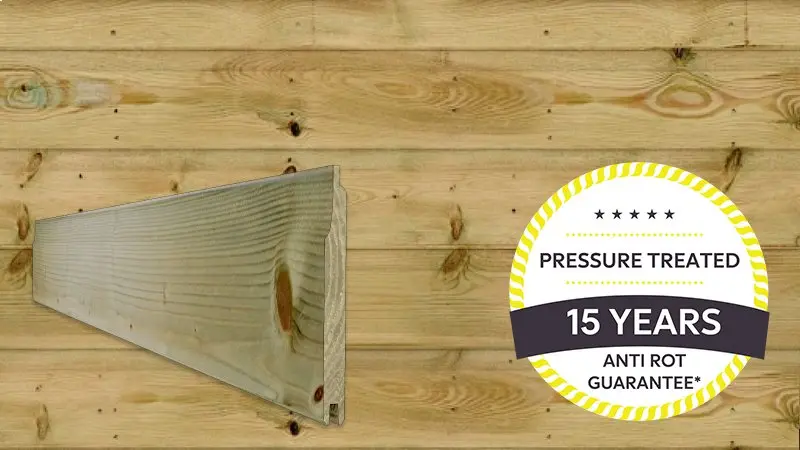 Pressure Treated as Standard
For a longer-lasting greenhouse, we offer free pressure treatment on your building, making it last even longer. With your greenhouse being exposed to more moisture than a standard shed, it is even more important that your building's timber is treated throughout. We also recommend that you paint your building inside and out to ensure it is well protected against fungal and decay, and also complies with our 15-year anti-rot guarantee*. Please see our terms and conditions for more details.
Stronger Timber Roof with an Opening Window
The Sandringham Apex Greenhouse comes with a pressure-treated timber roof and 3mm thick shatter-resistant styrene glazing, giving your roof increased strength. For increased ventilation in your building, we supply 1 opening window as standard on 6ft gable sizes, and 2 opening windows on the 8ft gable sizes.
The opening window is supplied with a casement stay as standard. If you would like to upgrade to an Autovent, we include this in our options bundles as standard. We also provide a silicone tube and a sealant gun in our option bundles so you can fully seal your roof to help prevent any leaks and increase the longevity of your building.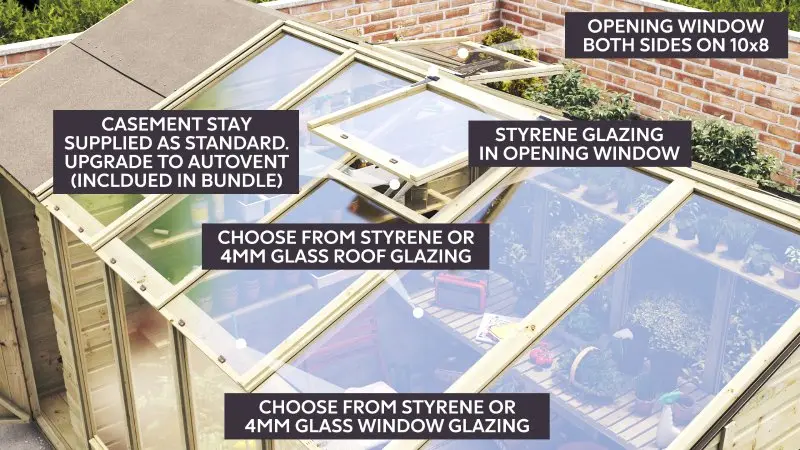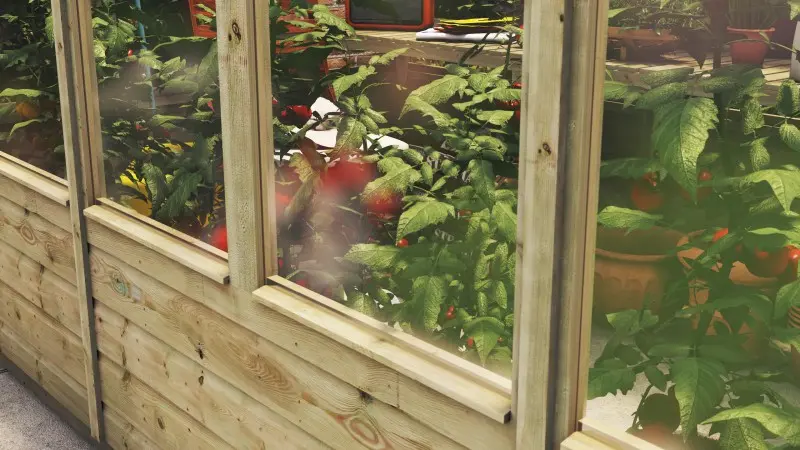 Choose from Styrene or 4mm Toughened Glass Glazing
For optimum growing conditions inside your building, we offer an upgrade from styrene glazing to our 4mm toughened glass, which will go in the windows, door and roof. The 4mm glass is a much better glazing option if you are growing vegetables and flowers, where the glass allows your plants to fully absorb the light, allowing them to grow much better than compared to being behind styrene.
The styrene option is our more cost-effective option if you are only looking to shelter your plants in the winter months, whereas the glass option is a recommended upgrade if you are planning on growing plants in your greenhouse all year round.
Bundle Upgrade Option – Standard 1 Side
We provide a standard upgrade bundle to outfit one side of your greenhouse with all the extra workspace and accessories you require. This package contains an Autovent for any opening windows as well as shelving for one side, staging for one side and guttering for one side. We also include silicone sealant and a sealant gun in the bundle.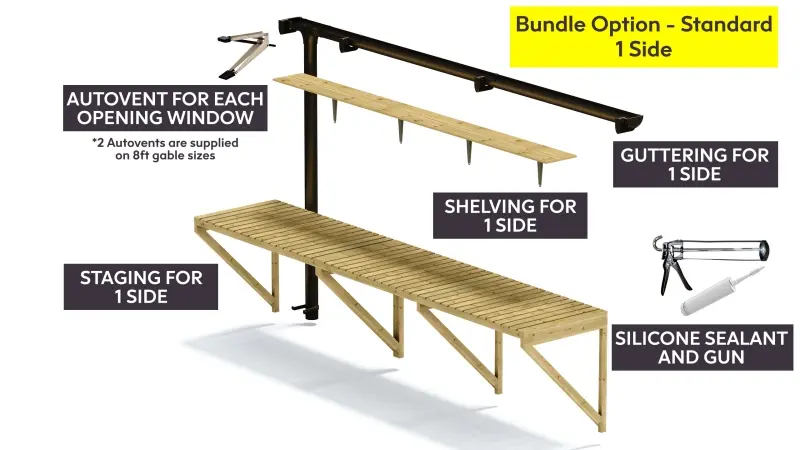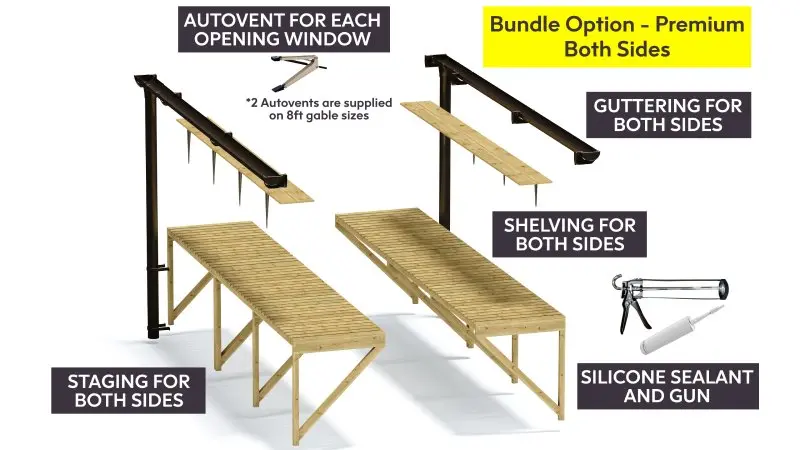 Bundle Upgrade Option – Premium Both Sides
Our premium upgrade bundle give you twice as much as our standard bundle, which means you get shelving on both sides, staging on both sides and guttering on both sides of your building. We also include an Autovent for any opening windows and also silicone sealant and a sealant gun so you can fully seal your roof.
Extra Tall Building
Your greenhouse has been designed with easy access in mind, with a tall external ridge height of 2.26m and a door opening height of 1.69m, you can stand in the centre of your building with headroom above. This is ideal if you are spending time inside your greenhouse for potting and watering your plants.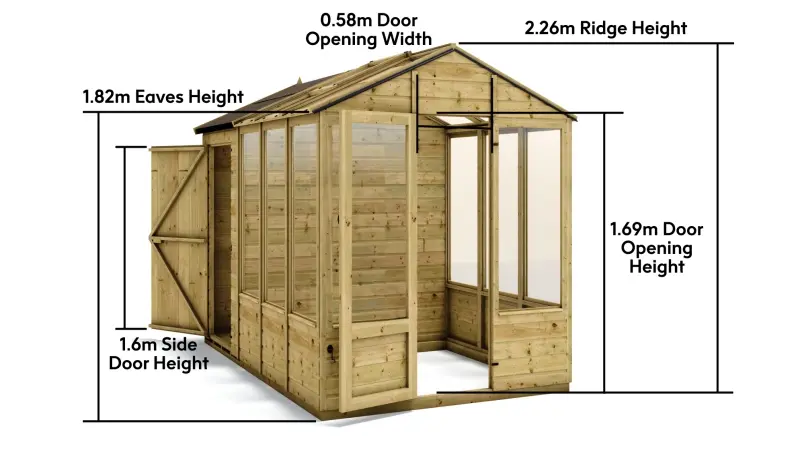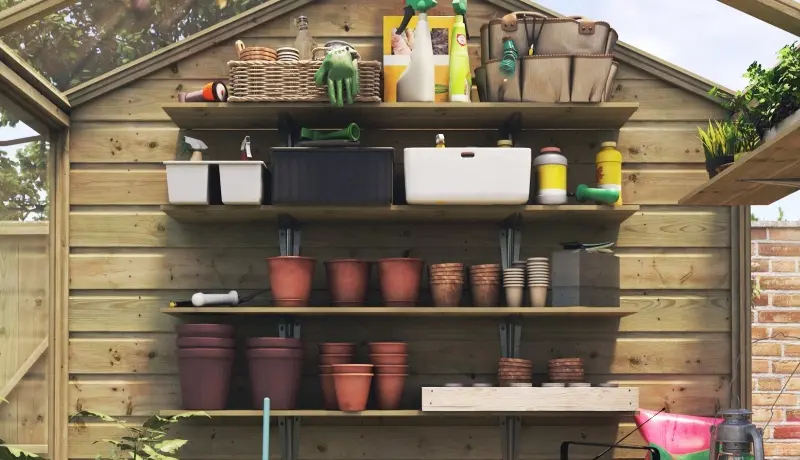 Back Shelf Stack Option
In addition to our options bundles, if you require more shelving along the back then you can choose to have a stack of 4 shelves in your greenhouse. We also offer the option to have 2 shelf stacks, which can go in the greenhouse and also the potting shed. We supply London Brackets for your shelves to give them extra strength when supporting lots of tools and garden items.
Base included as standard
For a solid platform to assemble your building, we supply a timber base surround as standard. This is pressure treated which keeps your building off the ground, helping to protect it against rot and decay. It also gives you additional headroom at the eaves. The timber base must be constructed on a solid level surface, such as concrete or paving slabs.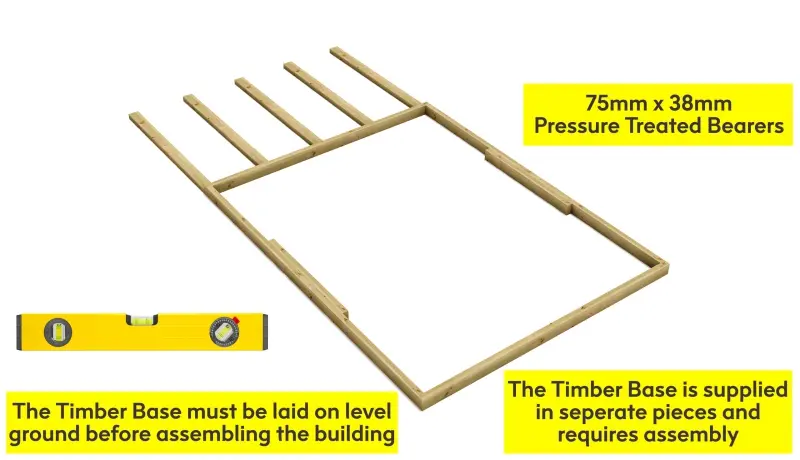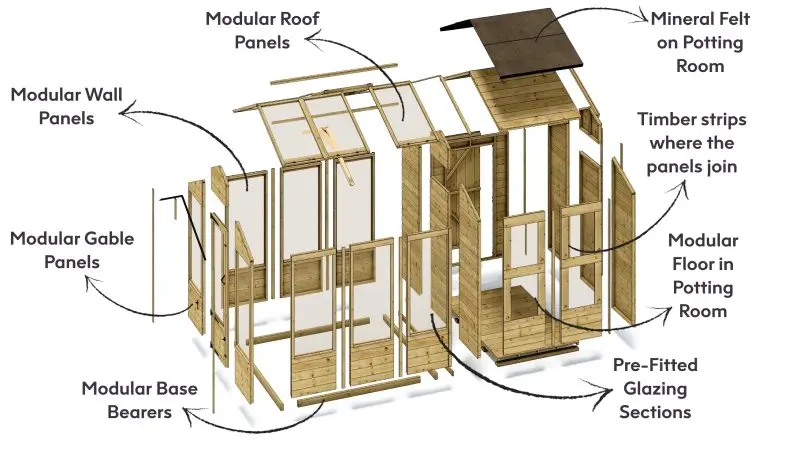 Modular panels that fit through your door
Our buildings have been designed so that are easy for you when it comes to delivery and assembly. To make your building simple to assemble and easy to handle, we manufacture our buildings in modular sections. This means 1 panel is easy to transport and handle, which is much better than having larger heavier panels that require side access on delivery.
Stronger and more durable
With your building made from modular sections, your building will have more upright framing, which greatly increases your building's vertical strength and increases its rigidity by having more timber at the joins.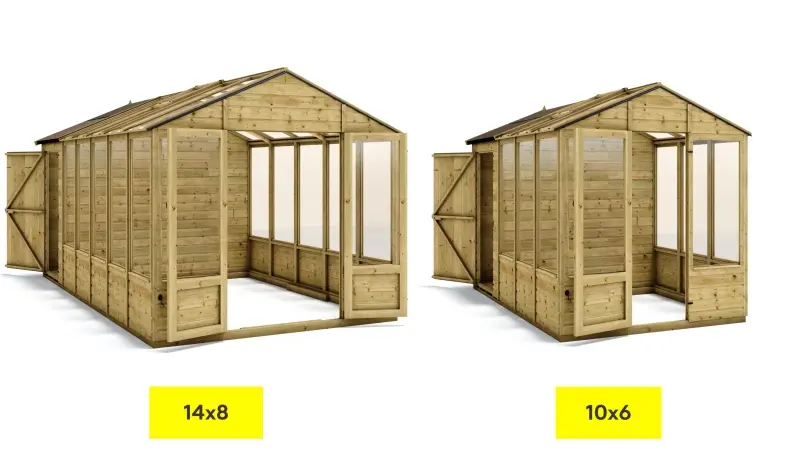 Multiple Sizes Available
If you are an expert gardener or simply require a greenhouse to keep your plants protected in the colder months, we have multiple sizes available so you can choose the best building for you. The Sandringham comes with a back potting room as standard, which is 4ft deep on all sizes, perfect for storing garden items and potting your plants.
Guttering Included in Bundle Options
For collecting extra rainwater for your plants, we offer you the option of having guttering on one side of your building, which is included in our standard bundle option. The guttering will also help keep your building panel free from water run-off from the roof. This means it will also help protect your building from the elements.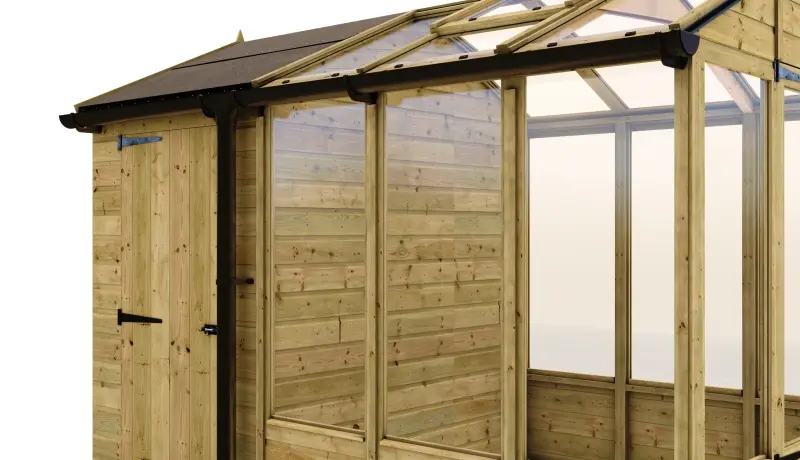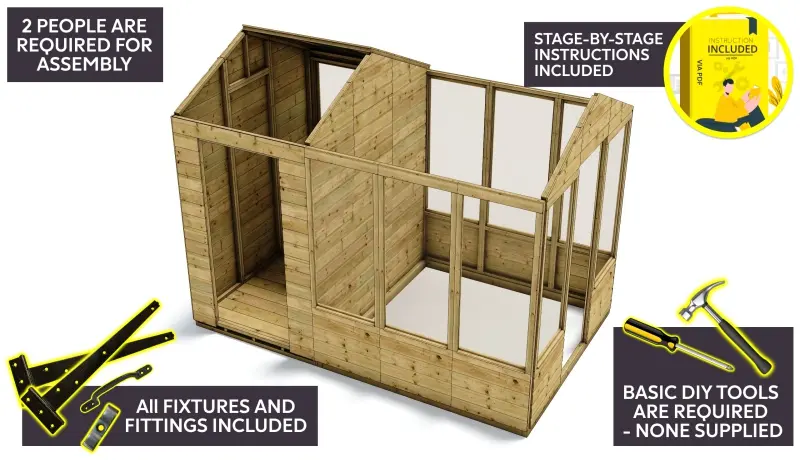 Simple Assembly
Your building is supplied flat-packed in modular sections that will fit through a standard UK door. The panels are designed to be easy to handle and so you will be able to transport your building from the kerbside to your build area.
We include all of the fixtures and fittings, along with simple-to-follow step-by-step instructions. We advise using 2 persons with basic DIY knowledge and some basic tools to assemble your building. We also provide our building assembly service for an additional fee if you'd want your building constructed for you.