High Quality Materials
Pressure Treated timber and tongue and groove construction.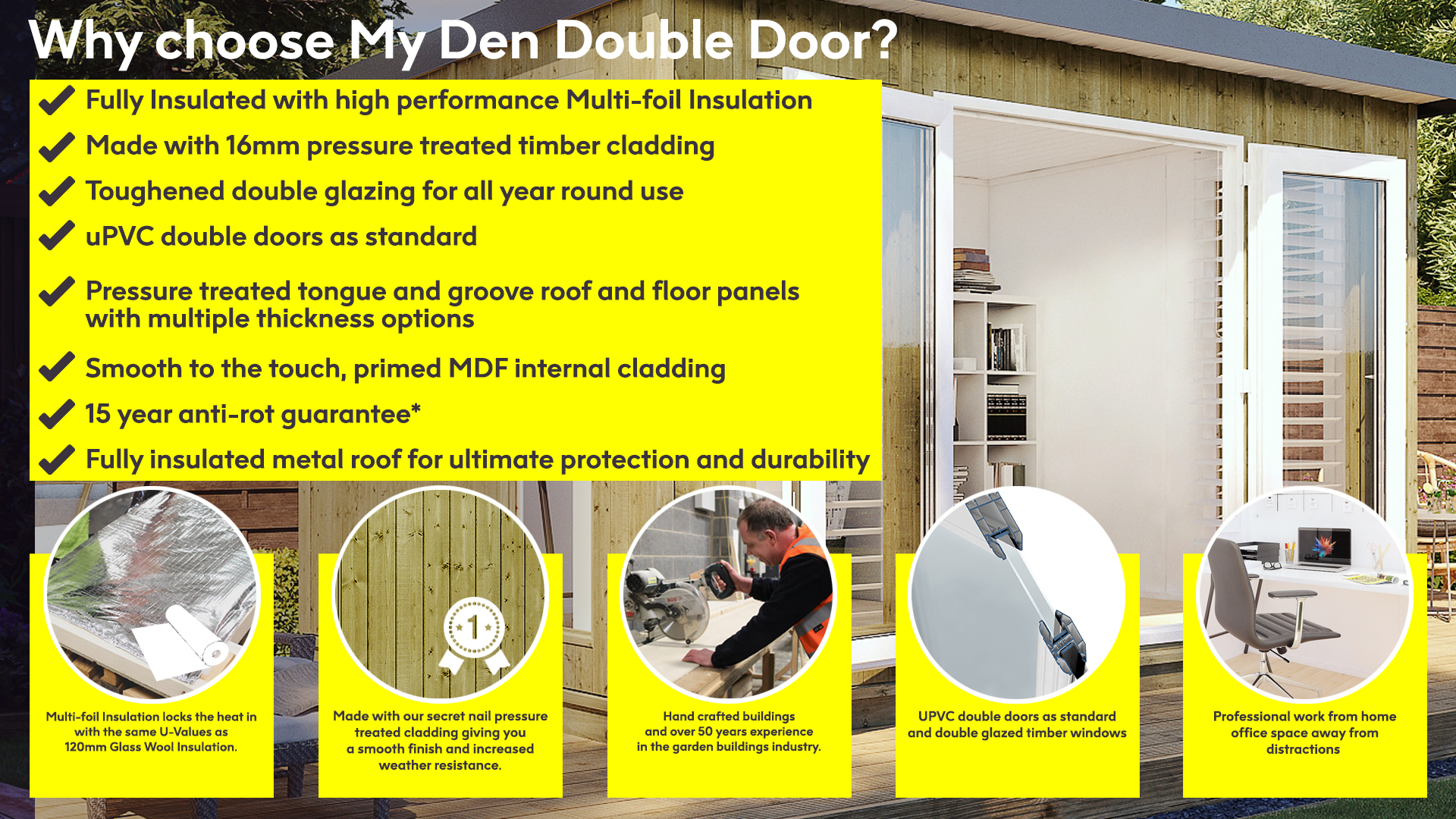 [sp_wpcarousel id="111022″]
Fully loaded Home Office with premium features and options
Fully Insulated
The My Den Double Doors can be used for a wide range of uses. It is perfectly suited for working from home garden office, or even a games room so you can unwind or work away from distractions. With side opening windows as standard and double glazing, you can easily control the temperature and noise levels in your building for a comfortable environment to work or play.
What's included?
All fixings and fittings
Easy to follow instructions
Pre-assembled panels, roof and floor
Eze base and fixings
Pre-fitted multi-foil Insulation and primed interior cladding
Double glazed front timber windows and opening side windows
UPVC double doors as standard
Heavy-duty fully insulated metal roof and fixings
Guttering included as Standard
Fully Insulated
For an office you can use all year round, the My Den with double doors comes fully insulated with our high performance multi-foil insulation. This is made up of multiple layers of foil and insulation, trapping more air inside the layers and maintaining the temperature of your building. Your building will also be more comfortable in the warmer months, where the multi-foil insulation will also reflect the heat from the outside, keeping your building cooler.
Our multifoil insulation is also much thinner than standard glass wool insulation, yet it provides the same U-values and so you can have the same insulating properties without any thick insulation reducing your internal space.
To make assembly as easy and as quick as possible for you, we have specially designed the panels to have the multi-foil insulation and internal cladding pre-fitted, meaning that the panels simply slot together without any additional fitting for the internal cladding.
Hand Crafted
Developed by our highly experienced design team of designers, we only select the best materials for our garden buildings. All of our My Dens are handmade and constructed with our secret nail timber cladding at our manufacturing facility on the cusp of Sherwood Forest and pressure treated on site to ensure your building is of the highest standard.
Our secret nail timber cladding is pressure treated with a special formula that provides superior resistance to rot and fungal decay, meaning that your building will stay at its highest quality for longer.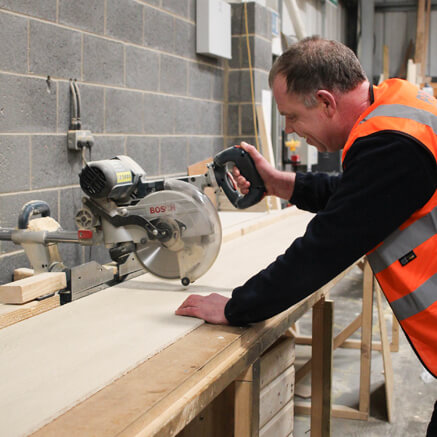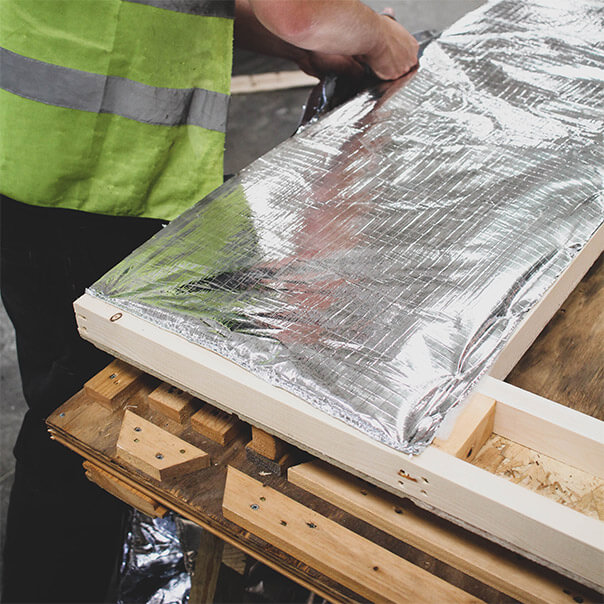 We do the hard work for you
To make installing your My Den even easier for you, we pre-insulate every panel so that you can have your building ready to use less time. We also design our buildings using modular panels so that assembling them is quicker and simpler with easy to repeat steps.
To make assembly even quicker and easier, we also provide the panels with the internal cladding pre-fitted, which slot together to make them simpler to install. We provide easy to follow stage by stage instructions, and we provide all of the fixings and fittings required you can get started as soon as your building arrives.
Fully Insulated Metal Roof
For the ultimate roof covering the My Den double doors comes with our heavy duty, fully insulated metal roof as standard. Made from corrugated metal outer shell and premium gloss internal finish, our metal roof provides increased weather protection and increased longevity of your building.
Our metal roof panels also come with a 40mm thick 40mm insulated center, ensuring the roof panels keep your building warmer in the winter and cooler in the warmer months. The roof panels are also simple to install and do not need any extra roof covering, making them fit easier than a timber roof that needs material to cover the roof. The metal roof is also our lowest maintenance roof option and will protect your building throughout its lifespan.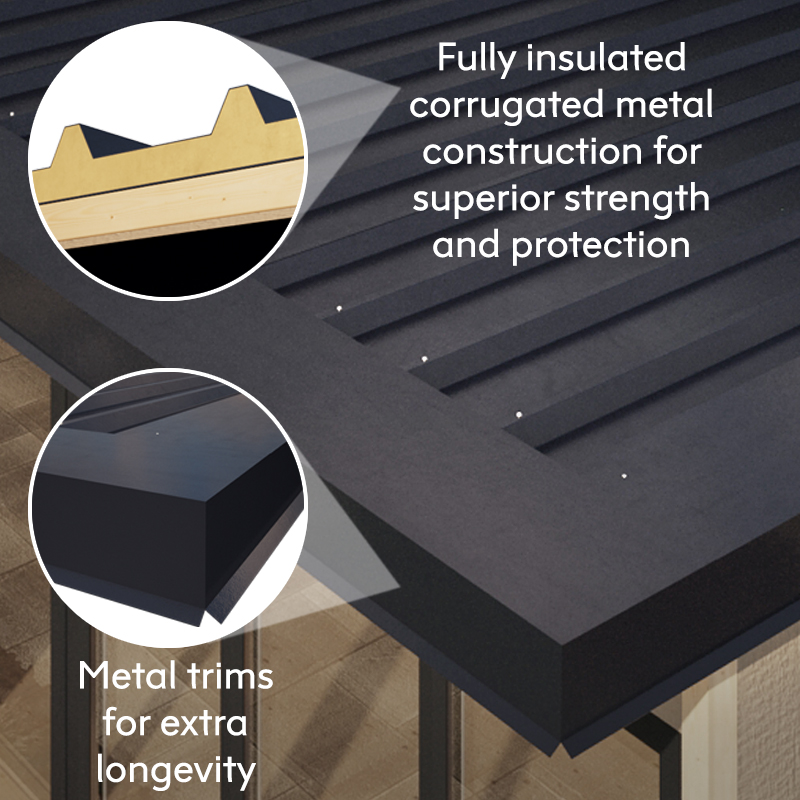 Multi-layered Insulated Panels
The next generation of outdoor space

Excellent seller,good delivery,very good product and price!!!

Many thanks for speedy delivery. Item as described. Will use again

Absolutely love our summer house we purchased from Project Timber. Quality is superb at such a great price. Customer services are fast to answer any queries you may have and will be ordering again from them again.

Extremely helpful people selling a good product at the right price, delivered on time and I can't find anything to be critical about.

The sales team were excellent and answered all our questions. Delivery was as arranged and the delivery driver couldn't have been more helpful. The timber and its pressure treatment is good quality and the construction plans were easy to follow. We are delighted with our new summer house.

Brilliant company, so easy to deal with. The summerhouse arrived on the date they said a two great young men erected it within about 4/5 hours. Extremely efficient and friendly. As for the summer house, well it's great and so affordable. My son uses it daily as a man cave with a sofa ,TV.and games console .

First time we used Project timber. Very easy to communicate with. Delivery was on time. Drivers polite and helpful. Building was easy to erect and seems good quality.