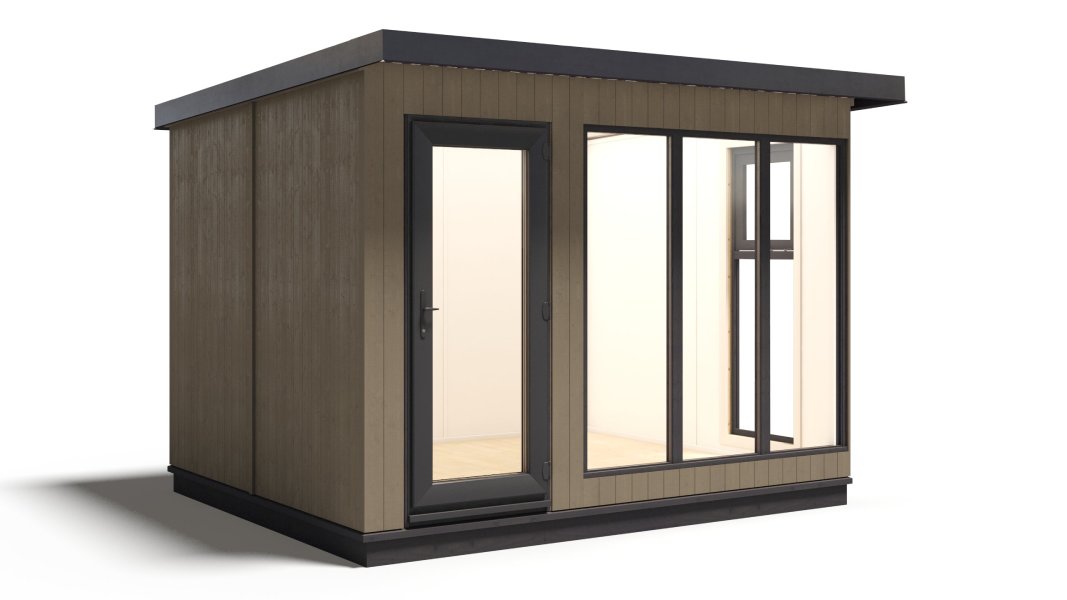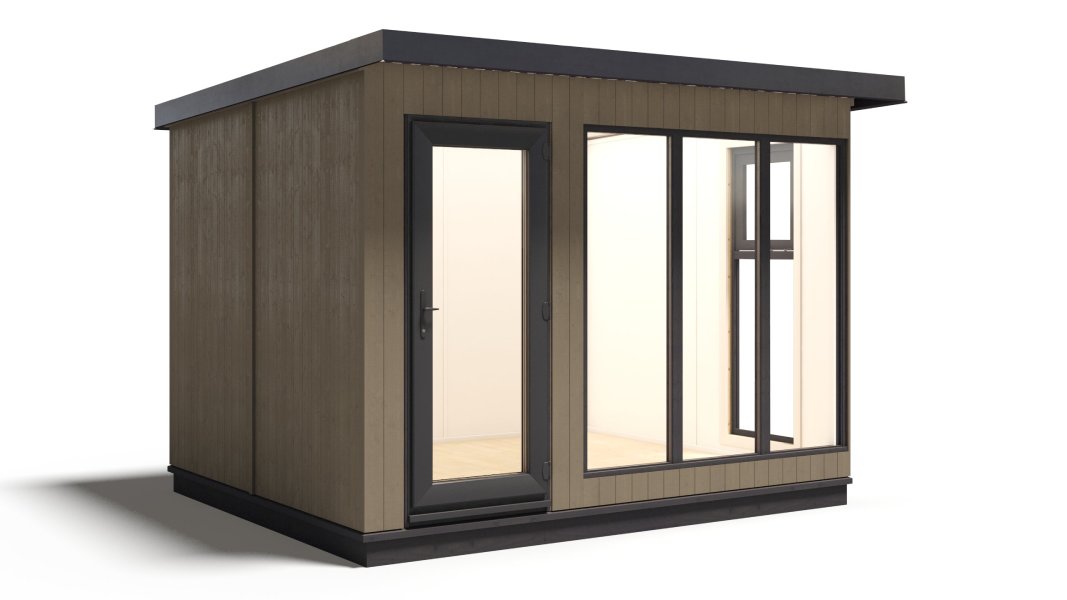 FULLY INSULATED
walls, floor and roof
DOUBLE GLAZING
and uPVC Door
LONGER LASTING
with pressure treatment
Disclaimer : Painted buildings are for illustration purposes only. All buildings are in their standard or pressure treated colour upon delivery where the colour may vary from those shown. Adequate distance must be kept between the boundary and your building to allow access to apply the annual treatment to comply with the anti-rot guarantee*.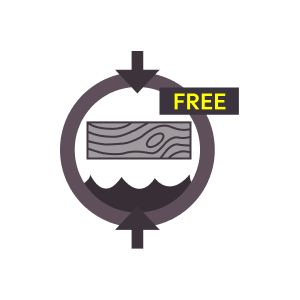 Free Pressure Treatment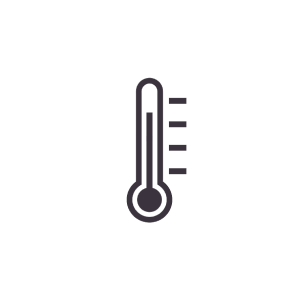 Fully Insulated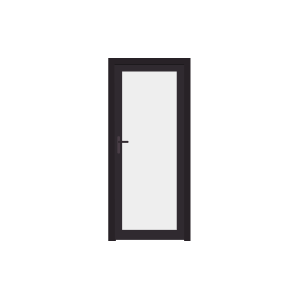 UPVC Door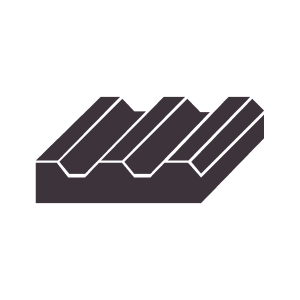 Insulated Metal Roof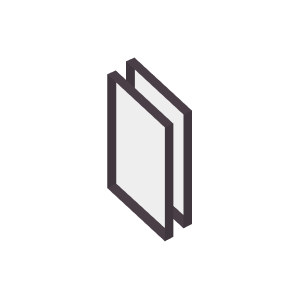 Double Glazing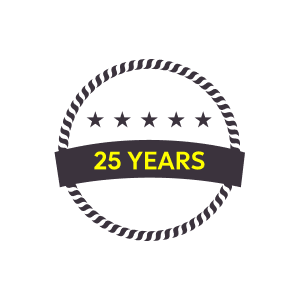 25 Year Anti-rot Guarantee*
My Den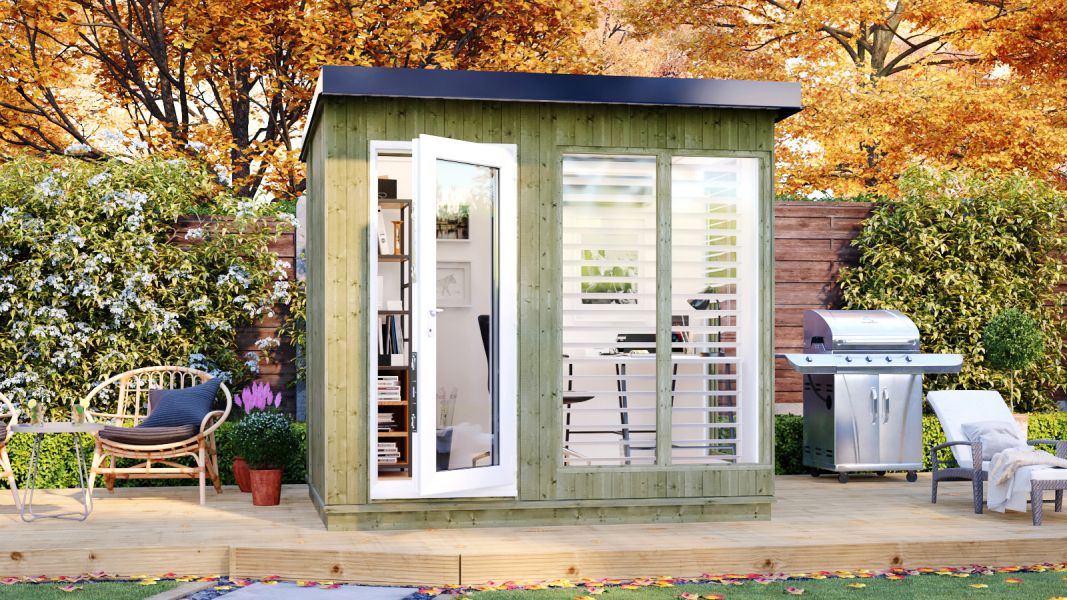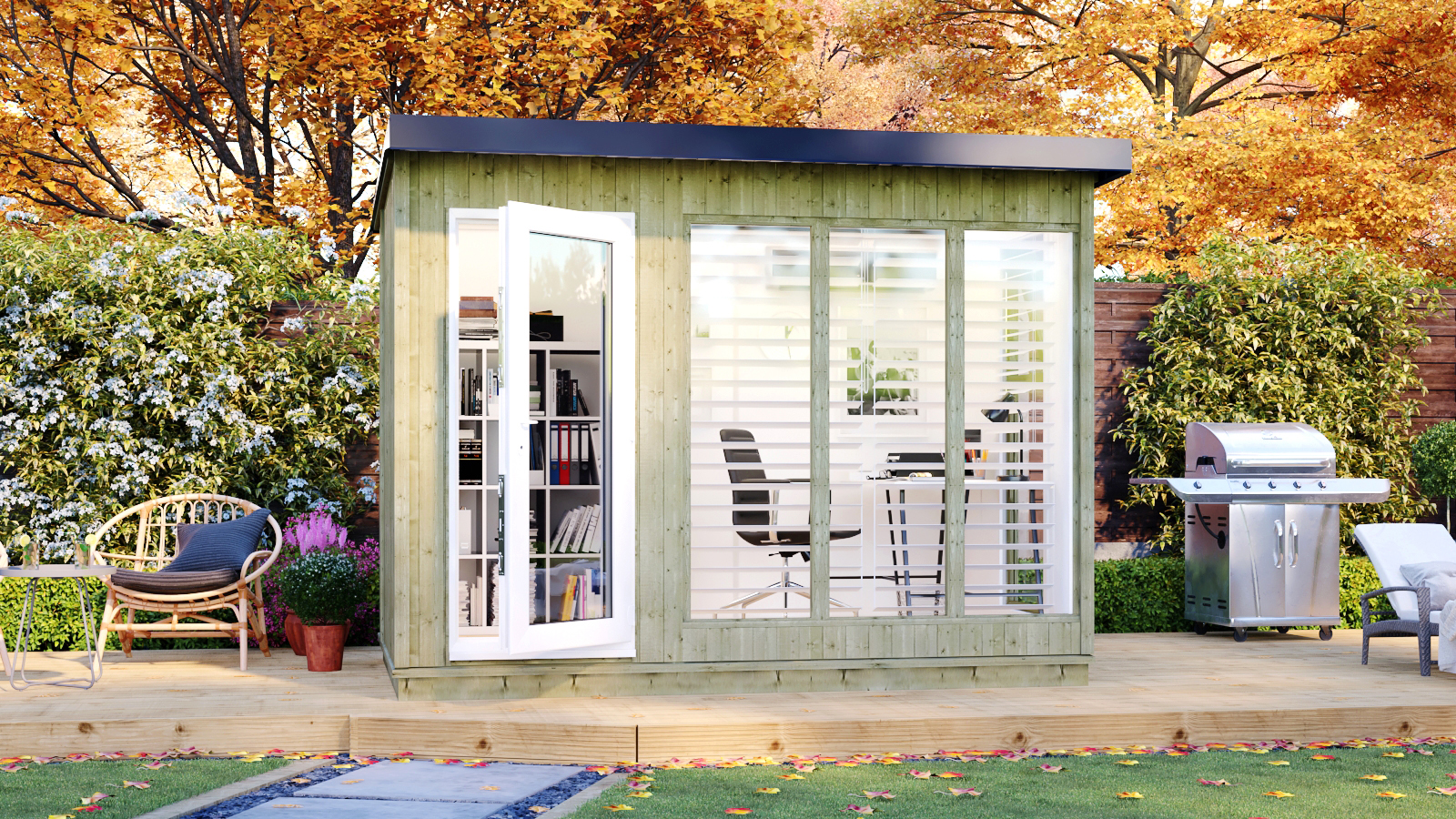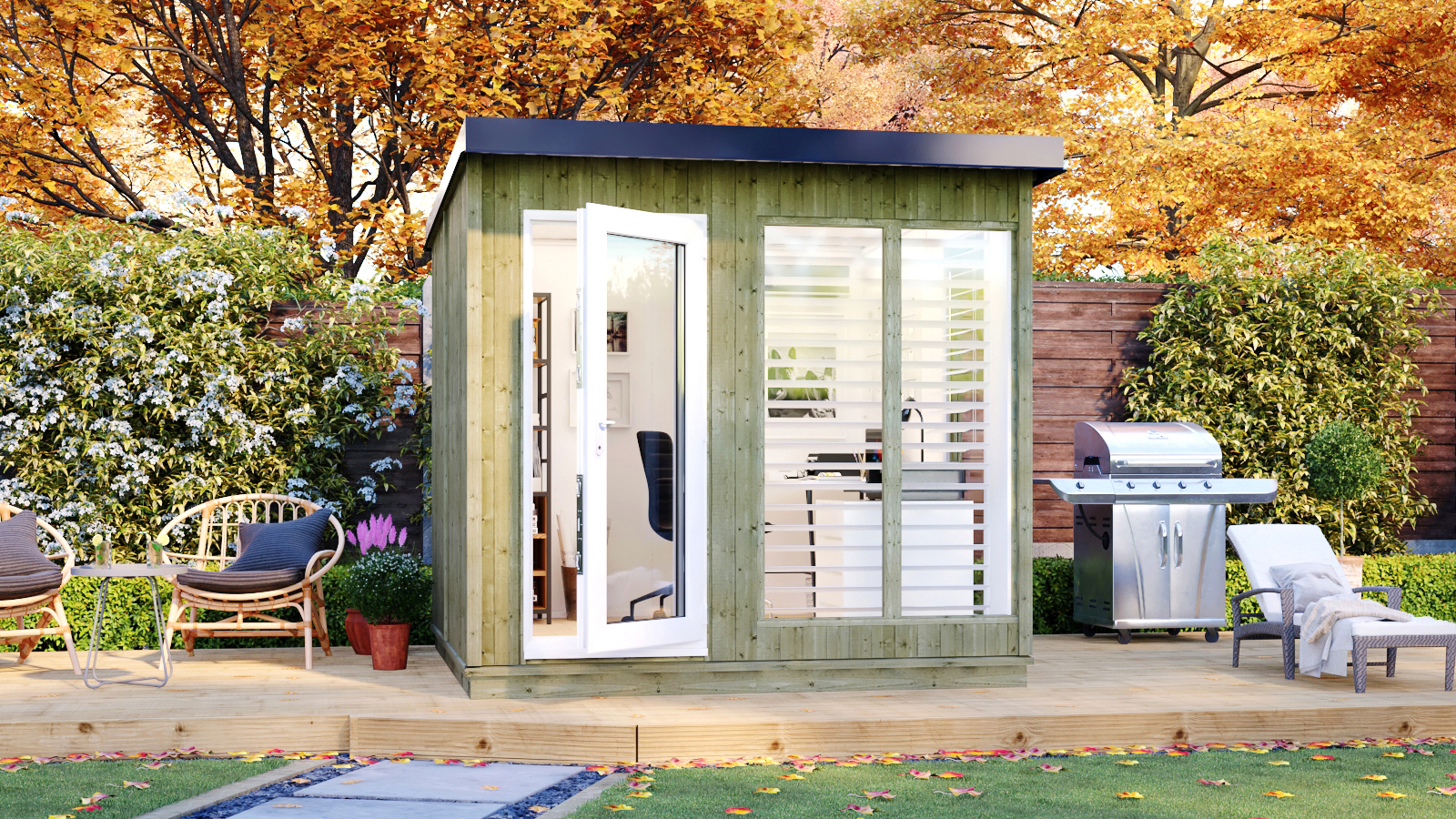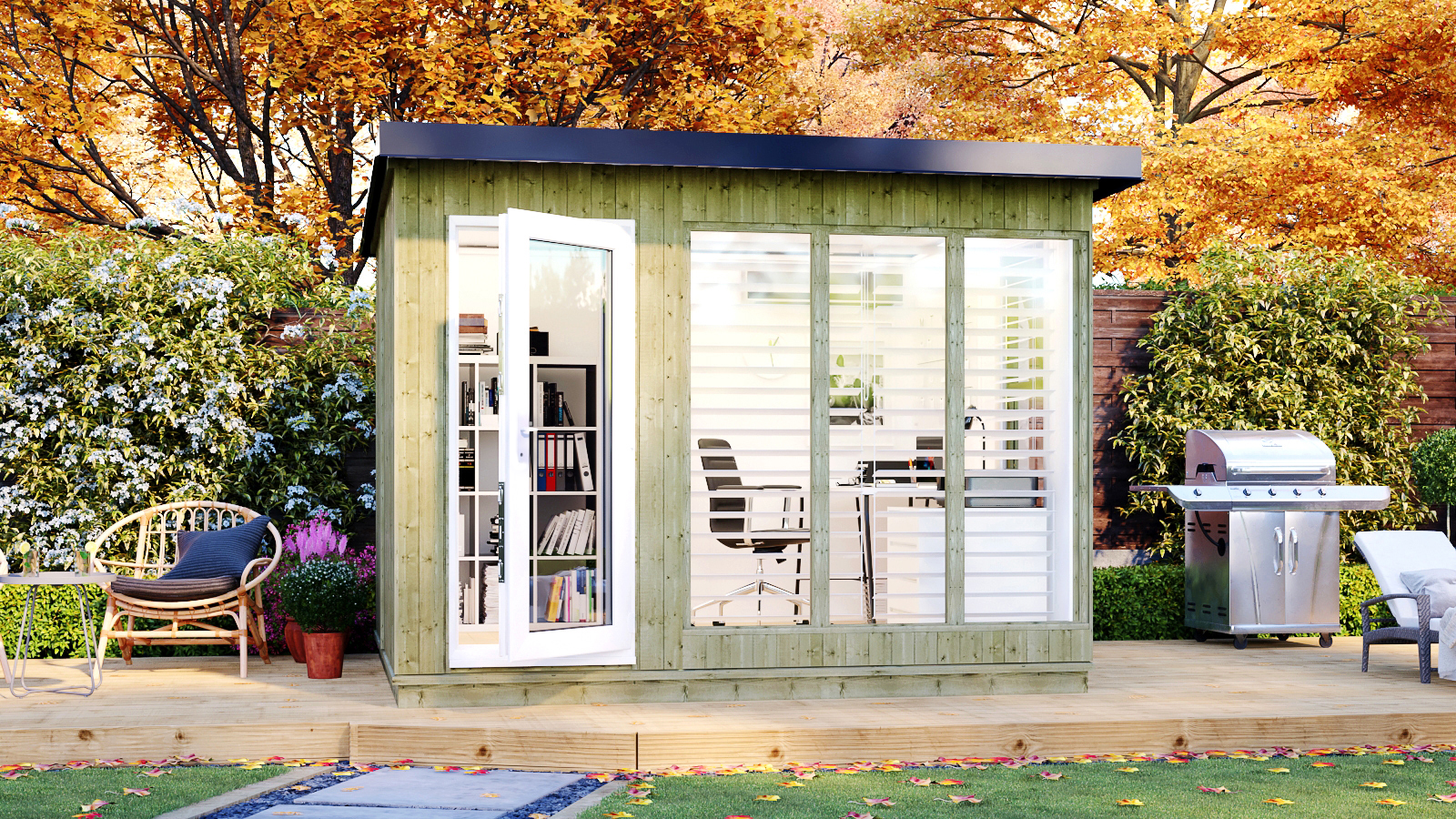 Delivery from, Thu 8th June
The size you have selected is
USE VOUCHER CODE SPRING10

In Stock

High Quality Materials
Pressure Treated timber and tongue and groove construction.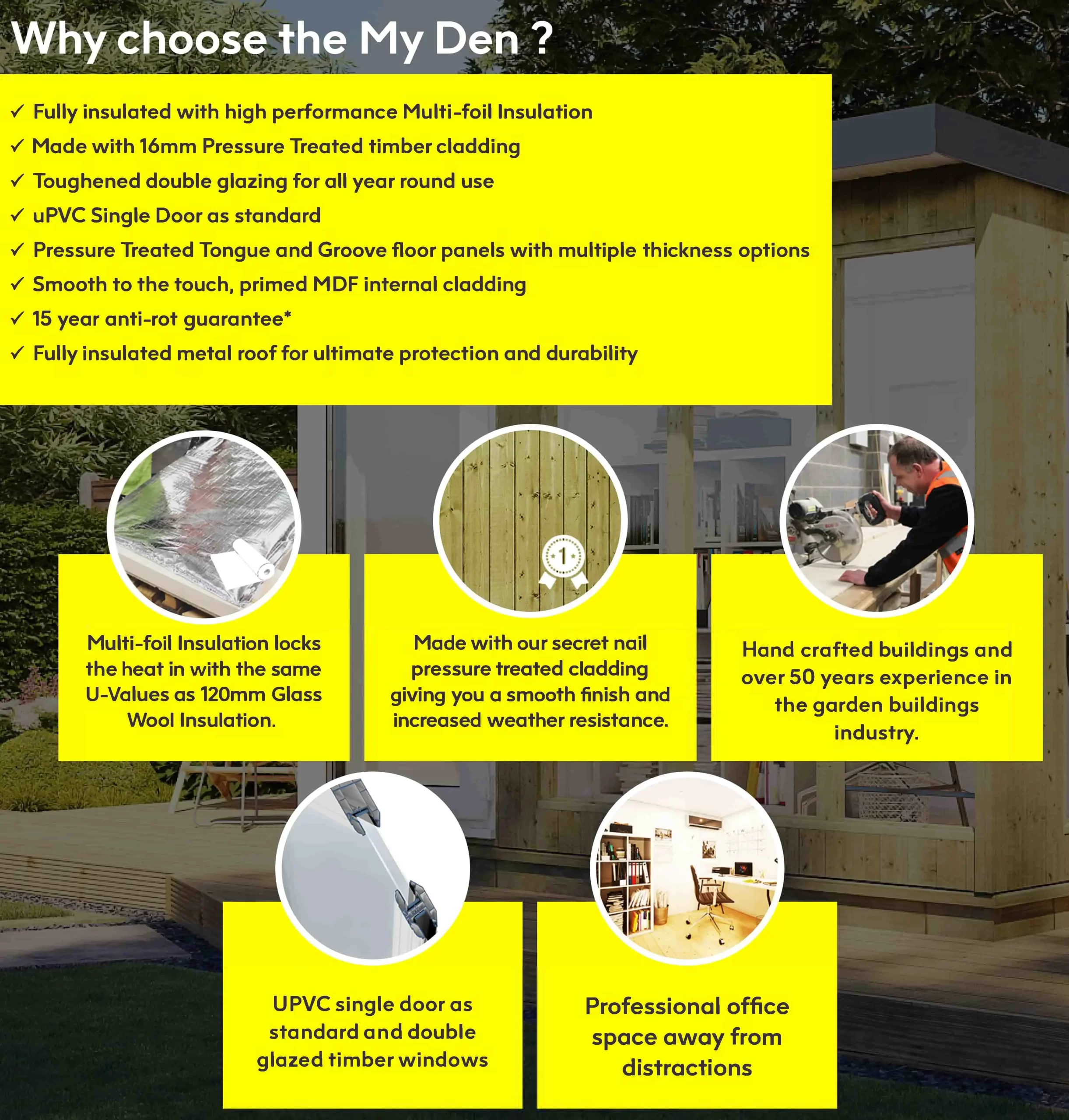 Fully loaded with premium features and options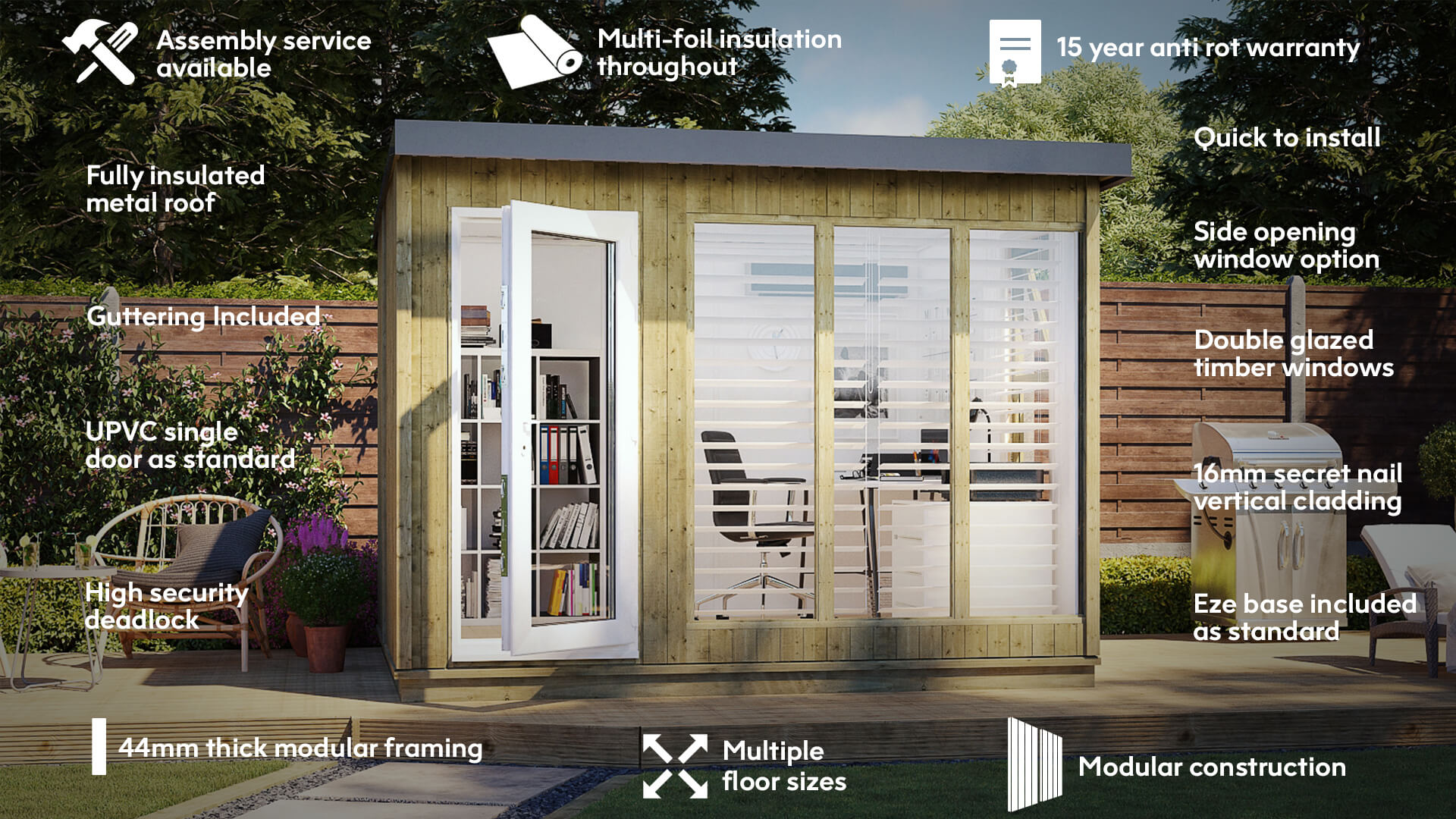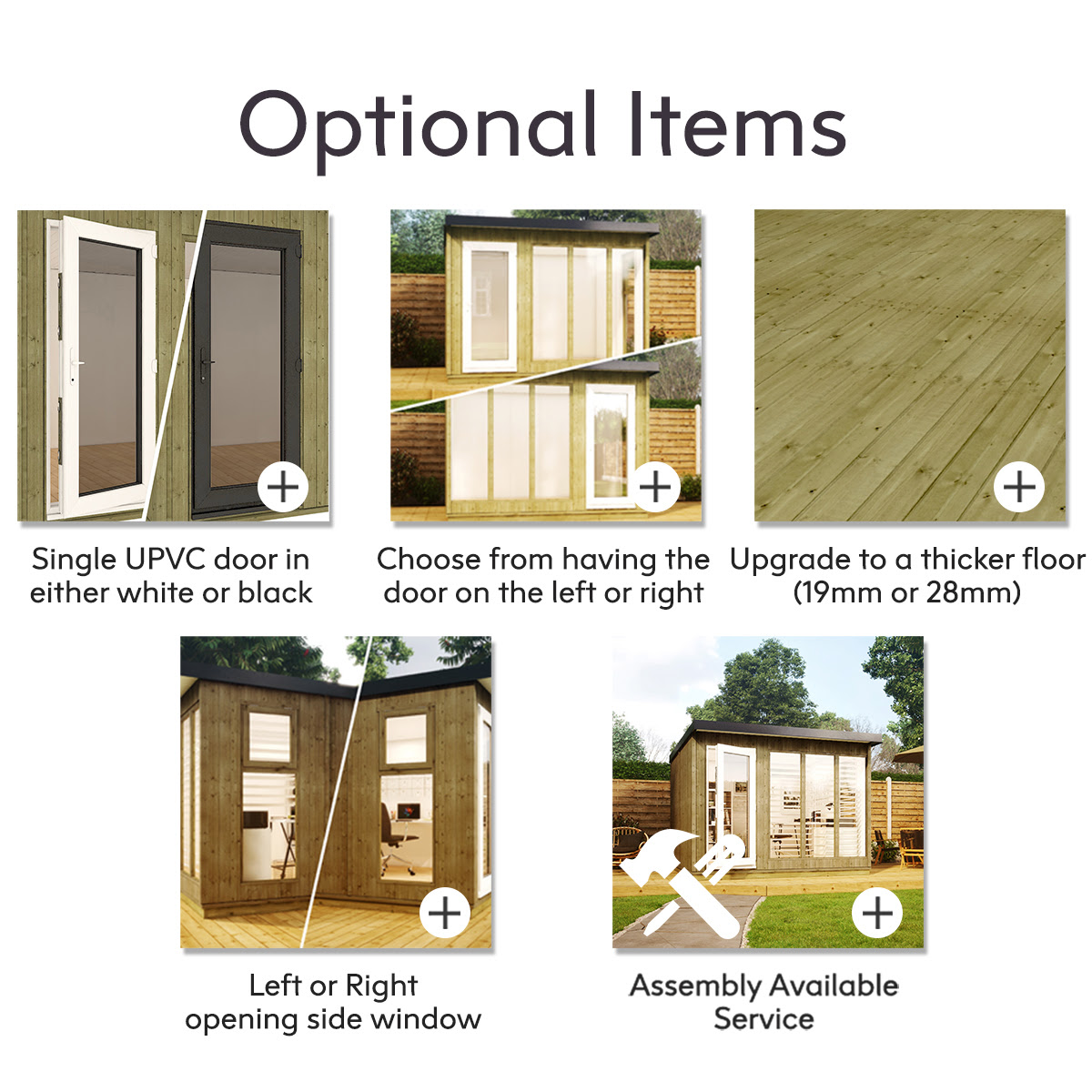 Tailor to Your Requirements
The My Den is an ideal solution for working from a home garden office. To make your office the working from home environment you desire, we have given it a variety of useful options so you can get the most from your building.
The My Den is made from our modular panels, which means you can select a building configuration that best suits your working environment. You can choose which side the single door is on your building and if you want just one opening window or an opening window on both sides. You can also upgrade the floor thickness if you have heavy office equipment. We also have paint options, guttering options, and a choice of uPVC door colour.
What's included?
All fixings and fittings
Easy to follow instructions
Pre-assembled panels, roof and floor
Eze base and fixings
Pre-fitted multi-foil Insulation and primed interior cladding
Double glazed front timber windows and opening side windows
UPVC single door
Heavy-duty fully insulated metal roof and fixings
Guttering included as Standard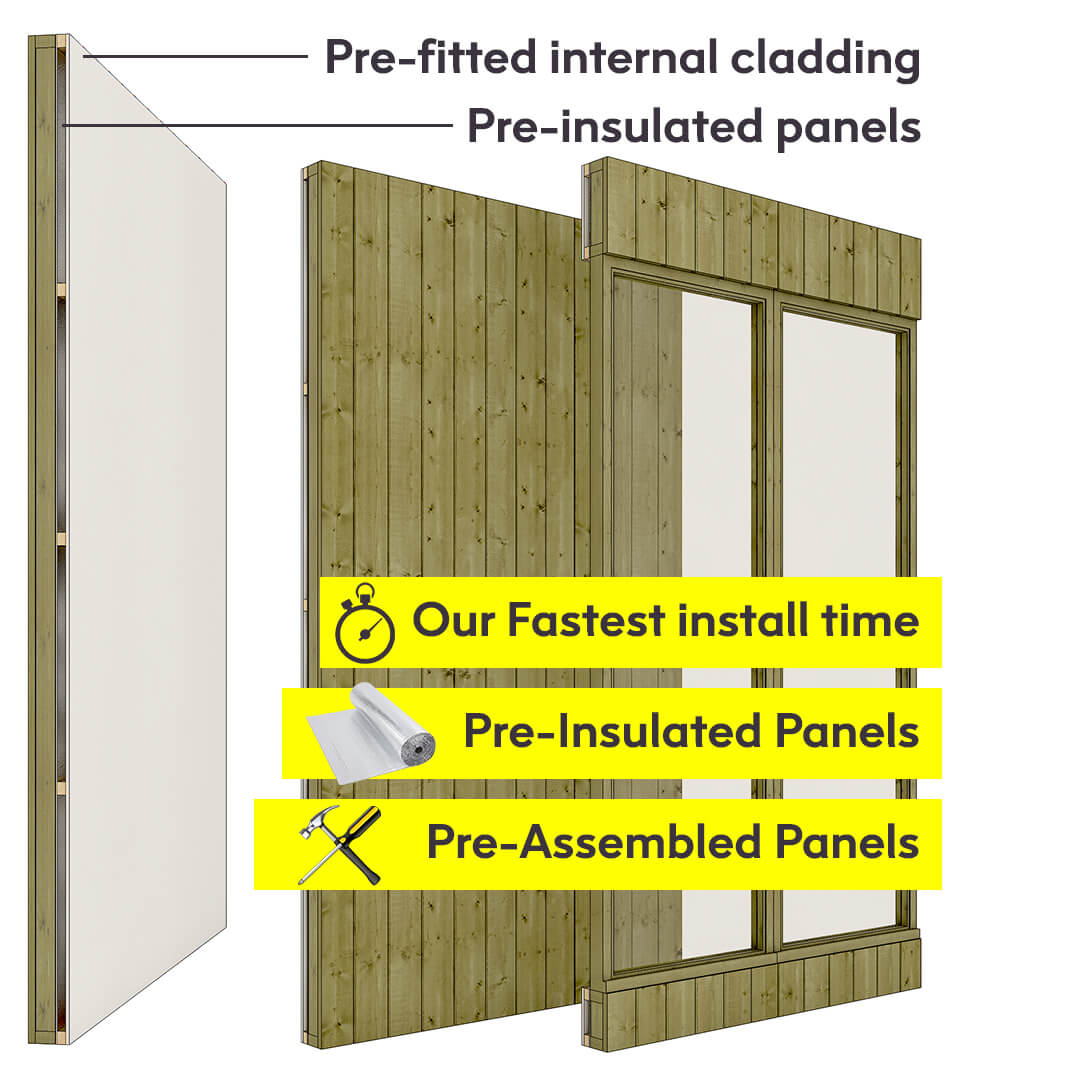 Fully Insulated
For an office you can use all year round, the My Den comes fully insulated with our high performance multi-foil insulation. Our multi-foil insulation has multiple layers which lock the temperature in the colder months and deflects the heat in the warmer months. It also provides you with the same U-values of 120mm glass wool insulation. It is also much thinner which means you have more room inside compared to using conventional insulation rolls.
To make assembly as easy and as quick as possible for you, we have specially designed the panels to have the multi-foil insulation and internal cladding pre-fitted, meaning that the panels simply slot together without any additional fitting for the internal cladding.
Hand Crafted
The My Den is built by our fully trained product development team using hand-selected graded scandinavian slow grown timber and state of the art exterior cladding in house at our facility in Nottinghamshire, in the cusp of Sherwood Forest.
All of products are checked before delivery making sure everything meets our high standards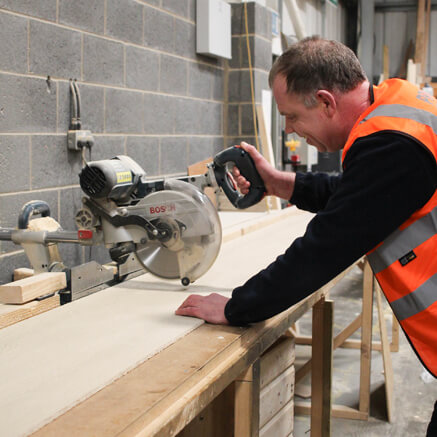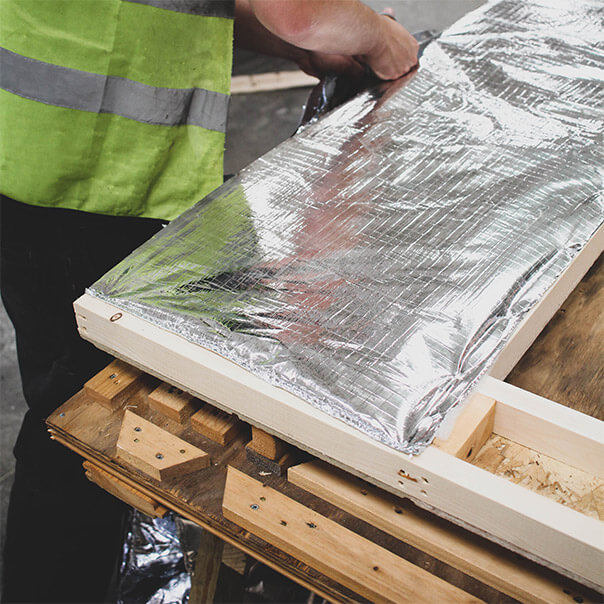 We do the hard work for you
My Den comes with pre-assembled panels which we line with insulation before it's delivered to your door. Making the installation of My Den easier for you or your installer, whilst saving you time and money.
Alongside this we have created a set of easy to follow instructions which are sent out with every building, making your My Den experience a pleasant one.
Fully Insulated Metal Roof
For the ultimate roof covering the My Den comes with our heavy duty, fully insulated metal roof as standard. Made from corrugated metal outer shell and premium gloss internal finish, our metal roof provides increased weather protection and increased longevity of your building.
Our metal roof panels also come with a solid 40mm insulated core, which means that they will keep your building warmer in the winter and cooler in the warmer months. The roof panels are also easy to fit and don't require any additional roof covering, making them faster to fit than a timber roof which requires a roof covering material. The metal roof is also our lowest maintenance roof option and will protect your building throughout its lifespan.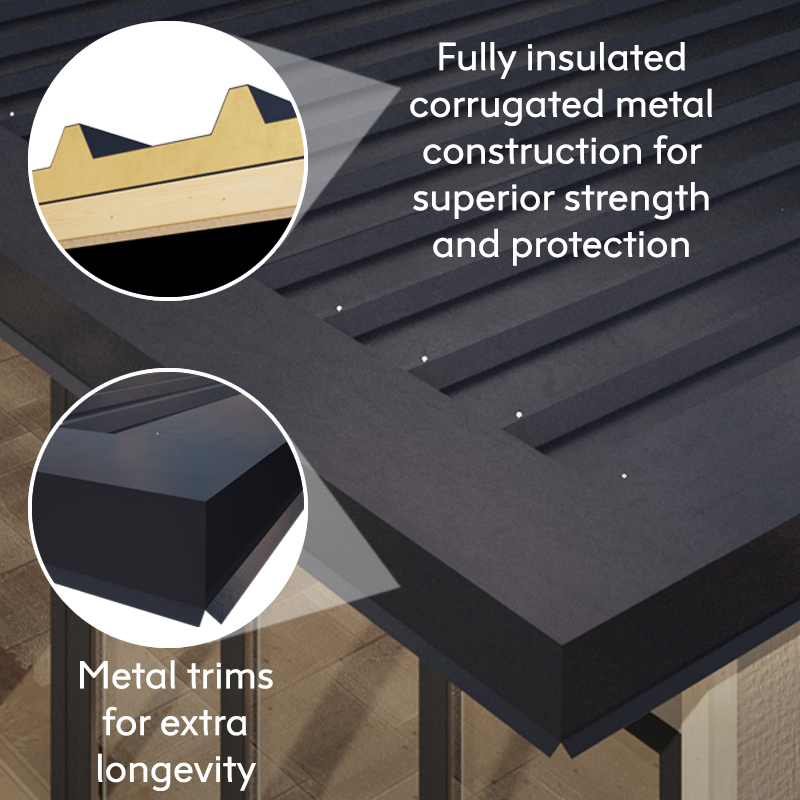 Multi-layered Insulated Panels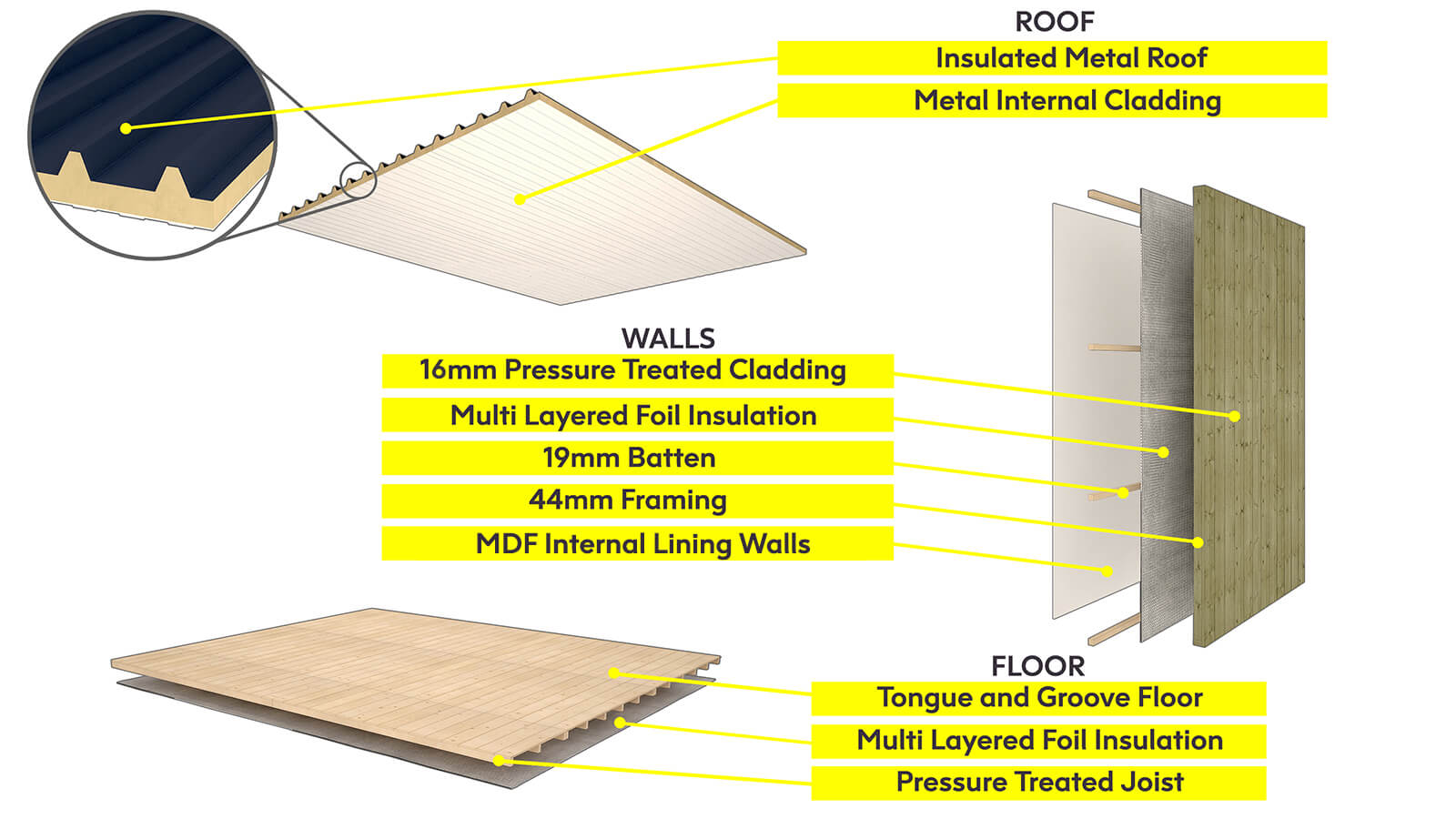 The next generation of outdoor space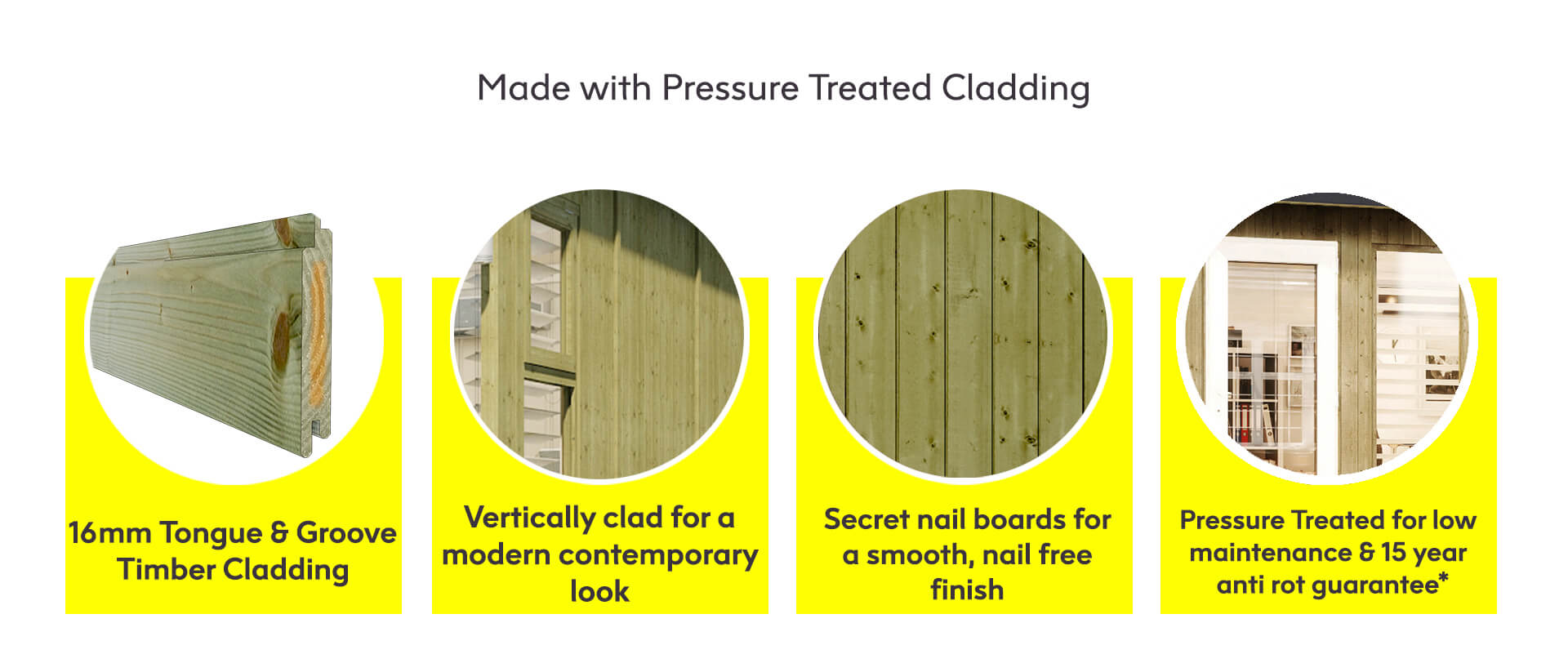 Garden Office in a Box - Fully Insulated Garden Room
High quality materials
Pressure-treated timber and tongue and groove construction.
25 Year anti rot guarantee*
Increased weather resistance than dip treated buildings and doesn't require annual treatment.
Longer lasting
Made from 16mm heavy duty timber cladding and thicker timber framing for extra durability.
Thicker and doubled up framing
Our timber framing is doubled up where the panels join, providing extra strength and rigidity.
16mm secret nail timber cladding
Our secret nail timber cladding gives your building a smooth finish and interlocks for extra strength and protection.
Insulated as standard with Multi-foil Insulation
Our panels are pre-insulated with multi-foil Insulation and also pre-internally clad for easy installation.
Perfect for a working from home garden office
For a professional-looking home office in your garden, away from distractions, and for extra privacy.
Fully Insulated metal roof for superior weather resistance
Our heavy duty metal roof gives your building the ultimate weather protection. It is also fully insulated with gloss interior finish
Building comes unpainted as standard
Our pressure treated timber cladding is low maintenance, saving you time and money.
Double glazed as standard
Timber windows and doors with double glazing as standard.
Contemporary pent roof style with an overhang
For a more contemporary looking garden choose the Evolution Office in a Box.
Smooth finish internal walls
Smooth to the touch, primed MDF internal cladding that has a plain finish.
Floor options available
Multiple floor sizes available. Upgrade to a thicker floor for heavier items and daily use.
All fixings and stage by stage instructions included
Simple assembly for a quick and easy build.