High Quality Materials
Pressure Treated timber and tongue and groove construction.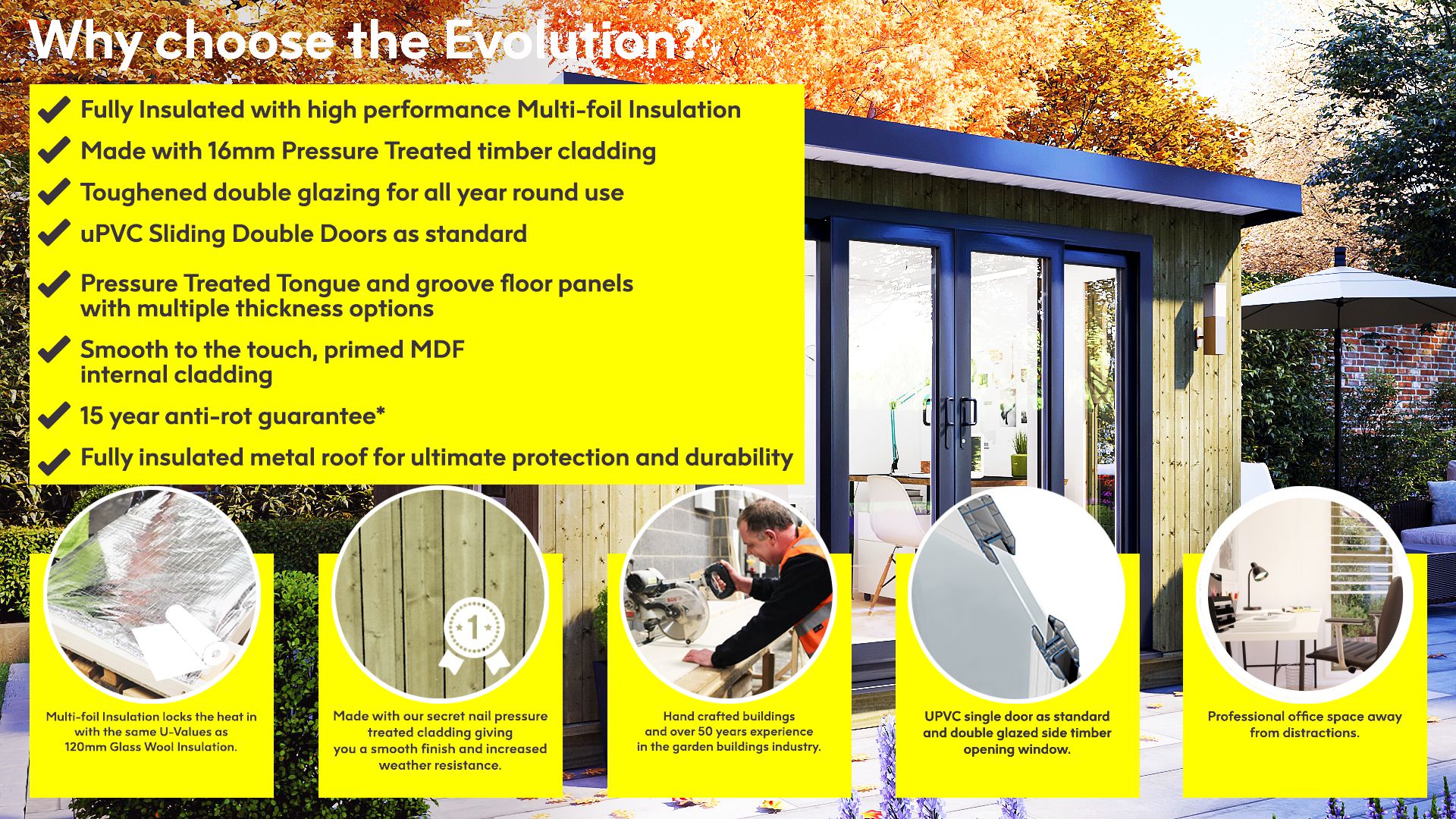 Fully loaded Home Office with premium features and options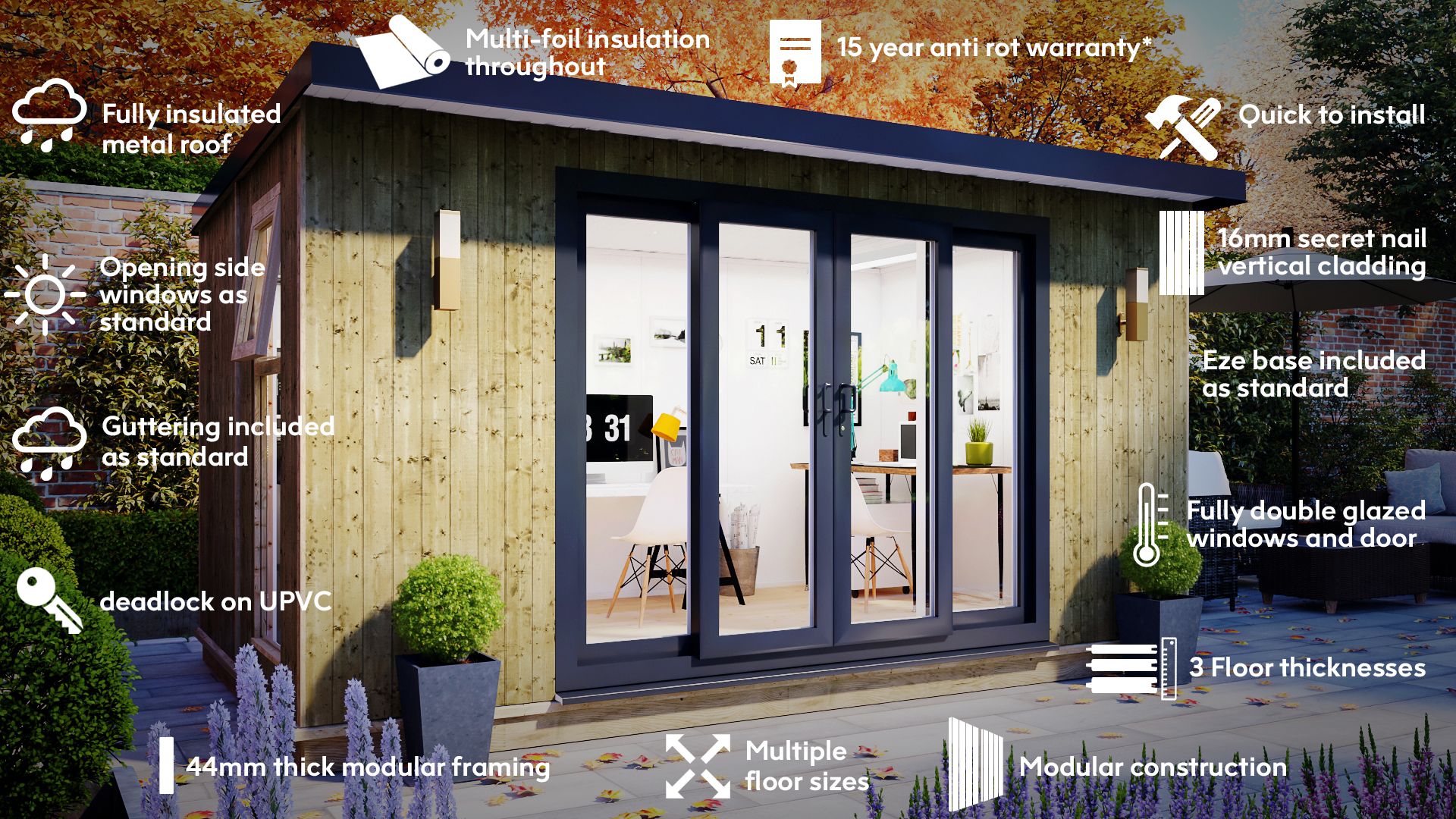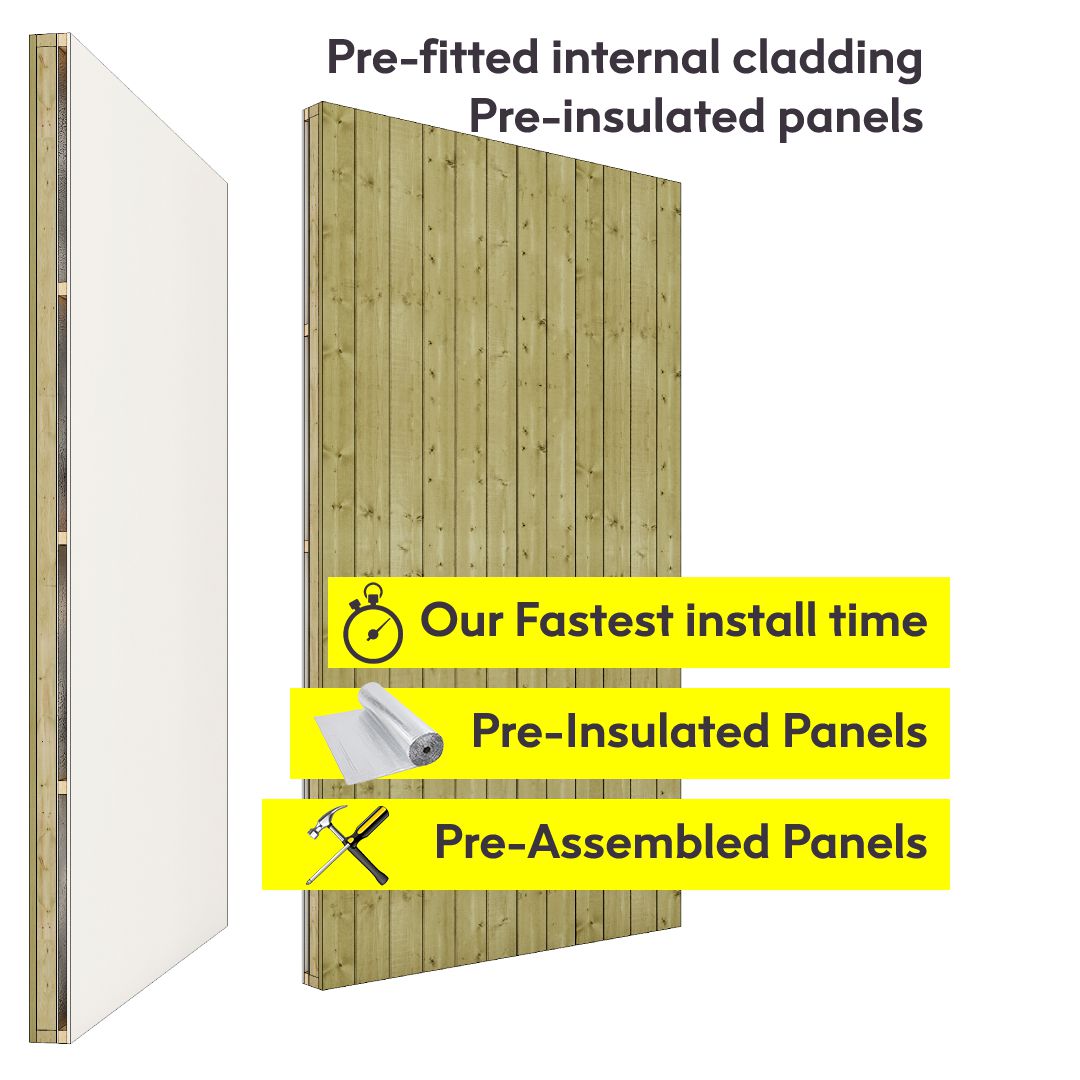 Fully Insulated
Our My Den panels are specially designed to give you the best insulating u-values whilst maximising your internal space by being lined with our high-performance multi-foil insulation. The quilted insulating layers trap the air inside the building's panels and inside the foil, which creates a barrier between the outer walls and the internal walls. Trapping the air inside means that in the hotter summer months, the hot air on the outside is deflected and helps to keep your building cooler on the inside. This means that the temperature inside the building is locked inside and helps to make your building a comfortable place to relax and unwind.
To make assembling your building quicker and easier, all of the My Den panels are pre-lined with multifoil insulation and also come with the internal wall cladding pre-fitted. This means that the wall panels simply slot together and the building can be assembled in a matter of hours.
What's included?
All fixings and fittings
Easy to follow instructions
Pre-assembled panels, roof and floor
Secret Nail Pressure Treated Tongue and Groove cladding
Eze base and fixings
Pre-fitted multi-foil Insulation and primed interior cladding
Double glazed side timber opening windows
UPVC double glazed Sliding Door
Heavy-duty fully insulated metal roof and fixings
Guttering included as standard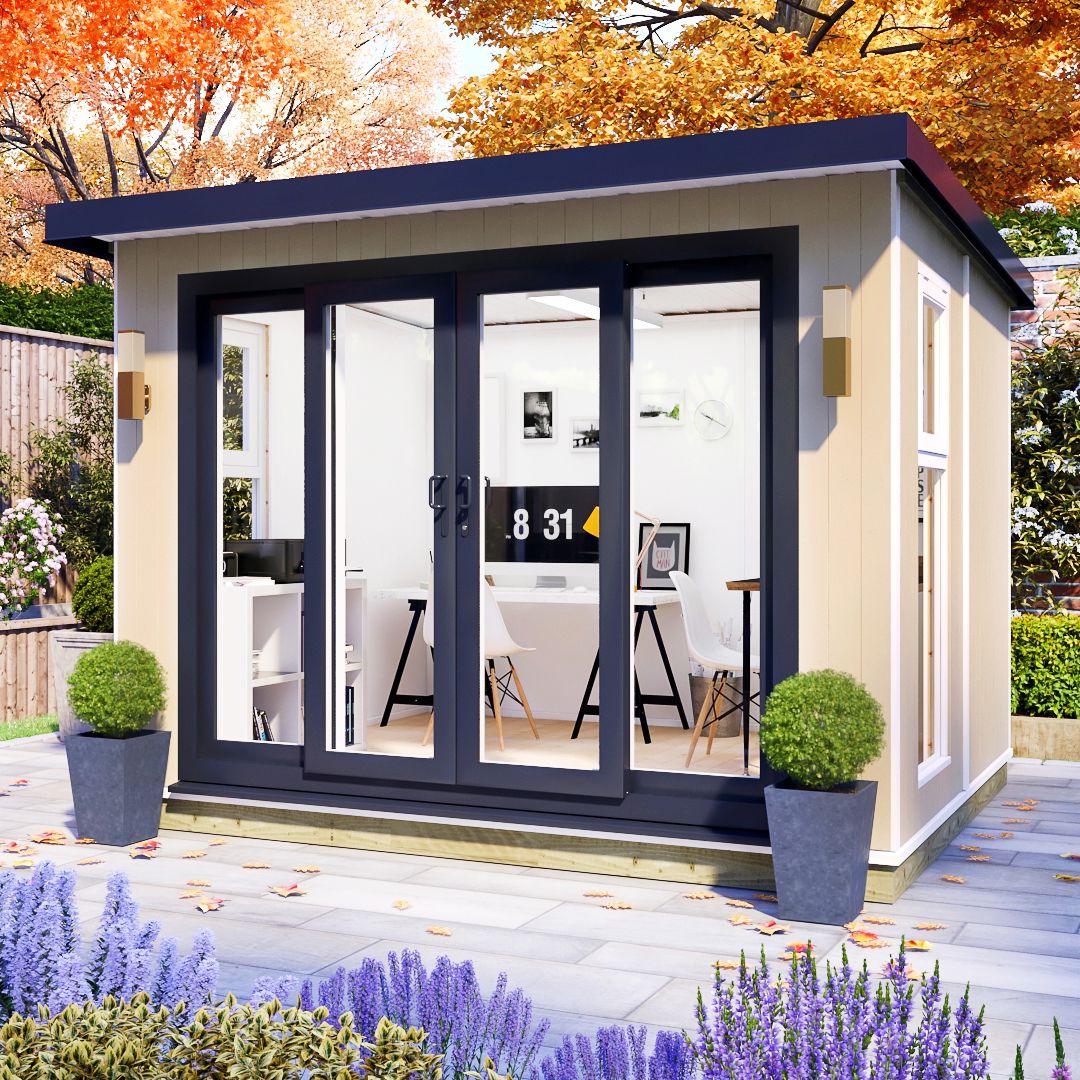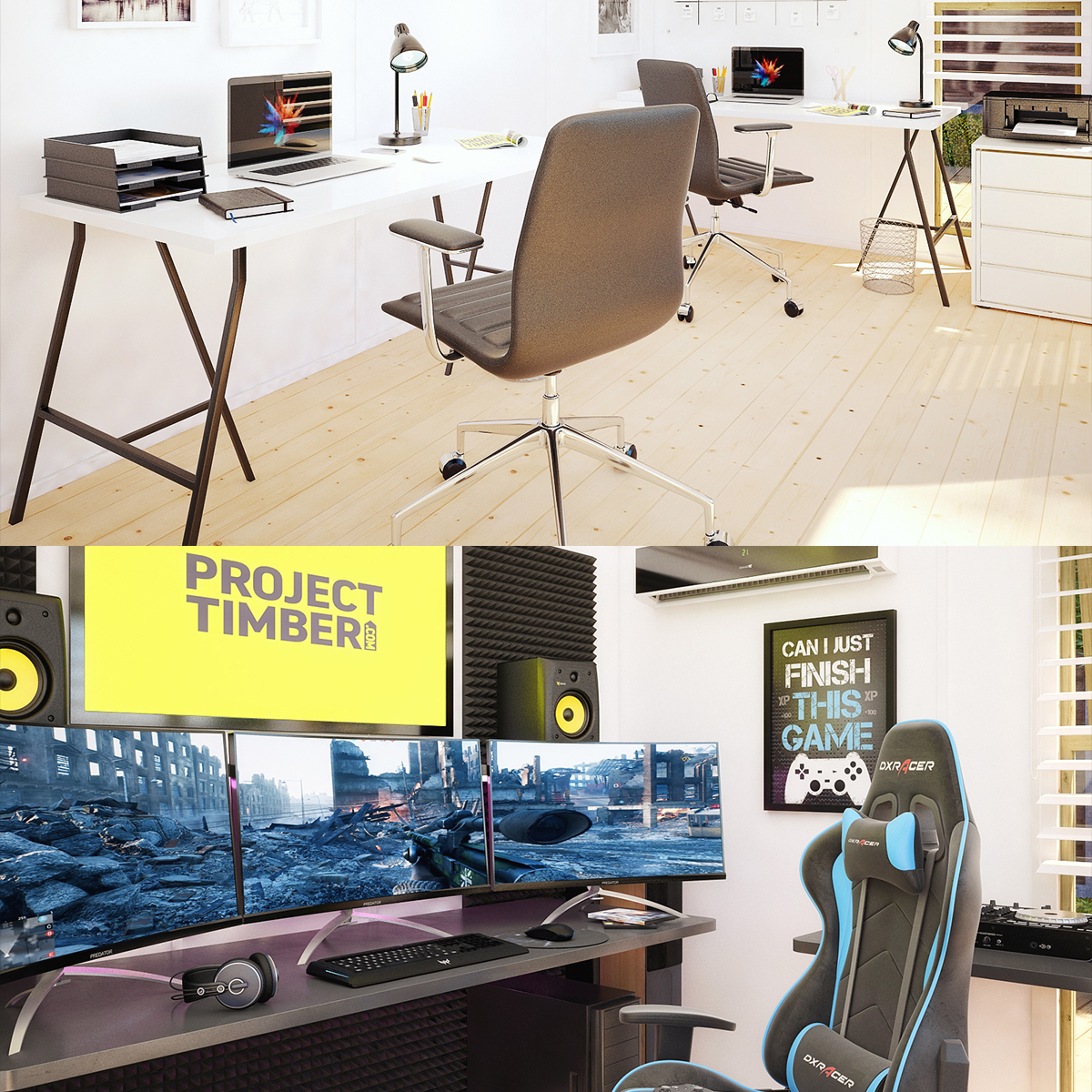 Multipurpose Interior
The My Den with Sliding Doors is an excellent choice for a garden building if you are planning to use it for a wide range of uses. With its elegant sliding patio doors, it makes a great place for a work-from-home garden office, summerhouse for an extended living space, hobby room, beauty room and even a gaming room.
With its fully insulated metal roof and fully insulated walls and floor, it creates a cosy environment where you can have that extra space you need and also enjoy the surroundings of your garden.
Hand Crafted
All of our My Den panels are handcrafted by our highly experienced specialist production team using only the very best materials to create your perfect garden building. Our graded slow grown Scandinavian timber is hand-selected and all our My Dens are made to order. We only use the best materials in your building to ensure it is of the highest quality. We also carefully check your order to ensure your building meets our high standards.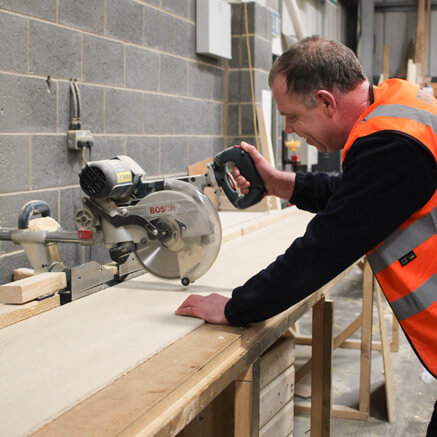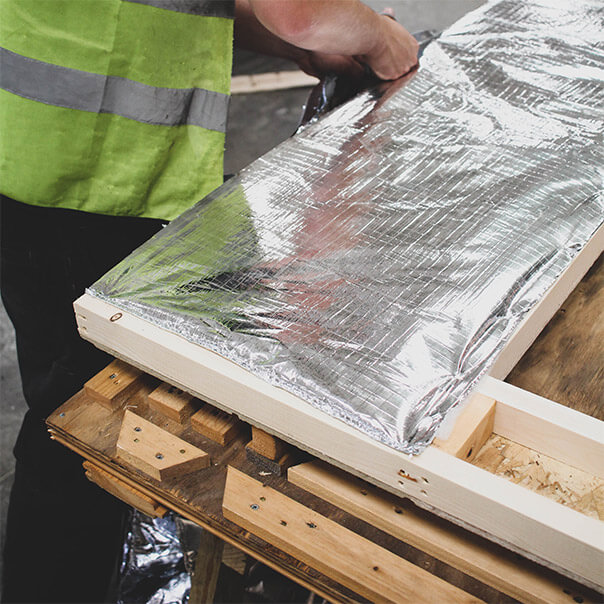 We do the hard work for you
To make installing your My Den even easier for you, our panels are pre-insulated so that you can have your building ready to use in less time. With our modular panels, you can quickly get the hang of assembling the building because of its repeat steps. The panels also simply screw together and the windows are all pre-double glazed ready to fix to the building.
We also provide the panels with pre-fitted internal cladding, which contains all of the insulation layers, saving you time and any hassle. We provide stage-by-stage instructions with all the details, and we also provide all of the fixings and fittings so you can start assembling your building as soon as it arrives.
Fully Insulated Metal Roof
The My Den comes with our fully insulated metal roof as standard to make your garden office an even better building and working environment. Its metal outer shell gives you the ultimate weather protection and with a solid 40mm thick insulated foam core, it locks in the temperature and also prevents any heat loss. Made from corrugated metal outer shell and premium gloss internal finish, it gives your building a contemporary look and even more durability.
The metal roof panels are also simple to install and do not need any extra roof covering. This means that they are quicker and easier to fit than a timber roof that needs material to cover the roof. The metal roof is also low maintenance and it will protect your building throughout its lifespan.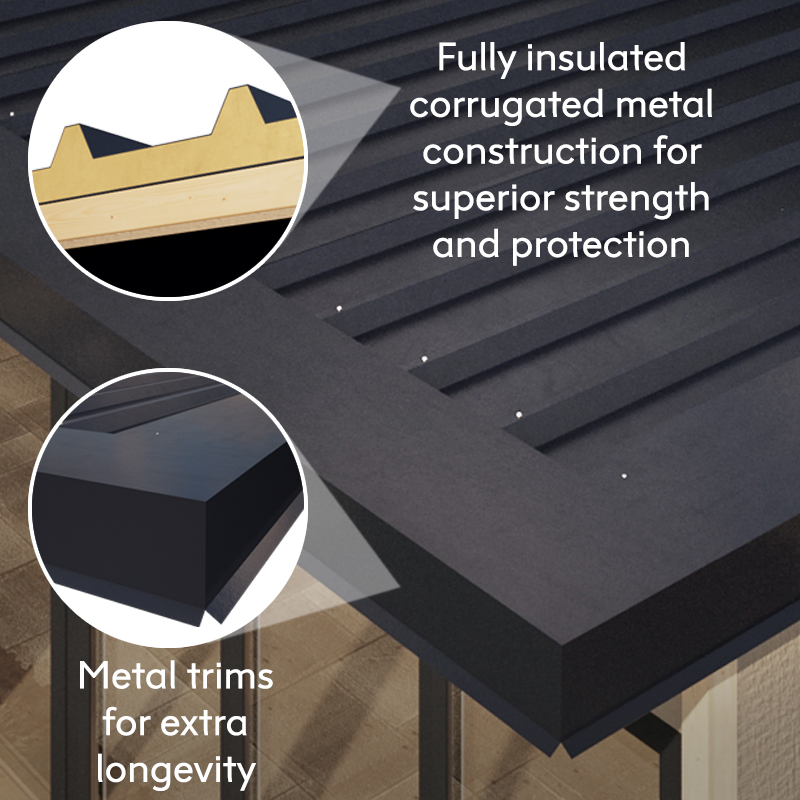 Multi-layered Insulated Panels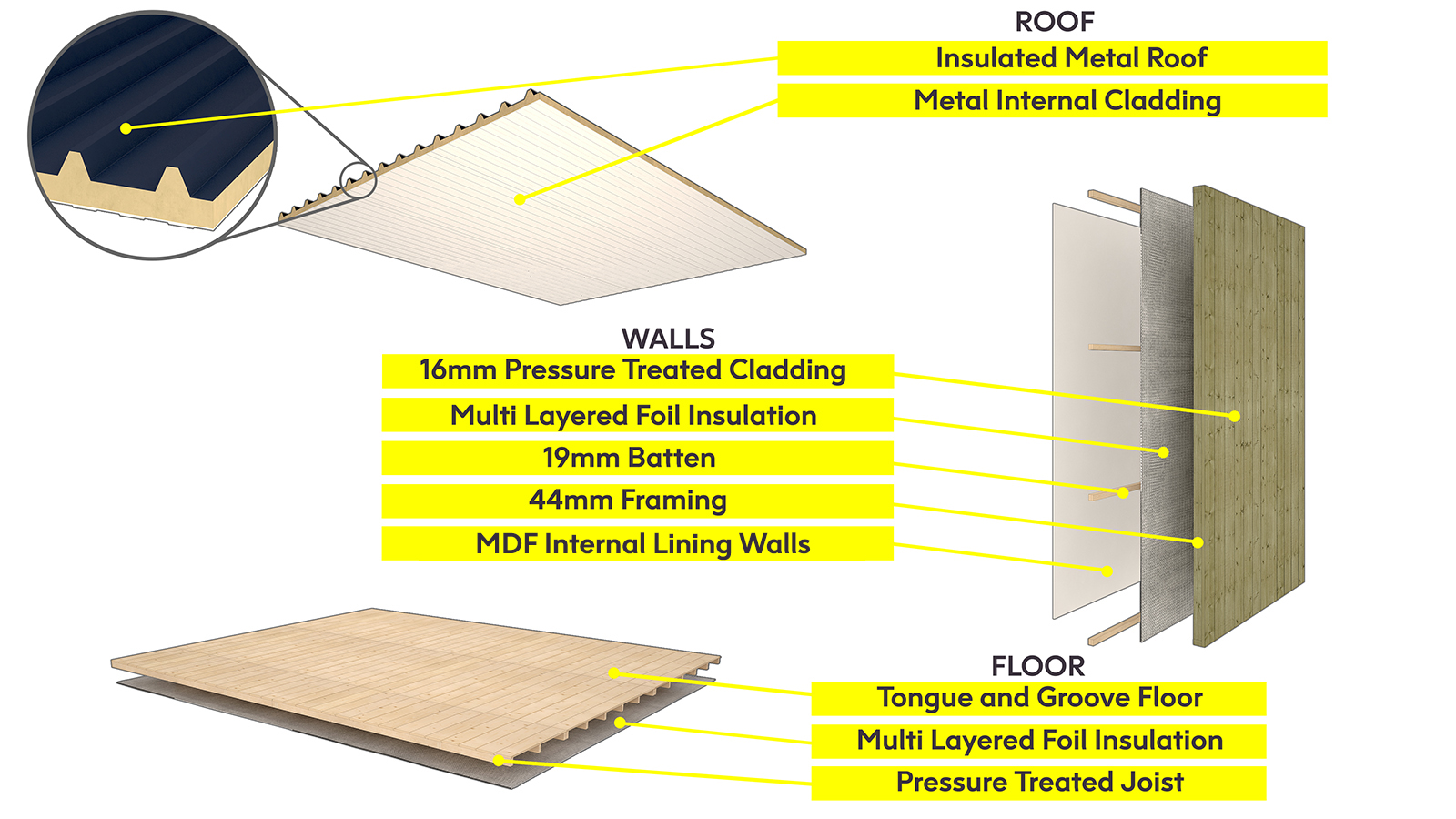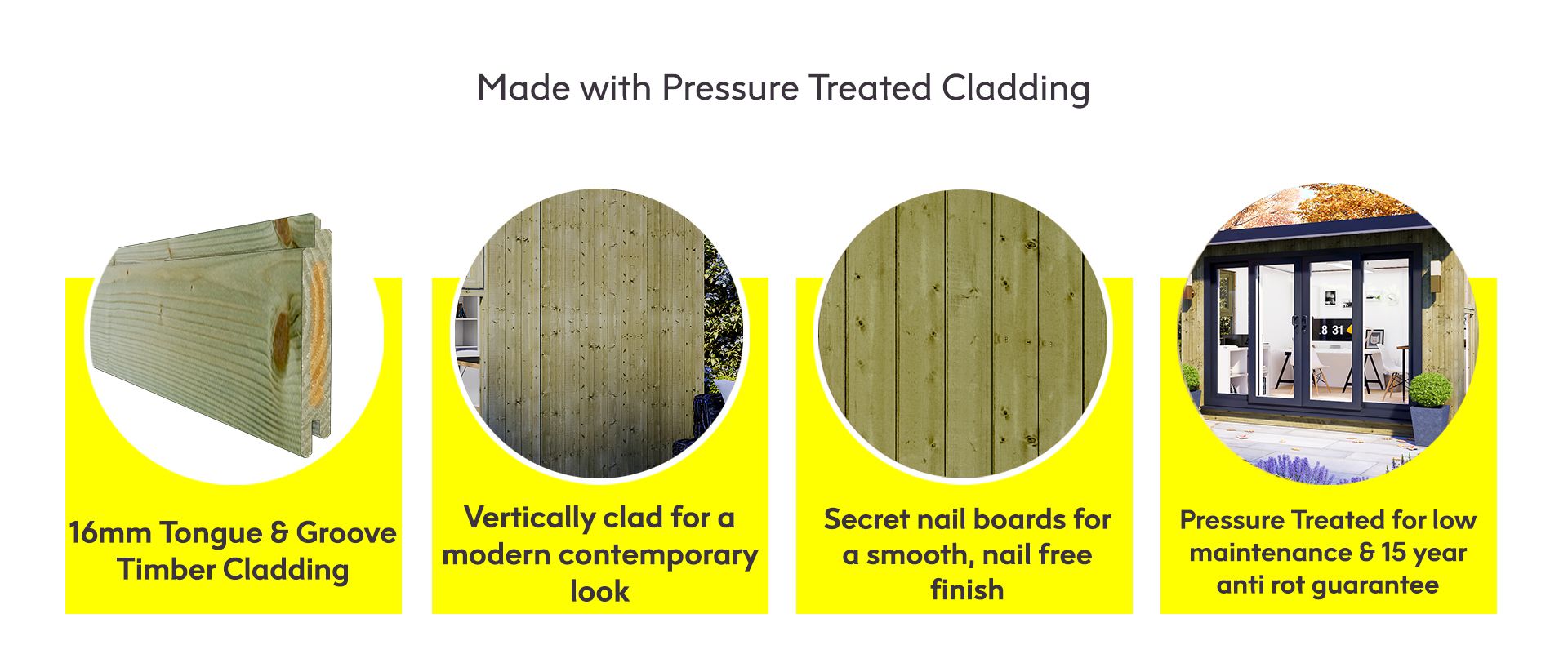 Excellent seller,good delivery,very good product and price!!!

Many thanks for speedy delivery. Item as described. Will use again

Absolutely love our summer house we purchased from Project Timber. Quality is superb at such a great price. Customer services are fast to answer any queries you may have and will be ordering again from them again.

Extremely helpful people selling a good product at the right price, delivered on time and I can't find anything to be critical about.

The sales team were excellent and answered all our questions. Delivery was as arranged and the delivery driver couldn't have been more helpful. The timber and its pressure treatment is good quality and the construction plans were easy to follow. We are delighted with our new summer house.

Brilliant company, so easy to deal with. The summerhouse arrived on the date they said a two great young men erected it within about 4/5 hours. Extremely efficient and friendly. As for the summer house, well it's great and so affordable. My son uses it daily as a man cave with a sofa ,TV.and games console .

First time we used Project timber. Very easy to communicate with. Delivery was on time. Drivers polite and helpful. Building was easy to erect and seems good quality.