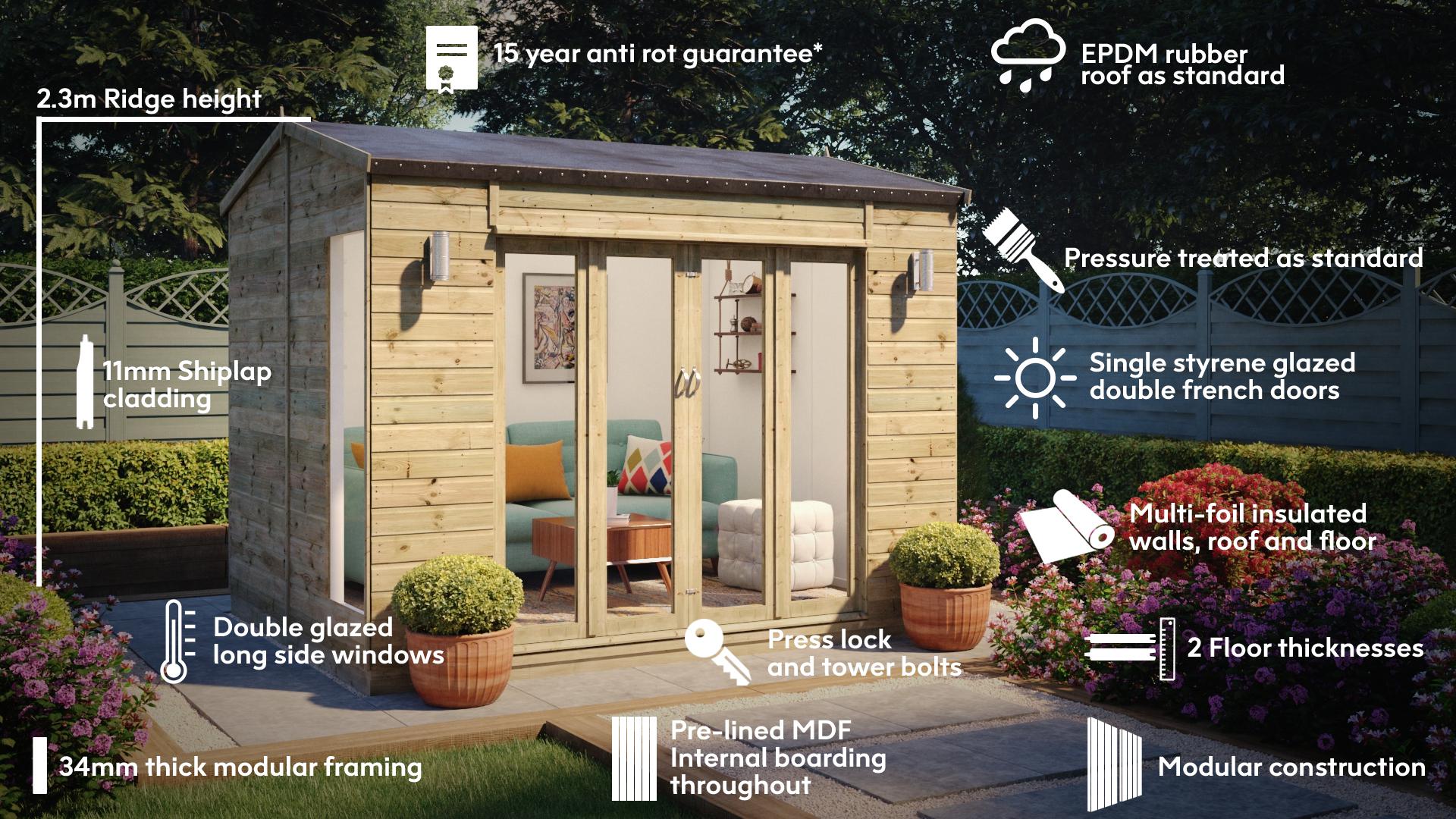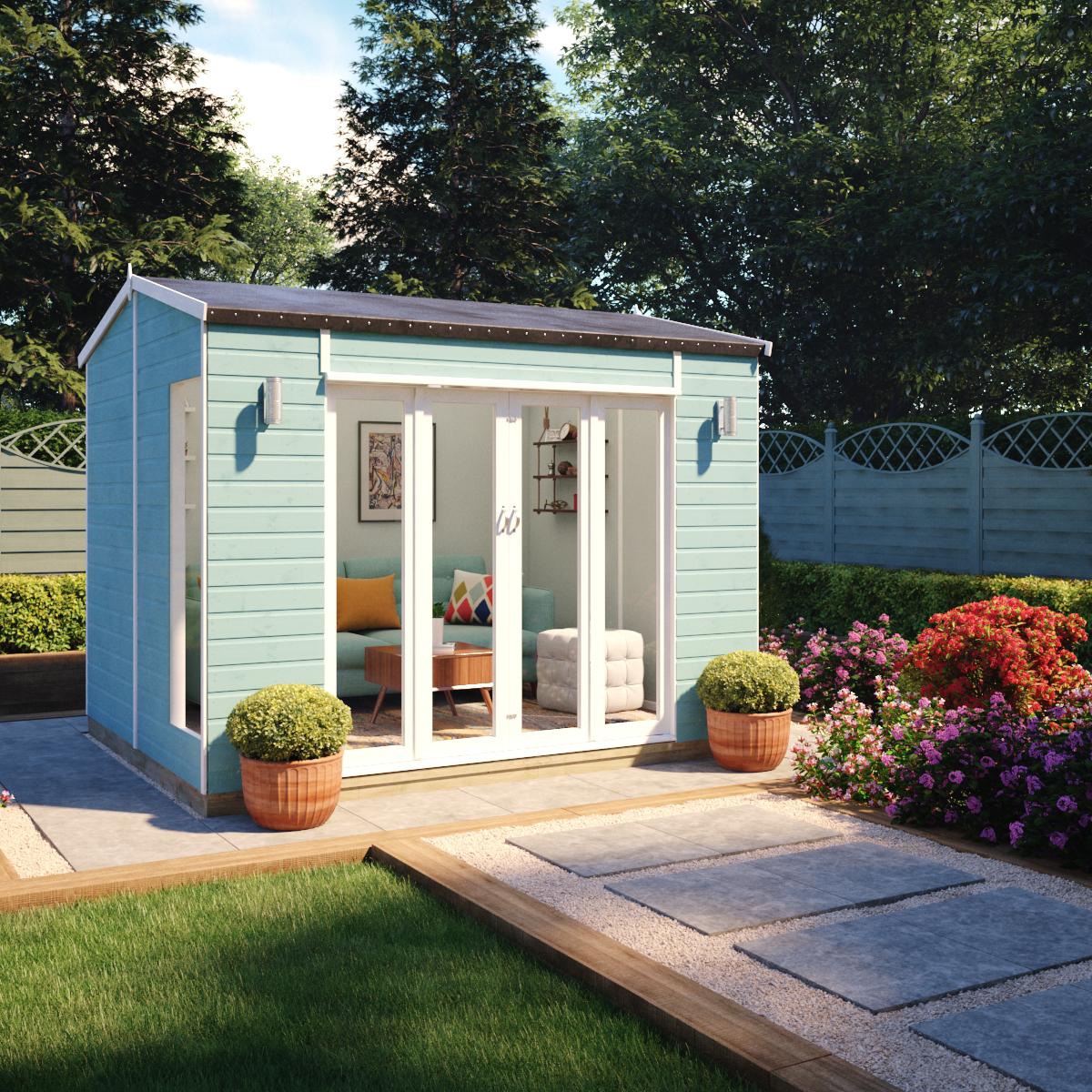 What's included?
All fixings and fittings
Easy to follow instructions
Pre-assembled and pre-insulated panels, roof and floor
Insulation and interior cladding
Extra high ridge and eaves height
Long double glazed side windows
Styrene glazed double french doors
EPDM Rubber Roof
Hand Crafted
At Project Timber, our insulated buildings are hand made by our expert team, ensuring your building is made from the best quality materials and is sealed and lined to our highest standards. Our panels are checked and carefully packed to ensure your building arrives safely and to ensure an easy build.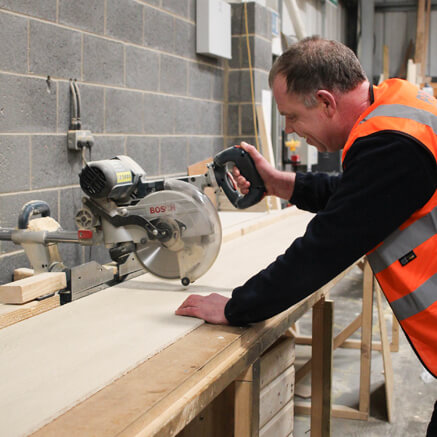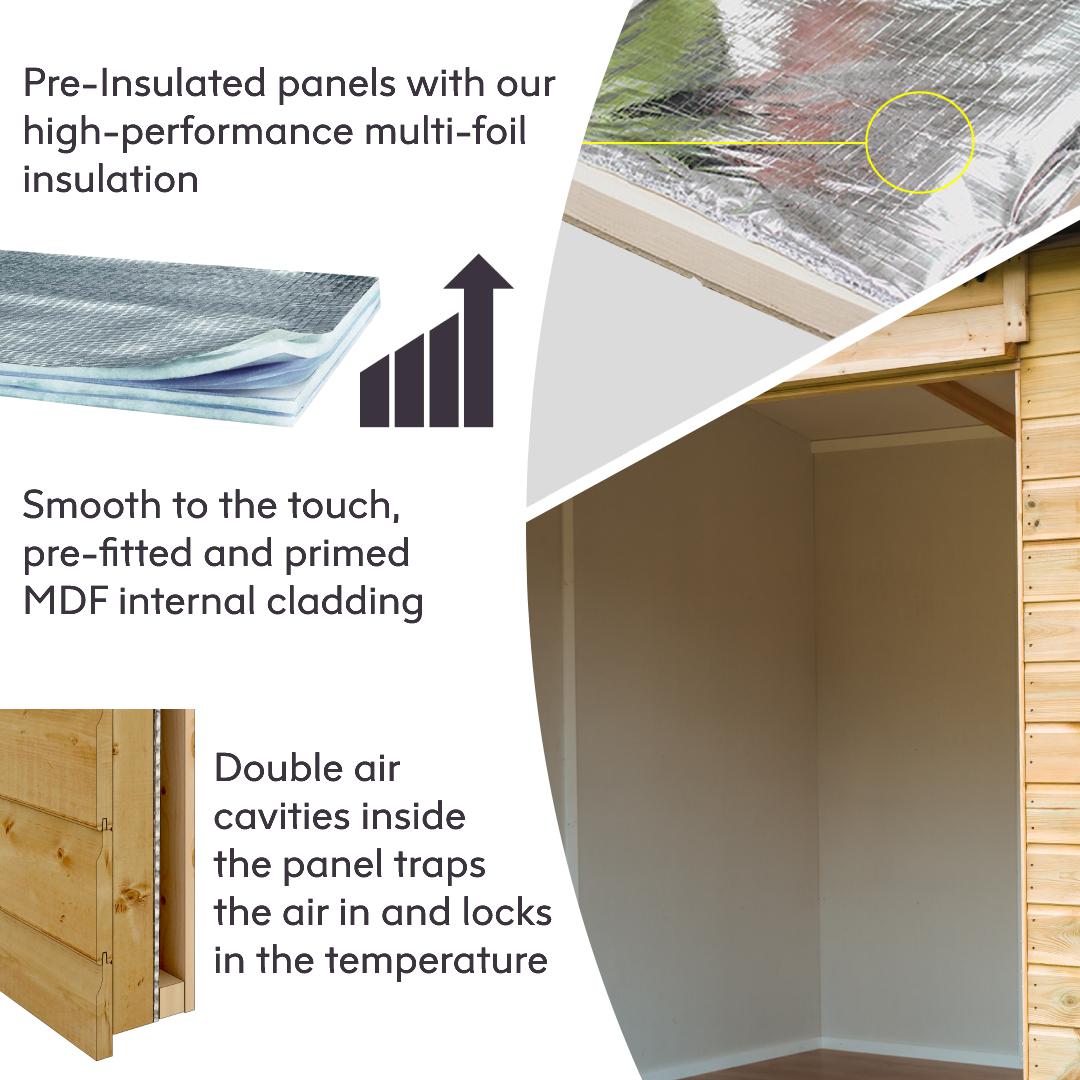 Fully Insulated
The Cannes Plus is one of our most popular styles of summerhouse with added insulation, internal cladding, rubber roof and side window double glazing as standard. If you are looking for a fully insulated summerhouse at a great price then the Cannes Plus is all you need!
To ensure your building is a well-insulated as possible whilst maintaining a large interior space we have lined our walls, floor and roof panels with our high-performance multi-foil insulation. The multifoil insulation is fitted between our external panel cladding and our internal lining, which creates pockets of air that is sealed inside each panel. The multi-foil insulation will trap the heat inside the building, making your building suitable to use in the colder months.
View your garden in style
Our Cannes summerhouse is a popular choice due to its wide double french doors and long side windows, giving you wide panoramic views of your garden. For our Cannes Plus we have kept this in mind and added double glazing to the side windows with 4mm toughened glass and 6mm spacing. We have also added thicker styrene glazing to our french doors to help lock the temperature in and still giving you the best views.
You can also easily control the temperature inside your building in the warmer months with our double french doors that open fully. This means to can enjoy your garden in full comfort away from the heat or from the weather in the colder months.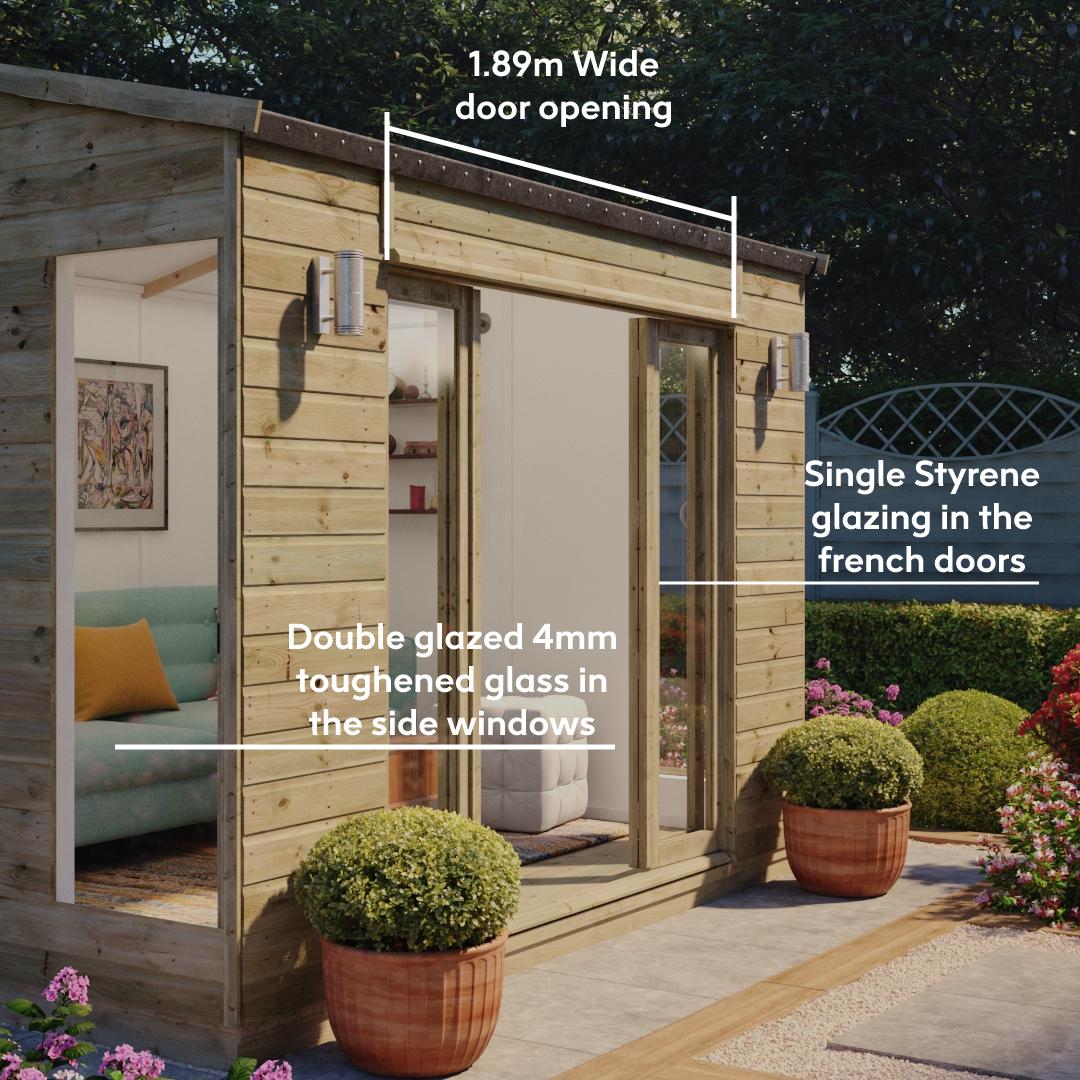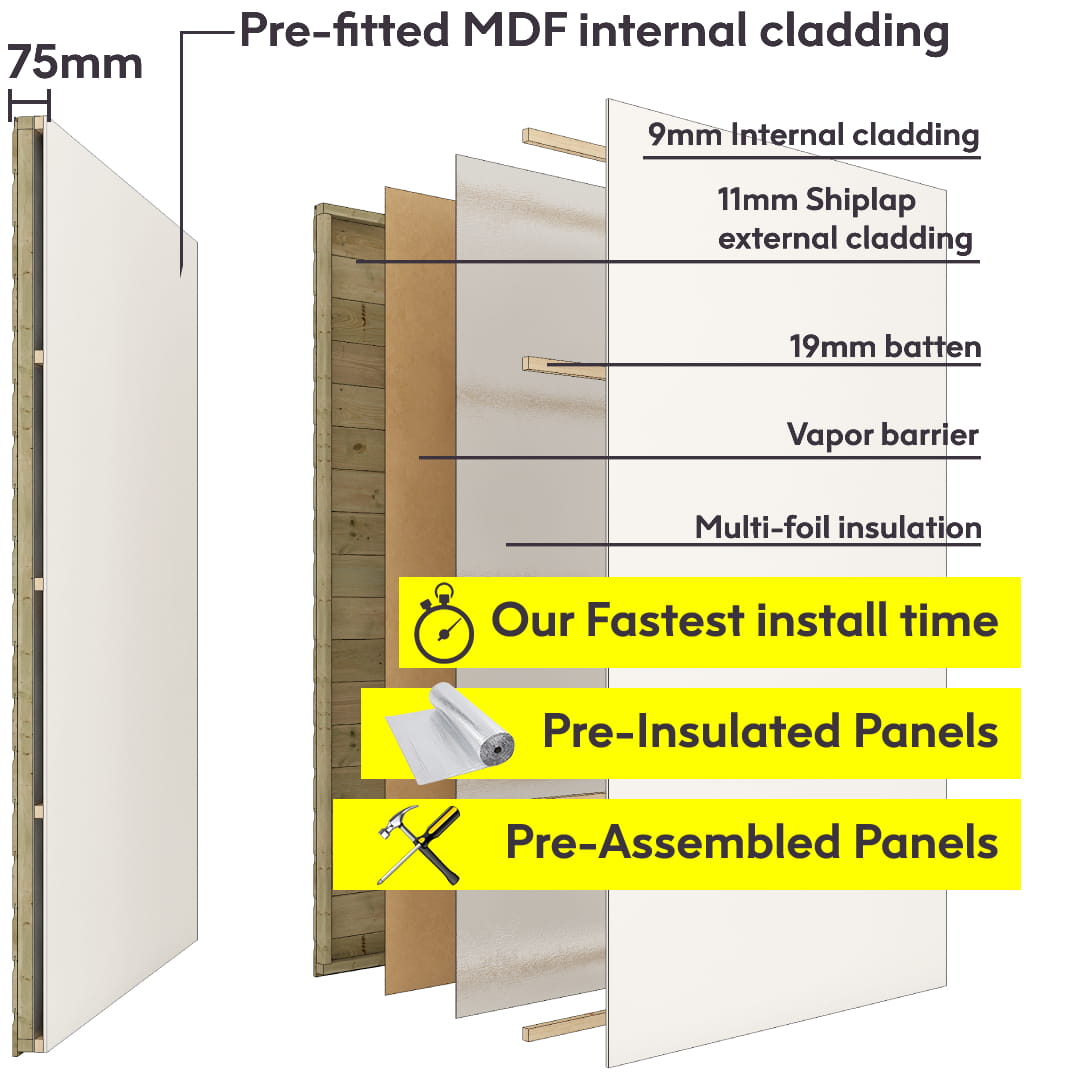 Pre-assembled and pre-insulated panels
To make assembly as easy as possible we pre-line and pre-clad all of our panels in our factory, which means when you assemble your building the panels will simply fix together without needed to add any insulation yourself, saving time and money. Our panels are made up of 5 layers of material which provides excellent weather protection and u-values.
Our 11mm pressure treated shiplap cladding provides protection from the elements, and rot and decay. We also have a vapour barrier to help prevent any moisture buildup inside the panel to keep your insulation layer dry. Our multi-foil insulation is fitted over our panel framing, creating the first air pocket behind the external cladding and vapour barrier. Our 19mm battens and 9mm internal MDF cladding is then fixed in place, creating another air pocket behind the internal cladding, which traps the temperature inside your building.
Multiple Uses
The Cannes Plus Summerhouse can also be used for a variety of uses. With its wide double french doors and fully insulated walls, it is well suited for spending time whilst enjoying the surroundings of your garden. With an 11mm tongue and groove floor as standard and a 2m internal eaves height, you can easily use your internal space fully for a variety of uses, such as a home office, hobby or craft room, a beauty spa, yoga room etc.
With its rubber roof covering as standard, you can be sure your building is well protected from the weather, along with its pressure treated shiplap cladding. You can also upgrade your floor to our 19mm thickness if you need to store any heavier items.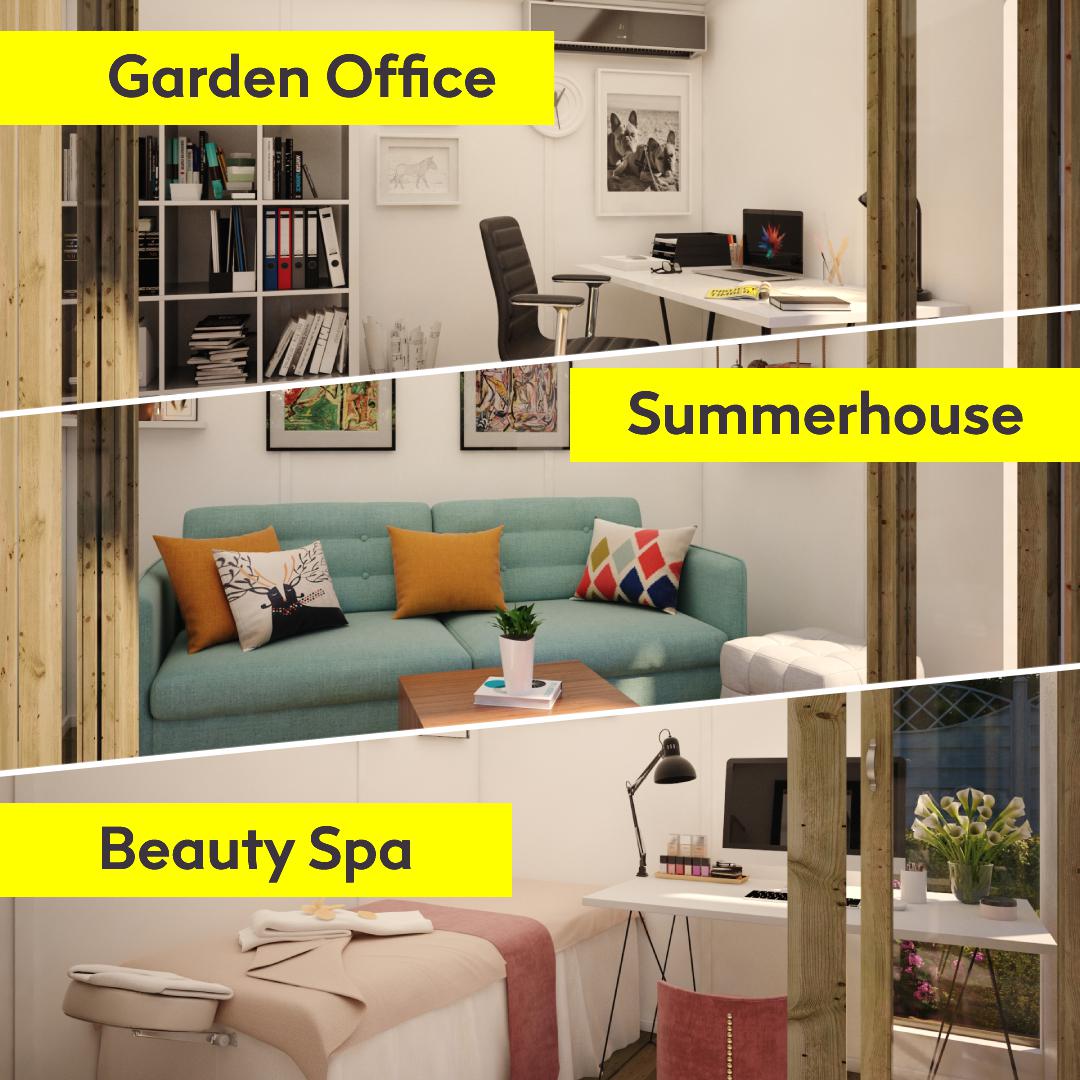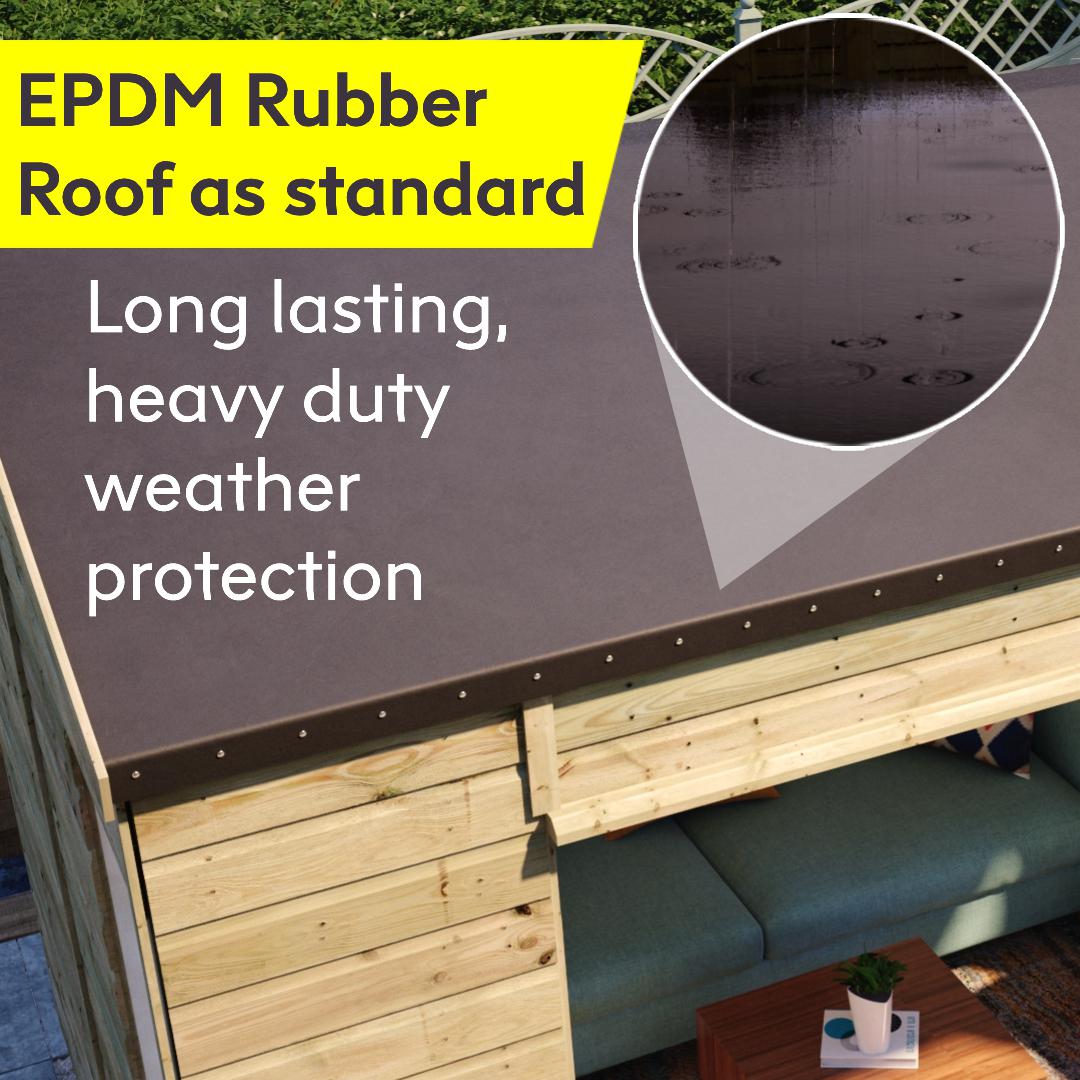 EPDM Rubber Roof Included as Standard
An EPDM rubber roof is a fantastic upgrade option for your outbuilding to take thorough care of the roof. Our rubber roofing will provide you with a high-quality long term flat roofing system and, when correctly installed, it can last for over 20 years and therefore very cost-efficient.
You can install EPDM flat roofing systems in areas subject to extreme weather conditions dues to its heat and cold resistance. Even in very high or low temperatures and direct sunlight, an EPDM rubber roof will not split or crack.
With essential tools and some basic DIY skills, the installation of rubber flat roofing is very straightforward, and you may not need any help from a specialist. The EPDM rubber roof is supplied in one piece of membrane that will cover the whole roof area.
If you do not want to spend a lot of time removing moss and algae, an EPDM rubber roofing is an excellent suggestion from us at project timber as you will not have to waste a lot of energy on the maintenance of your rubber roof.
Rubber flat roofing systems, when correctly installed, have superb life spans and a life expectancy of over 20 years. For this reason, it is a long-term investment that will service your outbuilding trouble-free for years to come.