A new trend has been sweeping the land. An ever-increasing number of people have begun transforming their garden sheds into outdoor workspaces. Many of these people have discovered that working from a garden office shed has a variety of benefits. A small garden office provides an extra space separate from your house allowing you to work in privacy. It also allows you to enjoy the great outdoors. We all certainly need to get outside more and soak up the sun. Working from one's shed is commonly known as shedworking, and its popularity doesn't seem to be slowing down anytime soon. "Shedworking fever" has certainly swept the UK. The
V&A
, the world's leading museum in art and design, honoured National Shed Week by hosting an exhibition dedicated to sheds. Then there was the time that BBC Radio 2 interviewed the author of the book "Shedworking", Alex Johnson. Indeed, the UK certainly has shedworking fever, but why is this phenomenon sweeping the land?
Why is shedworking suddenly so popular?
The answer to this question actually isn't terribly complicated. Simply put, more people are working from the comfort of their homes. In most cases, all they need to perform their jobs is a good internet connection and a quiet place to work. You can ask any freelancer who works from home -- it can be difficult to complete work when kids, pets and family members are around to break your concentration. Working from a garden home office gives you your own space. You don't have to worry about interruptions from a family member watching TV or any of the other countless distractions that often occur when you work from home. A garden office space sets a barrier that says loud and clear: "although I'm at home I'm still at work." At a certain extent, working in a garden office room is psychological. You're forced to get dressed (to a certain extent anyway) and then set up shop in your shed. This puts the home worker in a place psychologically where they're ready for work. Shedworking is all about creating a work atmosphere at home. Plus, it certainly helps that you can decorate your modern garden office any way you desire. You can paint the walls, hang up pictures and even tuck away a mini-fridge into the corner. Just because your garden shed has been transformed into your workspace, doesn't mean you can't personalise it to your tastes.
What you need to know before purchasing a garden office
It's not quite as easy as purchasing a wooden garden office and calling it a day. Well, it can be, but there are a few things you need to be aware first. For instance, you should know your budget. There are plenty of affordable options out there that will provide you with a comfortable garden office with storage.
Project Timber
has a large variety of contemporary garden offices for sale. If you have a bigger budget, you can also purchase a luxury garden office as well. One of the bonuses of adding a home office garden building to your property is that it can increase the value of your home. That way when you're ready to sell, you can pocket a little extra change for your troubles. Plus, an outdoor office shed ultimately saves you money. A budget garden office is considerably cheaper in the long run than renting an office space in a business complex somewhere. One essential aspect you should keep in mind when purchasing garden office buildings is the positioning and the dimensions. You'll often need planning permission to get the dimensions just right, but usually, your garden shed has to be a minimum of 5m away from your house. Furthermore, your garden office can't occupy more than half the size of your garden. Check with the proper authorities to ensure you're doing everything by the book. Returning a garden office due to lack of poor planning on your part is a waste of time and money for all parties involved.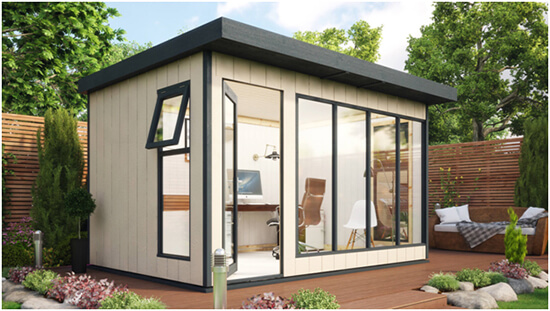 Setting up your shed the right way
Let's say you already have a shed in your backyard. It might be fantastic for storing tools and other garden supplies, but it would likely serve as a poor workspace. Plus, the expense of converting that shed into a workspace can be expensive. You have to consider security, heating, insulation and so much more. You might as well take your money and invest in an office shed that's fully equipped and ready to go from day one. You can purchase a 10 x 8 garden office for as little as £1,210. There are considerably more expensive options than that,  but if you're looking for more affordable options Project Timber is undoubtedly the place to shop. If you're looking for a more high-end garden office, the
Project Timber Evolution Insulated Garden Office
is an excellent choice. You'll only have to pay £216.42 a month for a total of £5,195. No matter what garden office you purchase, all Project Timber sheds come with the same specs -- multiple sizes that span anywhere from 10 x 8 to 20 x 8 depending on the shed, full insulation to trap in heat and keep out the cold (or vice versa), multipurpose interior, and a 10 year anti rot guarantee for standard sheds and a 15 year anti rot guarantee for pressure treated sheds. When it comes to running wires and generally providing electricity to your garden office, you'll need an electrician to get the job done right. This can be expensive, but it can't be helped. Running wiring when you have no idea of what you're doing can be both expensive and dangerous. Plus, you might violate a regulation or two in the process. You'll also have to set up an internet connection and possibly a phone line to run out to your garden office. When it comes to Wi-Fi connection, you can easily boost the signal of the Wi-Fi in your home by either purchasing a powerful router or a range extender. Both options are relatively cheap and will provide you with the connection you need to work effectively from home. Just be careful about how far you wish to boost your Wi-Fi signal. It might bleed over to your neighbour's property though a secure password is one way to remedy this issue. On a final note, most routers and range extenders have the option to limit how far you can boost your signal. Play with these settings so that your Wi-Fi extends the length of your property and not much more (though you can still expect to experience some bleed over). If you need a phone line for your home business, you'll likely have to pay an additional fee for a separate line. Many internet providers offer packaged deals that include internet, phone and cable, so search around for the best deals. Of course, if you're like most people you'll likely rely upon your cell phone to handle all of your business anyways, but it's still good to know this information.
Getting started with the shedworking lifestyle
Working from home in an insulated garden office is popular for a reason. Just make sure you go about doing it the right way to save yourself time, money and energy. If you're looking for beautifully crafted and affordable office sheds look no further than
Project Timber
. Project Timber offers a wide selection of garden office buildings for sale. With more than 50 years of experience under their belts, they're a top choice for all of your shedworking needs. Shedworking has become a lifestyle that many people have adopted to transform the way they go about working from home. If you happen to work from home or if you simply wish to have an outdoor workspace consider getting a garden office.