1. Cheaper than renting an office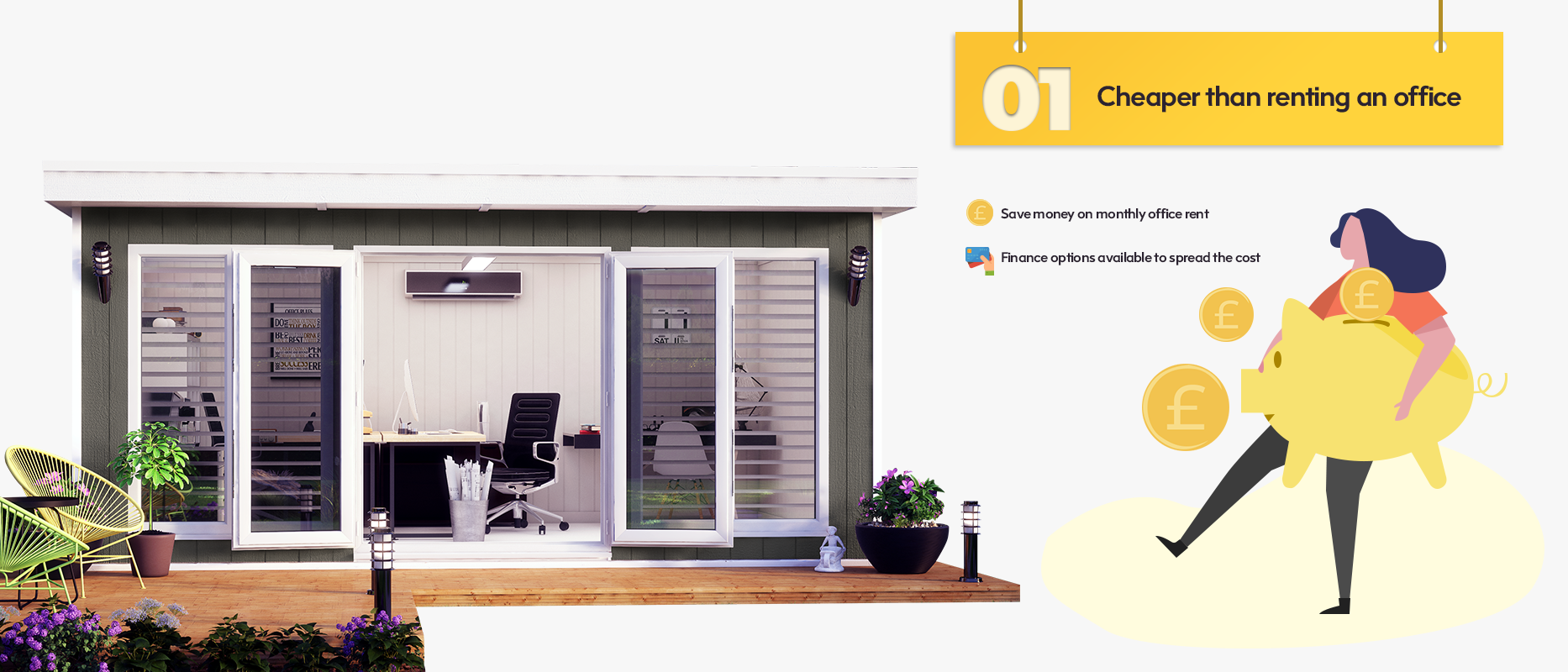 Save money on monthly office rent
Finance options available to spread the cost
If you are currently renting office space you will know about the high costs and bills that come with it. If you are looking for a way to save money on office space, then a garden office is the perfect solution. In comparison to monthly costs, a garden office is much cheaper, and the cost of the building is absorbed by adding value to your home, which makes having your own office a much better option.
2. Adds value to your home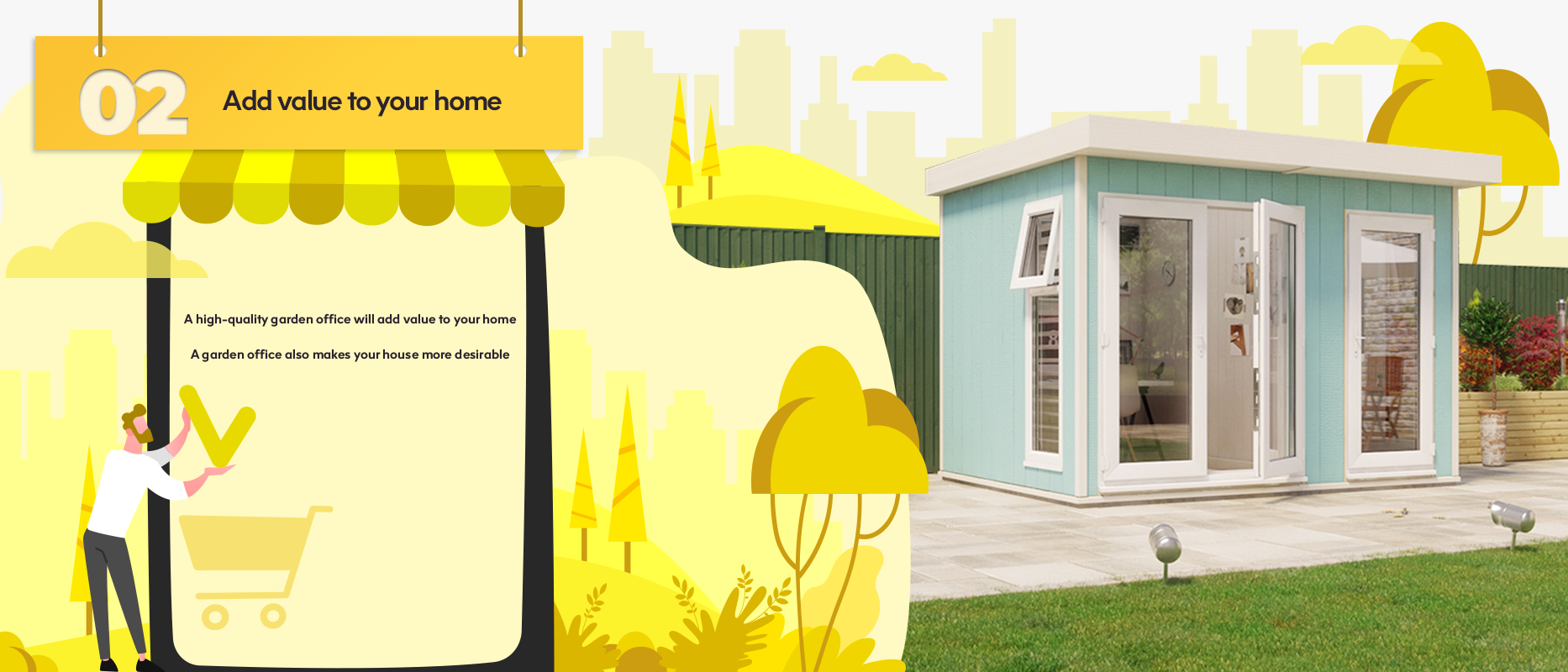 A high-quality garden office will add value to your home
A garden office also makes your house more desirable
By building a garden office in your garden, you are creating another room and making your house more desirable to potential buyers, therefore having a garden office will help to raise the value of your home.
3. No more commuting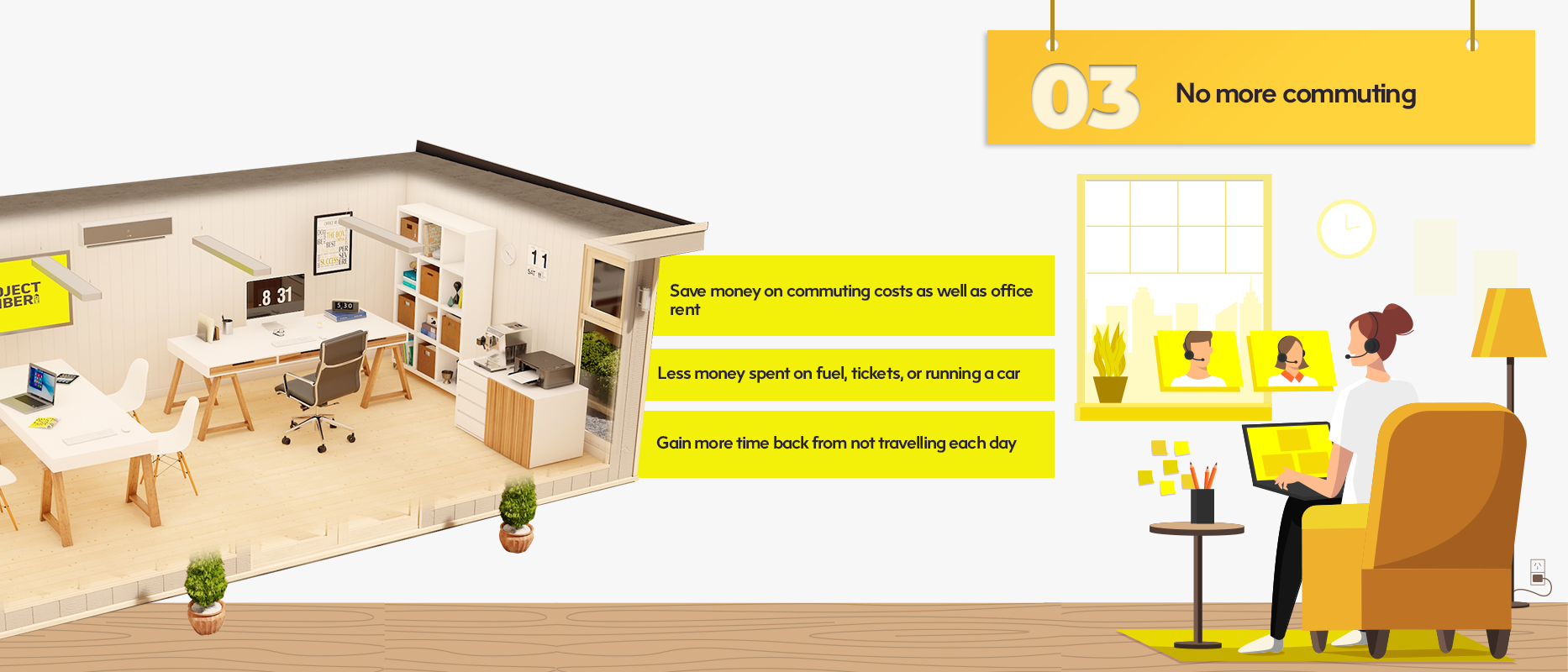 Save money on commuting costs as well as office rent
Less money spent on fuel, tickets, or running a car
Gain more time back from not travelling each day
With a garden office, you will no longer need to travel to and from work, where your office is just a stroll away. This of course will save you money over time, by not having to spend money on fuel, expensive bus or train tickets, and even save money on lunch by not going to a supermarket or fast food outlet. Also, if you own a car, you will also save money on its maintenance and insurance by not having to travel as much.
4. Your own quiet working environment without distractions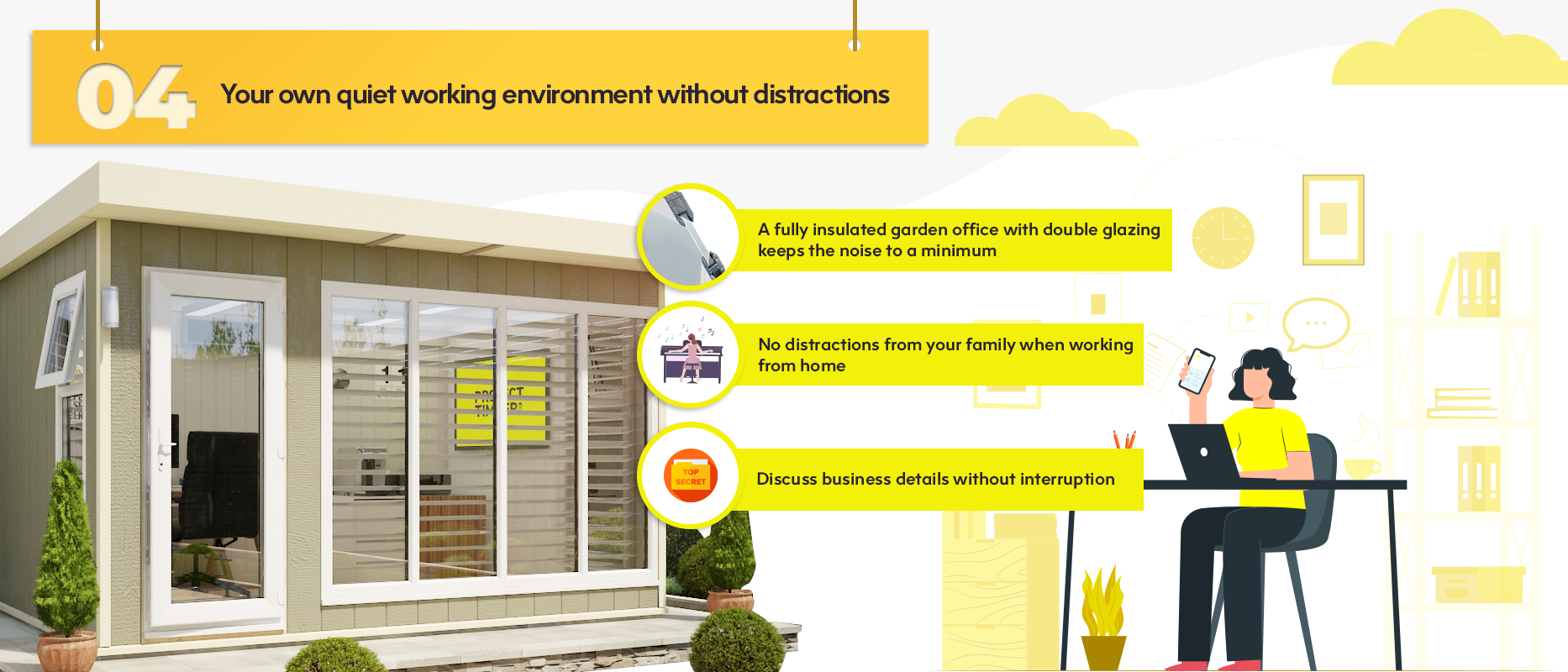 A fully insulated garden office with double glazing keeps the noise to a minimum
No distractions from your family when working from home
Discuss business details without interruption
With your own garden office, you will have a quiet place to work, away from your home and away from distractions. With double glazing as standard on all insulated buildings, the noise levels from the outside will be greatly reduced, and also reduced from inside of the building. This means you will be able to have important calls and meetings without getting distracted.
5. Added privacy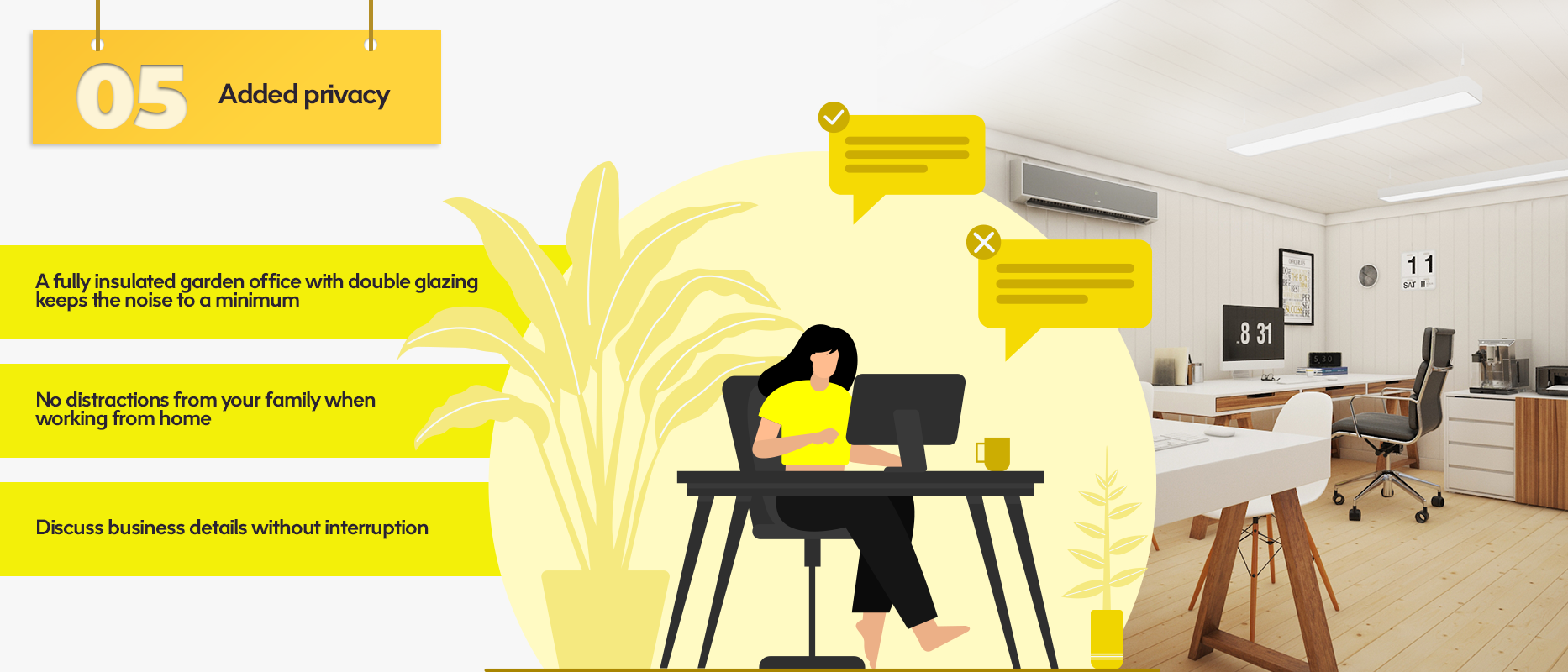 Have business calls in a private place
Ideal for working with confidential information
Meet clients in a secluded place
Having your own private office means that your workspace is much more quiet and secluded where you can take important calls in a quiet place. You can also deal with confidential information in a private office. You can even have video calls or meetings with the knowledge that any confidential information won't be heard from your garden.
6. Personalised workspace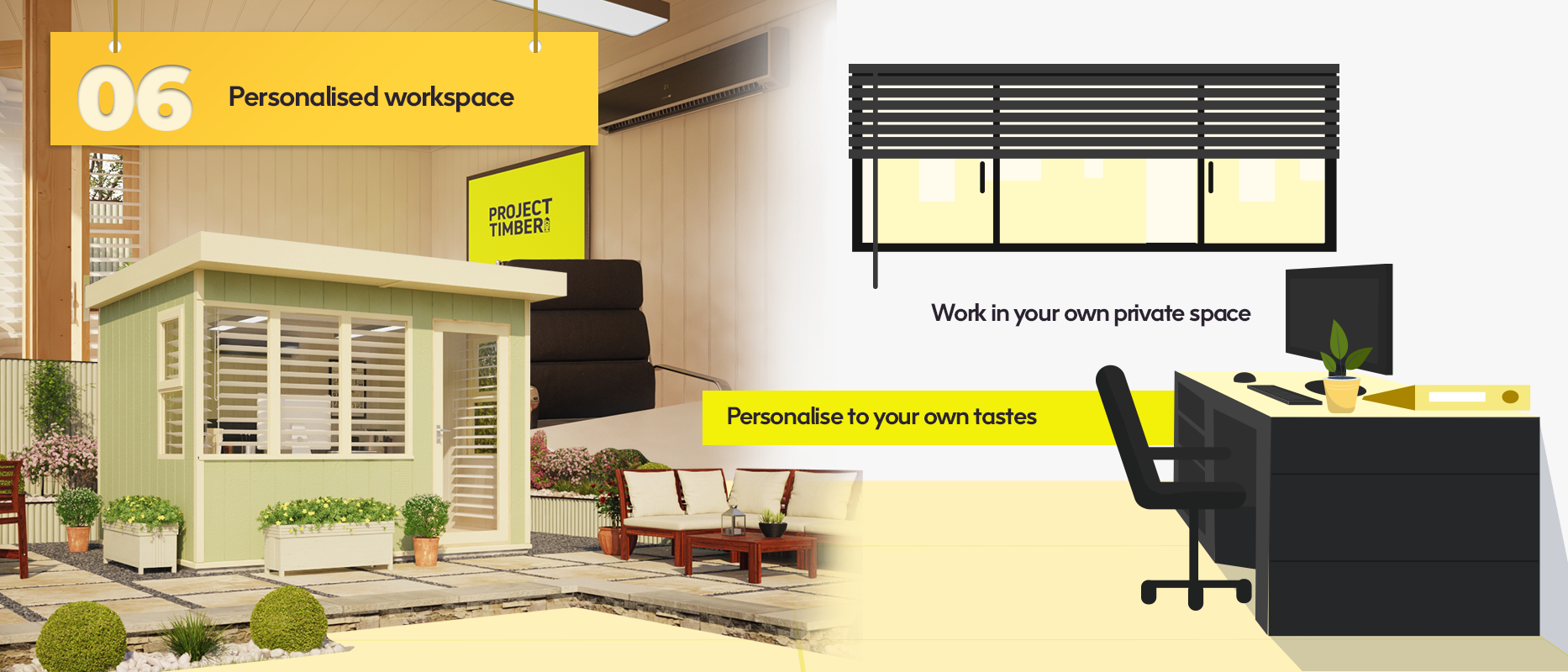 Work in your own private space
Personalise to your own tastes
In your own garden office, you can decorate it and personalise it how you want. If you are in a rented office, the way you can decorate it or brand it will be restricted to your contract terms, whereas in your own office you are free to do what you want. You can also add air conditioning or other features that you may not have available in a rented office space, or even in your own home.
7. Separate your work life from your home life by not working in your home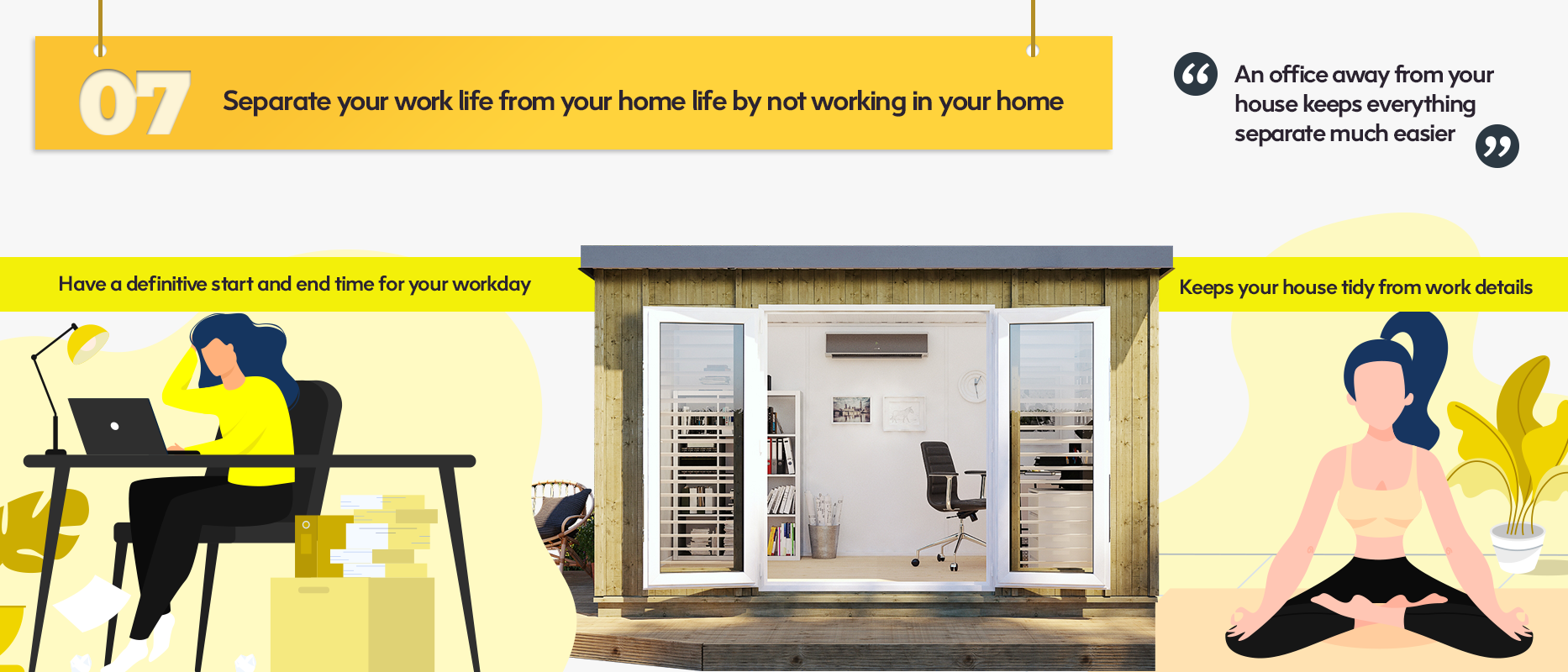 Have a definitive start and end time for your workday
An office away from your house keeps everything separate much easier
Keeps your house tidy from work details
When working in your own home, it can become difficult to separate your work time from your family time because your office is in the same place. By having a physically separate place to work, it is much easier to clearly define a start time and an end time to your working day. You could even replace your old commute time with time to exercise as if you were walking or cycling to work.
8. Improve the appearance of your garden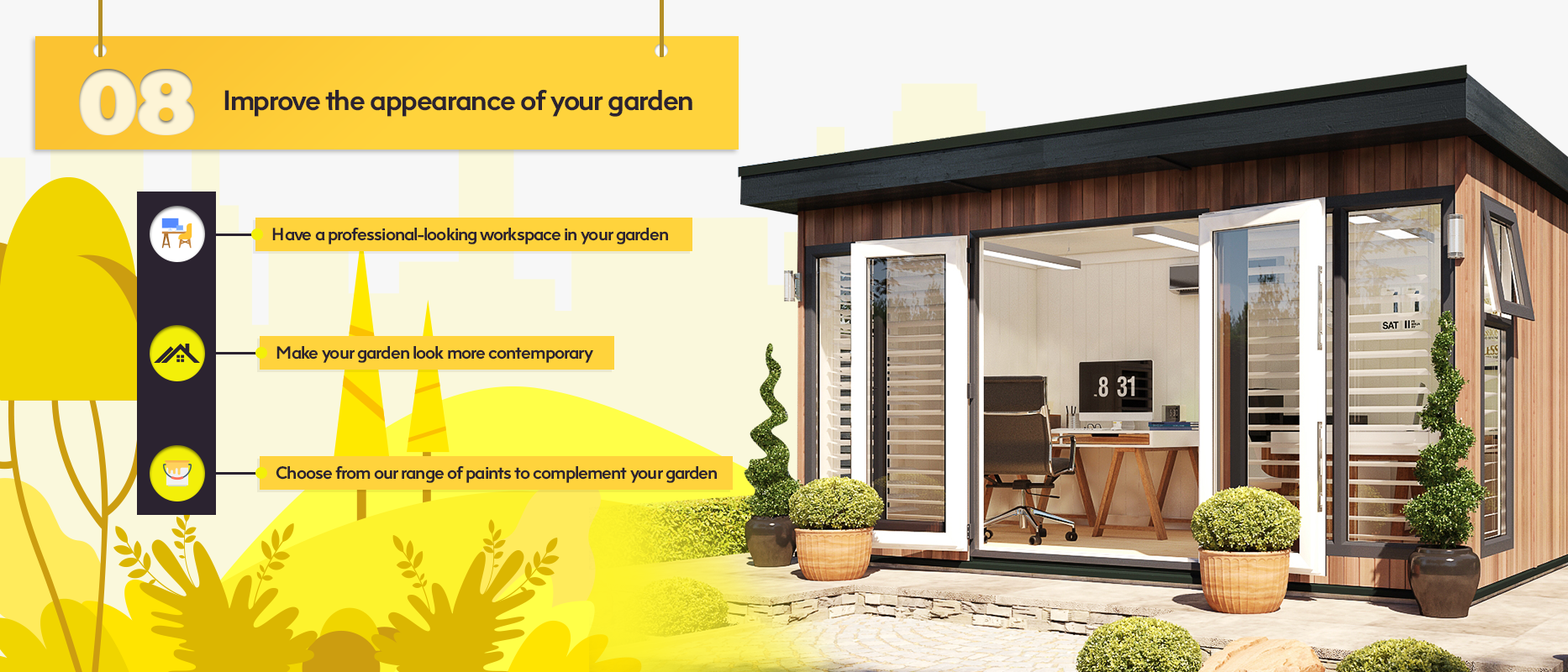 Have a professional-looking workspace in your garden
Make your garden look more contemporary
Choose from our range of paints to complement your garden
Having a tidy garden can make your home more attractive and even more impressive to your friends and family. Adding a garden office will also improve the appearance of your garden, making it look more contemporary and even adding a splash of colour that compliments your surroundings.
9. Fully insulated for a comfortable office you can use all year round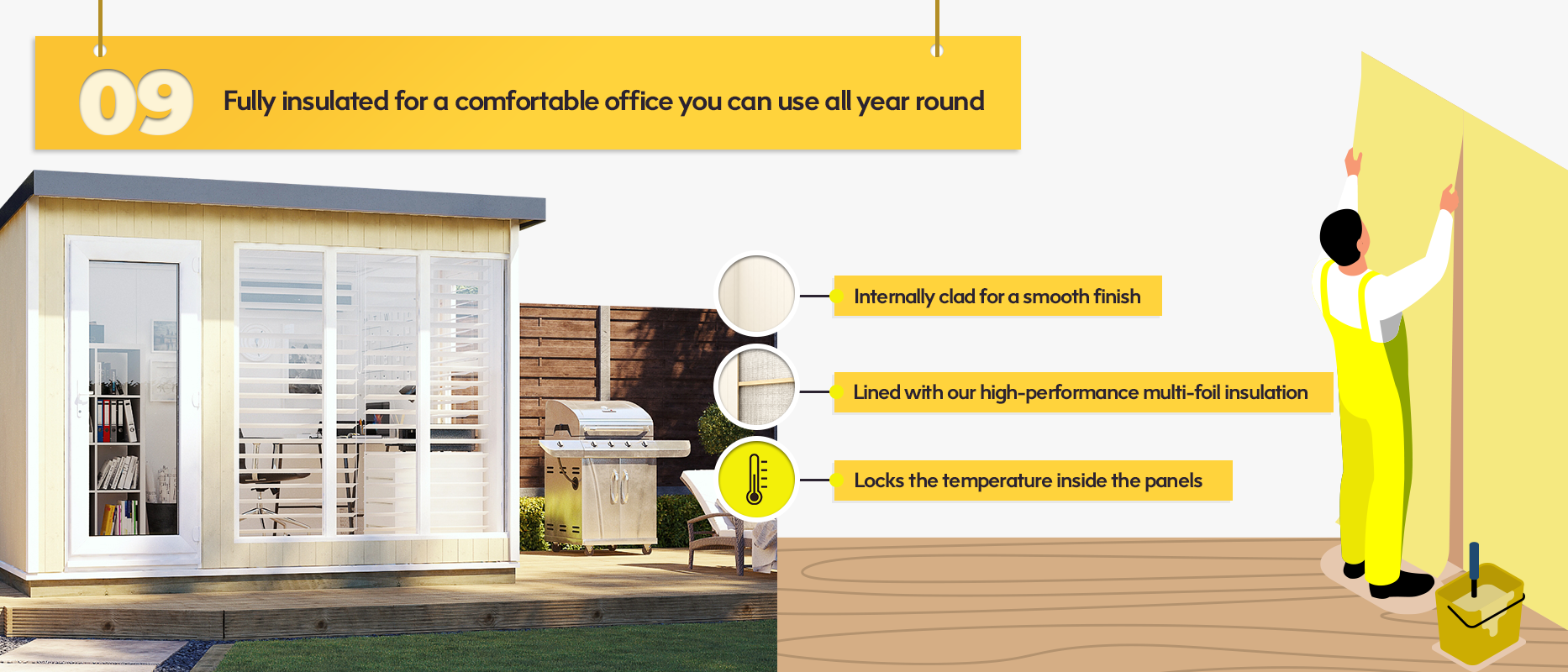 Internally clad for a smooth finish
Lined with our high-performance multi-foil insulation
Locks the temperature inside the panels
Our garden offices are all fully insulated with our primed and ready to paint, smooth to the touch MDF boards. Behind the internal cladding is a cavity where our multi-foil insulation creates a barrier from the outside temperature by trapping the air between its insulating layers. All of our panels come pre-lined to make assembly easier, and this also ensures that they are also sealed to increase the u-values.
10. Tailor your office to your own requirements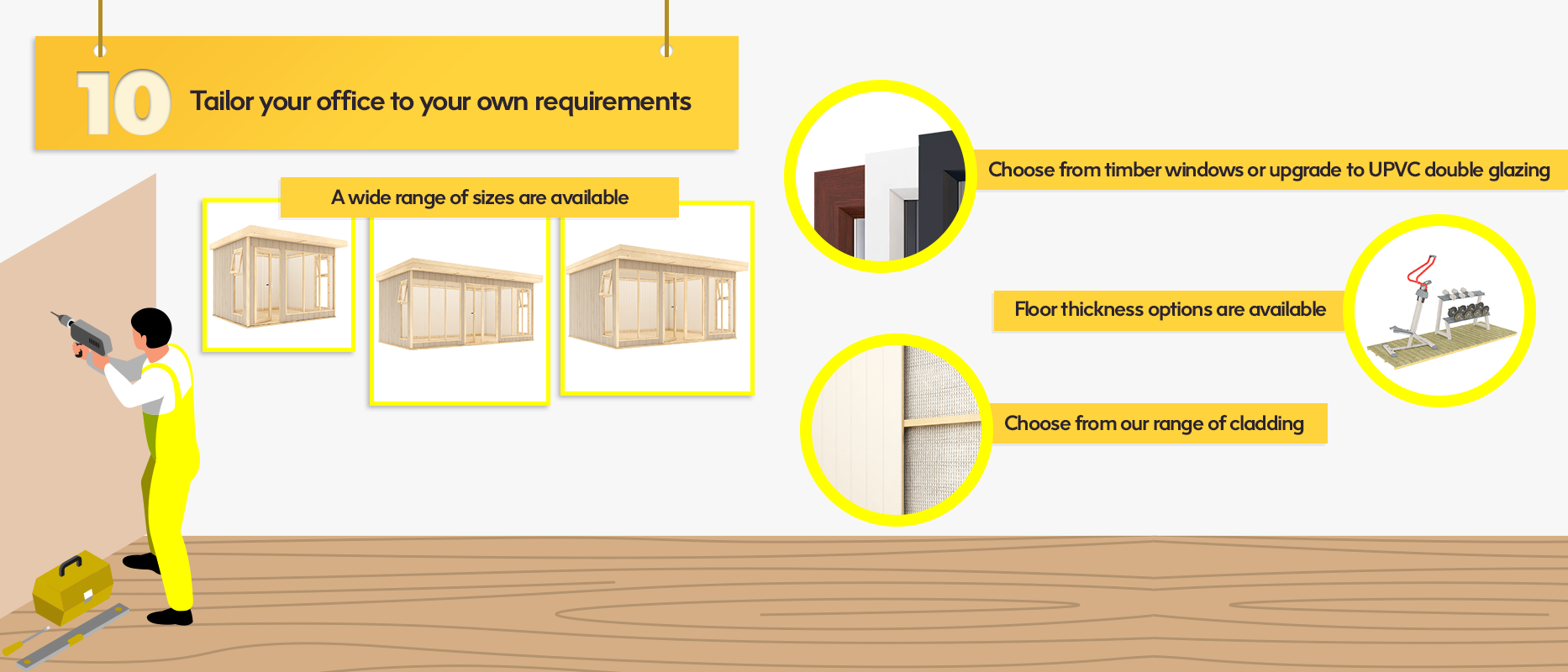 A wide range of sizes are available
Choose from timber windows or upgrade to UPVC double glazing
Floor thickness options are available
Choose from our range of cladding
If you require a small work from home space or a larger garden office, we have a wide range of building sizes and styles to choose from. All of our buildings come with flooring options and double glazing so that you can use your building all year round. We also offer UPVC doors and windows for added security and increased u-values.
You can even choose a building that is pressure treated with our secret nail cladding, made from composite timber cladding or even our premium quality western red cedar cladding for the ultimate finish to your building. All of our cladding comes with a 15-year anti-rot guarantee*, so you can be sure your garden office will last for years to come.